Duterte, Marcos widen lead in Pulse Asia survey
MANILA, Philippines – Davao City Mayor Rodrigo Duterte maintained his two-digit lead over closest rival Sen. Grace Poe in the presidential race, according to the latest Pulso ng Bayan survey conducted by Pulse Asia.
Sen. Ferdinand "Bongbong" Marcos Jr., son and namesake of the late dictator, meanwhile, remained the leading vice presidential candidate.
The non-commissioned survey, conducted from April 16 to 20, showed Duterte still leading the race with 35 percent of 1,800 registered voters choosing him to be the country's next president.
Duterte's rating went up by 11 points from 24 percent in the Pulso ng Bayan poll conducted from March 12 to 18.
The survey was undertaken at the time when the tough-talking mayor was being bashed over his joke about an Australian missionary who was gang-raped and killed in a Davao jail in 1989.
Former frontrunner Poe, who lost four points from 27 percent in March, placed second.
Liberal Party (LP) standard bearer Manuel Roxas II and United Nationalist Alliance bet Vice President Jejomar Binay remained statistically tied for third place with 17 percent and 16 percent, respectively.
The ratings of Roxas and Binay both fell from 21 percent and 22 percent in March, respectively.
Sen. Miriam Defensor-Santiago's rating dropped from three percent to two percent.
The remaining six percent of the respondents were undecided, up from four percent in March.
The nationwide survey used face-to-face interviews of 1,800 registered voters 18 years old and above, with biometrics.
It has a plus or minus 2.3 percentage points error margin at the 95 percent confidence level.
Duterte also topped the latest Social Weather Stations (SWS) pre-election survey with 33 percent, followed by Poe with 24 percent. The SWS poll was conducted from April 18 to 20 and had 1,800 respondents.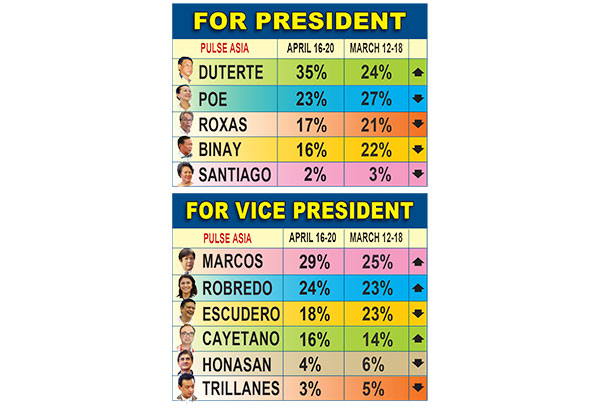 Across all classes
Duterte enjoyed the lead in Metro Manila (40 percent), Mindanao (58 percent) and every socio-economic class (32 percent to 43 percent).
The Davao mayor shared the lead with Roxas in the Visayas (32 percent and 27 percent, respectively).
In the rest of Luzon, Poe, Binay and Duterte have practically the same voter preferences, 28 percent, 23 percent and 22 percent, respectively.
In the Pulse Asia survey commissioned by ABS-CBN from April 12 to 17, Duterte also had a 12-point lead (34 percent) over Poe's 22 percent.
'Alternative president'
If their first choice for president does not continue his or her candidacy for whatever reason, 32 percent of registered voters would instead vote for Poe, Pulse Asia said.
Binay, Duterte and Roxas are the alternative presidential bet of about the same percentages of registered voters (16 percent, 14 percent and 13 percent, respectively).
Santiago is the second choice for president of six percent of registered voters.
Almost two out of every 10 registered voters or 19 percent would not vote for any other candidate if their original choice for president ends up not pursuing his or her candidacy in May, Pulse Asia noted.
Still Marcos over Leni
Marcos continued to lead the vice presidential race after gaining four points to 29 percent from 25 percent in the Pulse Asia's March 12-18 poll.
LP bet Camarines Sur Rep. Leni Robredo came in second with 24 percent, followed by Sen. Francis Escudero with 18 percent.
Robredo's rating improved by a point while Escudero lost five points.
They are followed by Sen. Alan Peter Cayetano with 16 percent from 14 percent in the previous poll.
Sens. Gregorio Honasan II and Antonio Trillanes IV continued to lag behind their rivals in the vice presidential race.
Honasan obtained four percent from six percent in March, while Trillanes received three percent from five percent.
Like in the presidential survey, the number of undecided voters in the vice presidential poll also grew from four percent to seven percent.
Marcos was the top pick for vice president among respondents in Metro Manila (39 percent) and the rest of Luzon (37 percent).
Robredo still dominated the race in the Visayas (33 percent), while Cayetano got the highest voter preference in Mindanao (34 percent).
Across socio-economic classes, Marcos and Robredo shared the lead in Class ABC (36 percent and 32 percent, respectively) and Class D (30 percent and 25 percent, respectively).
Four candidates posted the same support levels in Class E – Cayetano (23 percent), Marcos (22 percent), Robredo (21 percent) and Escudero (18 percent). – With Paolo Romero, Marvin Sy, Aurea Calica