Pope Francis braves 'Amang,' moves Tacloban with homily
MANILA, Philippines — Pope Francis pushed through with the Holy Mass celebrated with hundreds of thousands of pilgrims and typhoon survivors in Tacloban City on Saturday despite tropical cyclone "Amang."
The pope wore a yellow raincoat over his vestments while celebrating Mass amid strong winds. He delivered the homily in his native tongue, Spanish, departing from the prepared message in English.
"If you allow me, I prefer today to speak in Spanish. I have a translator, a good translator. May I do it?" Pope Francis asked the crowd.
LIVE: Pope Francis in the Philippines - Day 3
After the crowd, a sea of yellow in raincoats, answered with a resounding,"Yes!" the pope acknowledged it, "Thank you very much."
Pope Francis consoled survivors of history's most powerful typhoon on record, saying they can identify themselves with Jesus Christ, who suffered like they did.
"Jesus always goes before us ... And if today we find ourselves 14 months afterwards here, 14 months precisely after the typhoon Yolanda hit, it is because we have the security of knowing that we are not going to weaken in our faith, because Jesus has been there before us," he said in his homily.
"In his passion, he assumed all our pain," the pope added.
He confessed that he wanted to visit the ravaged areas of the Visayas the moment that he watched the disaster from Rome.
"I saw from Rome that catastrophe, I felt that I had to be here. And on those very days, I decided to come here. I'm here to be with you," Pope Francis said. "A little late I have to say, but I'm here. "
His message was interrupted by applause from the crowd, who were already in tears and drenched from the rain.
"I've come to tell you that Jesus is Lord, and he never lets us down," he added.
The Roman Pontiff, who is on his third day in the Philippines, explained that even when many have lost their homes, livelihood and loved ones, God did not leave them.
" Jesus is there, nailed to the cross, and from there he does not let us down. He was consecrated as Lord on that throne and there he experienced all the calamities that we experience," he said.
"The Lord from the cross is there for you. In everything, he is the same as us. That is why we have a Lord who cries with us and walks with us in the most difficult moments of life," Pope Francis added.
Francis also admitted that he does not know what to tell the survivors.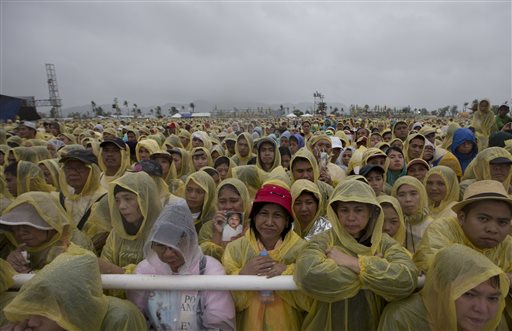 AP/Alessandra Tarantino
"But the Lord does know what to say to you. Some of you have lost part of your families. All I can do is keep silence and walk with you all with my silent heart," he said.
Concluding his impromptu homily, he said: "This is what comes from my heart. Forgive me if I have no other words to express myself. Please know that Jesus never lets you down. Know that the tenderness of Mary never lets you down."
The pope arrived at Tacloban Airport 45 minutes earlier than scheduled. He will also leave Tacloban at 1 p.m., hours before his scheduled return to Manila due to the inclement weather.