Alex Blake Charlie Sessions concludes with powerful performances from international female acts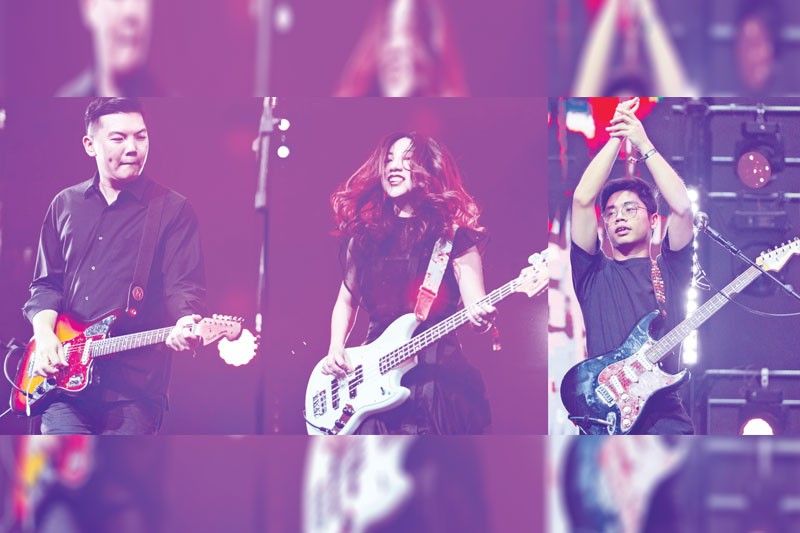 SINGAPORE — It was truly an amazing experience to witness the powerful and electrifying performances from the all-female lineup of international artists at the recently-concluded The Alex Blake Charlie Sessions music festival at Pasig Panjang Power Station.
The diverse range of music styles and acts during last Saturday's festival organized by a group named 24OWLS was an interesting sight to behold for first-timers like this writer.
Japanese folk singer Ichiko Aoba kicked off the affair with her angelic voice and dreamy sounds, then followed by Singapore's Coming Up Roses with its alternative rock noise.
All the way from Seattle was Deb Never, who heated up the stage with her grunge and hip-hop sounds. Korean-Canadian artist Luna Li came after with her sensual take on indie, psych and pop music.
Filipino-American musician and TikTok star Lyn Lapid kept the audience alive with her performance of Producer Man, In My Mind, I Guess That Was Goodbye, Pager, Comatose, among others.
Vietnamese-American singer-songwriter Thuy (stylized as thuy) continued entertaining the crowd with her catchy R&B tracks, such as in my head, dumb luck, and inhibitions. She invited a girl love couple to join her on stage while singing her viral hit universe.
The music festival ended on a high note with American indie-rock musician Soccer Mommy's fiery performance.
During breaks off stage, DJs Didi Han, Kindergarchy, Nicolette, Nusha and rEmPiT gOdDe$$ made the concert-goers dance to lively disco beat, funk, pop and house music.
"The first Alex Blake Charlie Sessions in 2019 was driven by the belief that women are making the best music today. It was a day where discerning music lovers seeking the uncommon in an auditory experience were heartened and inspired by the curation of diverse music, ranging from indie pop and rock to shoegaze and techno," said the organizers in a statement.
"The palpable enthusiasm for the eclectic mix of the female-led programme affirmed it," they added.
The official residence of the Alex Blake Charlie Sessions is M Social Singapore, a Philippe Starck-designed boutique hotel, situated at the Robertson Quay.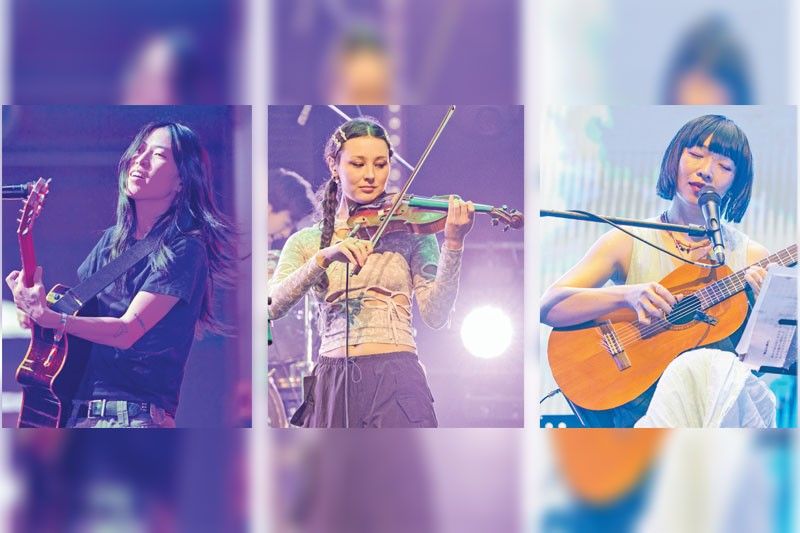 Lyn Lapid
The STAR had the chance to interview Lyn and the members of the Coming Up Roses during the event, where they talked about their music and Asian roots.
Visiting Singapore for the first time, Lyn was "excited" to perform in the show and be surrounded by "so many cool artists."
She started on social media with her viral song, Producer Man, which attracted the attention of various record labels, including Republic Records. "I thought they were really a cool label because it had one of my favorite artists, Conan Gray, under them and so that's why I went with Republic," she said.
"I just like to be authentic in my music whether it's being vulnerable, sad or happy," she replied when asked to describe what a Lyn Lapid song is. "Honestly, I need to be more happy with my songs, but I'm mostly on the sad song side. But I try to be real with every lyric that I write and all the music that I put out. I really value authenticity in my songs."
When writing songs, Lyn took inspiration from her actual experiences. "I try to be as authentic as possible," she stressed. "I write about my own experiences and I just love being vulnerable in my music, and I feel like my listeners and my supporters really value that as well."
Being Filipino-American, Lyn observed how Asians have been represented in the global music scene, saying, "I think it's so cool that the Asian community has been given more platforms to put ourselves out there. And I'm so glad to be part of it because growing up, honestly, I didn't have too much of that when I was small. And just seeing a bunch of YouTubers, who are like rocking the Asian community online, was so cool too see."
"Now that I'm a full-grown adult and I'm doing it for other people as well, other little Asian girls just like me, I feel that's the coolest thing in the world," she added.
The 20-year-old artist was born and raised in Maryland to Filipino immigrant parents. Lyn's last name is Lapid, but she is not related to actor-politician Lito Lapid.
Although she is not fluent in speaking Tagalog, Lyn expressed her intention to cover a Tagalog song one day.
"Incorporating some parts of my heritage would be such a big goal of mine to do. I do know that Filipinos are really big on karaoke and singing. That's how I started in music honestly. It was my mom whipping out the karaoke and just having me sing Celine Dion like for hours," she recalled.
Lyn first came to the Philippines when she was 10. She visited her mom's relatives in Batangas. Her memories from the visit years ago were "beautiful white sand beaches, oceans and Filipino food."
Given the chance, Lyn would love to collaborate with Zack Tabudlo and Filipino-American artist Olivia Rodrigo. She loves Zack's song Pano, describing him as "amazing." She also "takes huge inspiration" from Olivia.
"I would love to perform in the Philippines. I feel like that would be such a full-circle thing being able to perform at home, where my mom and dad grew up. That would be the coolest thing in the world," she said.
Coming Up Roses
Alternative rock trio Coming Up Roses members — vocalist-bassist Emily Sera and guitarists Darius Oon and Lorenzo Romero — were also grateful to have played at the concert. Darius and Emily, who are studying in London, returned to their home country for the festival.
Emily labeled their music as "very sentimental" and explained, "No matter what kind of sentiment — it's either sad or a little bit frustrated sometimes. But it's always like it might sound like a happy song, but when you listen to the lyrics, sometimes it (also) shows frustrations."
"I think, for me, (I want) to share (to) the people that having emotions is normal. Sometimes, especially in Asian societies, we are taught to be a little bit more proper... But I think emotions (are) what makes people human. So in doing a song, I hope people can find comfort and know that it's OK to be angry, it's OK to be sad," she shared.
Darius and Emily usually pen the lyrics for their tracks, while Lorenzo is in charge of the musicality. The group's musical influences include '90s alternative-grunge rock, such as Sonic Youth, Cranberries and Smashing Pumpkins, and current British alternative rock bands, The 1975 and The Joy Formidable.
The three met at a music school in 2018 and formed the band. Lorenzo is a Filipino immigrant living in Singapore with his family. He can speak a little bit of Tagalog and would sometimes visit his dad's hometown in Tanauan City, Batangas and mom's family in San Pedro, Laguna.
"It's kind of hard choosing a career like music, especially when you have the immigrant mentality of your parents. They came here to find a living," shared Lorenzo. "Then, you had like your childhood (dreams), 'I'm gonna be a musician. I'm gonna chase rainbows. I'm gonna live my happy dream playing music.' Then, they are like, 'Why don't you choose a more realistic (job)?' And I was like 'I don't want a realistic job.'"
"It took them quite a while to, 'OK, he wants to do this. Fine. Sure,'" he added.
Emily shared the same sentiments, especially with her mom. "I think Asian parents, they always want you to be a doctor, lawyer and nurse. But I think once we got up on stage and we showed them how much we wanted it, I always see Lorenzo's parents supporting and his siblings, they're always there watching (us on stage). My family is here today. Darius' family is also here today. I think seeing how much we enjoy ourselves on stage makes them believe in us. It's really nice."
Aside from the Glastonbury Festival, the group also wants to come over to the Philippines and perform in one of the country's music festivals.
"I guess around us like our neighbors Indonesia, even in the Philippines, seeing their live shows there through YouTube and stuff, they go crazy," Lorenzo pointed out. "They are absolutely wild. We like to see that happen in real life. We'd love to, I guess, feel and see people who like to connect our music in real time and express that through however they want it, (whether) it's like moshing, stage diving or singing along."
"The Philippines is definitely one of the countries we wanna go to because there is that communal (thing) among Southeast Asian countries... That familiarity makes us feel much at home. Also Lorenzo is a Filipino. We definitely need to play in the Philippines," Emily chimed in.
Emily is a huge fan of Filipino singer-songwriter Morissette, whom she would watch on YouTube. "I think it's the gift of being born in the Philippines. It's like everyone in the Philippines can sing. But she can sing exceptionally well. I'm just in awe," she gushed over Morissette. "I never heard someone so proficient… She can switch from like belting to soft… It's like amazing."