How relationship with her mom inspired Lea Salonga in Pretty Little Liars: Original Sin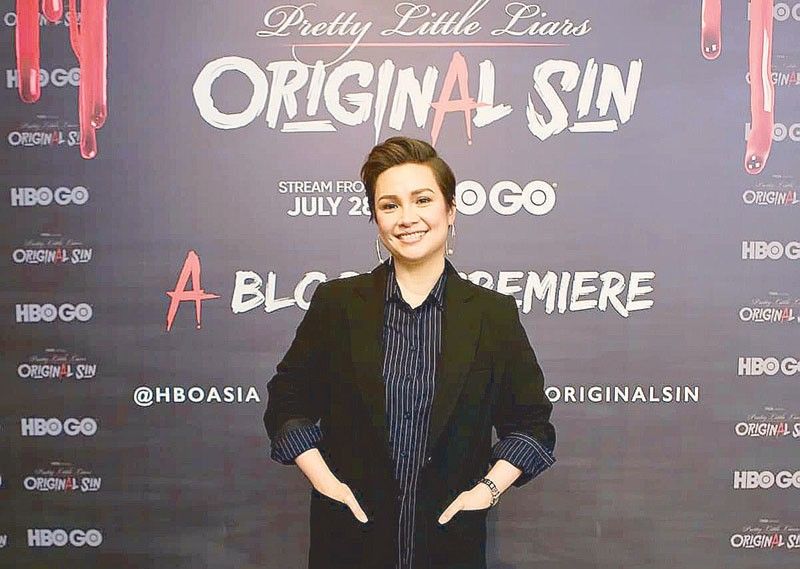 MANILA, Philippines — Broadway icon Lea Salonga took a page from her own relationship with her mother Ligaya for her acting performance in the HBO Max Original series Pretty Little Liars: Original Sin.
Original Sin, another tale that exists within the Pretty Little Liars (PLL) universe, premieres its 10-episode season today, July 28, with three episodes airing the same time as the US, on HBO GO. Two new episodes will be dropped on subsequent Thursdays, Aug. 4 and 11, with the last three episodes debuting Aug. 18.
As the synopsis puts it, PLL is a dark coming-of-age story where a new generation of Liars is being tormented by a masked killer hellbent on punishing them for sins committed by their parents two decades earlier.
Lea portrays Elodie Honrada, the Filipino mom of one of the liars, Minnie Honrada, who is played by 22-year-old Filipino-American actress Malia Pyles. Joining Malia as the "new breed" of Liars are Bailee Madison, Chandler Kinney, Zaria and Maia Reficco.
The Pretty Little Liars reboot marks Lea's return to acting after the 2019 film about Filipino immigrants in the US, Yellow Rose.
"So, (the series is) about these five young women and there is someone chasing after them who is very dangerous, and there's a mystery that they are all trying to solve. They're all from this small town," Lea told The STAR during a spoiler-free, one-on-one Zoom chat.
"It's part of the horror-slasher genre. And because it's HBO, they can take a few more risks as far as language and blood and guts and gore are concerned.
"It's been really an enjoyable process, and all the actors are so fantastic and everyone is so nice. I just felt so fortunate and lucky to be working in the middle of a pandemic on something that I think a lot of people are going to enjoy."
During our virtual interview, Lea just got back in Manila — fresh from her Dream Again UK Tour to "celebrate the release of her latest song with the same title and the 30th anniversary of her recording the Disney theme, A Whole New World, as Princess Jasmine." She was also the surprise guest at a special press screening for the series last week.
Playing a Filipino character in PLL inevitably led our conversation to the topic of Asian representation. The Tony award-winning singer and actress, who began doing theater in the US when she was 20 via Miss Saigon, has been credited to have helped open opportunities for Asian representation in the international entertainment scene.
Lea, now 51, happily noted that there are "more and more representations as the years have gone on."
"I get to see more of our faces and that casting for shows is much more diverse. I feel like okay, we're not being shoehorned into something just so there can be a diversity hire. It feels like we are included, considered and given consideration to be part of these stories," she further attested.
Read more excerpts from our exclusive chat:
How did you become part of PLL: Original Sin? Did you still have to audition?
"Yes, I had to audition. I had to audition on Sept. 1 and I remember the date because I'm a huge fan of BTS, that's not a secret, and Sept. 1 is the birthday of their youngest (member). I knew it was his birthday when I was preparing my setup here in order to get ready for the audition. So, maybe Sept. 1 is going to always be a lucky day.
"I auditioned and sent the recordings to my manager who was reading with me and he sent it to the creatives of PLL. It was a very quick hiring process. Maybe about a week. And then I had to start packing and get ready to go… But yeah, I had to audition like a whole lot like everybody else that was part of the show. It wasn't just offered."
Was HBO looking specifically for an actor of Filipino or Asian descent?
"I think they were looking for a Filipina specifically because Malia is of Filipino descent. I think that if there is a future for the show past this season, there's a lot of common ground as far as culturally… I mean, there might be stuff to explore later on, if we're given the opportunity.
"I think Filipinos are also very unique as far as how we look, as far as our culture. I don't think we're really swappable with a lot of others. I think they needed specifically to hire somebody for her mother who was of the same culture.
"I don't know what went into the decision to hire me. But I'm very glad for it, especially since in the original series, Shay Mitchell was one of the Liars. Her mom is my first cousin. So, our family is kind of going wow, that I'm also part of this PLL universe. It's kind of nuts when I first told my cousin after I got the job. We were screaming for at least five minutes when I told her the title.
"She was like, oh my god, of all the people that they could get for that show, it was you. Same family, man, that they tapped for this, I mean, of all the actors of Filipino descent that they could have hired. It was just one of those things that I think felt karmically favorable."
What were the challenges you experienced while trying to flesh out this role?
"I think it's trying to find and figure out where our similarities were. And what I discovered was that Elodie was, I think, more similar to my mom, as far as personality, as far as parenting, as far as her own unique circumstances. I found more similarities and more common ground between Elodie and my mother than I did between Elodie and myself.
"So in a way, it made it a little easier to play. Because I had so many years of experience and of watching my mother. I had a lot to draw upon in creating who this character is. It's kind of easier when I am able to kind of clinically be a little bit distant, see what's happening, then jump back into it and make it my own. If anything, I think I'm a little more empathetic with regards to my mom. I'd like to think that I understand things about her a little bit better because of this experience."
How's your working relationship with Malia who plays your daughter?
"She's talented and lovely on screen, and generous. She's so much fun, very open and allows herself to be vulnerable. And the cool thing about that set is that it felt so safe. It felt really safe to explore the humanity of these characters. It just sounds like a really good working environment to do the kind of work that we needed to do for this. It was lovely getting to play her mother because she's a fantastic human being."
Many consider you as having helped pave the way for Asian representation on the global stage or entertainment scene since Miss Saigon days. What changes and developments have you observed since then?
"At the start of my career doing theater in the States, I remember being — Miss Saigon is an exception — like in Les Miz (Les Miserables), for example, I was the only person of color in that entire company.
"And then, I did Les Miz years later playing a different role. All of a sudden, there were three, then four of us Filipinos in the cast. Then the cast was incredibly diverse. So, I think there are more and more stories coming from people of color now than there used to be.
"Just this year, we have PLL, which has a very diverse cast. Jo Koy's film is coming out next month, Easter Sunday, which I hope is supported and I hope that it does well. There are more of our stories being told, which I never dreamed I would see. Being able to witness all of it, it makes me feel happy and proud to have been there when it wasn't there or when it was just starting to be there. And now to see it bloom even more.
"But there's still a lot of work to do. There are still other stories from all kinds of people that need to be told. Not just the Filipino or Filipino-American perspective but, you know, people that have come from India, other families from China and you know, it was a Singaporean family that was at the center of Crazy Rich Asians. So, to be able to see more of our faces and to be represented in a way that is fun and funny, not just one-dimensional, and to show us as sexy, intelligent and beautiful, but can also be mean, catty, petty and all of these things, to show the fullness of who we are, it's been really fun to watch."