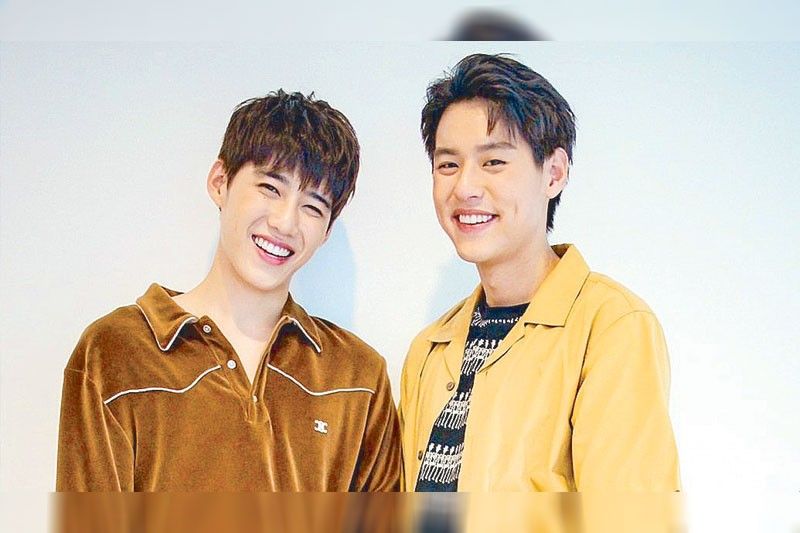 In I Told Sunset About You (ITSAY), childhood friends named Teh and Oh-aew, played by Thai actors Billkin Putthipong and PP Krit, respectively, have ghosted each other because of a petty misunderstanding. One day, they run into one another and rekindle their friendship. POPTV airs the Filipino-dubbed version of the coming-of-age drama series, produced by Nadao Bangkok and Line TV.
STAR/ File
I told Sunsets About You Thai stars relive experiences, lessons
Jerry Donato
(The Philippine Star) - June 25, 2021 - 12:00am
Filipinos saw the emergence of Thai Boys Love (BL) genre last year and embraced it with open arms. I Told Sunset About You (ITSAY) was one BL series that caught their attention and fancy. Good news is, POPTV, the first all-Pinoy streaming service, streams the Filipino-dubbed version of the coming-of-age drama series, produced by Nadao Bangkok and Line TV.
A quick recall of the ITSAY plotline: Childhood friends named Teh and Oh-aew, played by actors Billkin Putthipong and PP Krit, respectively, ghosted each other because of a petty misunderstanding. After many summers, they run into each other in a review school. As they work their way to pass, if not ace, the college entrance exam, the two rekindle their friendship.
"I think ghosting is something we could do but we should not do, because we should actually solve the problem," PP gave his two cents, through a translator, on a person's decision to cut ties and cut off communication with another person without explanation in an interview with The STAR. "We should find the cause of the problem. And we should talk about it, like be clear with each other."
He added that sometimes people are not in the mood to talk about their problems, and if one may add, they feel compelled to run away from others.
"If we will eventually talk, but our mood has not settled down yet, it may bring the problem to a bigger effect," said PP. That's why people need some time and space to think things over and talk again.
According to Billkin, there are two possible reasons why a person ghosts another in a relationship.
"One is you are hating that guy so much," said he in English. "Another thing is you love that guy so much. You want to raise the attention from him." Billkin continued that ghosting is not a sign of cowardice but didn't rule out the possibility that one ghosts another "(because) he is a coward." What's clear is, reasons for ghosting are varied and personal. He added that a person may do it to see how people react to and feel about the former's sudden disappearance.
"I like his confidence," said PP about his character, Oh-aew. "He knows his goals, his aims and his objectives (in life). Although he may not be sure about his future path, his future career or what he actually wants to do (next) but his being confident is (what) I really love about him."
Teh's concern for others, on the other hand, has won the heart of Billkin.
"He is a caring person," said the actor. "He always thinks of others in everything he does. He cares for his mom, he cares for his brother, he cares for his friends. That's the thing that I love most (about my character)."
I Told Sunset About You is among the popular BL series of 2020. Many may attribute its following to PP and Billkin's performances, the script and cinematography. Its sequel I Promised You The Moon is available on Line TV and Vimeo Plus.
"It's about the team, the over-all team (that works) hard," said PP of ITSAY's success. "We are just actors in front that the audiences see. Behind those screens are many teams working and determined to do the project as well. It's all about teamwork and the whole team (that is) trying to achieve success and bringing the series to other viewers."
Asked what they like about acting, Billkin said: "Actually, for me, the good thing, is, you become others (or another person). You put yourself into roles (or characters) that may be close to you or very far from you, but finally, it's you. It's like you're finding yourself in another version (of you). You explore different aspects of being a human, you learn about feelings… It's not just about talking (to another actor), it's not just about telling (stories), we put ourselves into the situations (of our characters). In acting, we can try to be someone (else), we can try to be in some situations."
To meet the demands of their roles, PP said that he and Billkin attended workshops to further enhance their acting and personal skills. They also studied Chinese language and learned how to ride a motorcycle, to dive and to sing. The actors also worked with an acting coach in creating that onscreen spark or chemistry. The coach helped them to become their characters, recalled Billkin, and understand their objectives as actors.
"These kinds of things helped us a lot," added he. "It's like we know each other and when we look into (each other's) eyes, we know what the other is thinking. I know what he feels, he knows what I (feel). We know what we can do and what we cannot do and what we want." Billkin could also attest that chemistry cannot just happen in a snap. Actors need to build it and trust each other.
"There's a dream part," said Billkin about lessons in life and love that viewers may learn from watching the series, "there's a relationship part, there's the education part, (there's) the society part, there's the culture part. There's a lot of things that audience can take away from it. They can use them in their lives."
With that, watch the Filipino-dubbed I Told Sunset About You on POPTV.
(To download the POPTV app, search for POPTV PINAS on Google Play, Huawei App Gallery, and Apple App Store. POPTV subscriptions can be purchased via load deduction through SMART or Google Pay; or may be transacted via credit/debit card or GCash app. It is also available on Shopee, Lazada, all branches of M Lhuillier and RD Pawnshops nationwide, and in sari sari stores in key cities in Luzon. For details, visit facebook.com/poptvph or visit www.poptv.ph.)