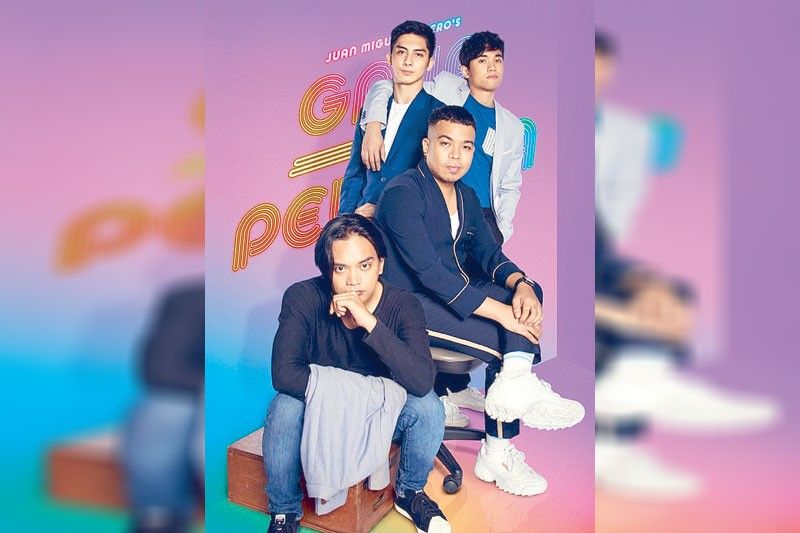 Director JP Habac (seated, center) with lead stars Paolo Pangilinan (left) and Ian Pangilinan, and the BL series' writer and creator Juan Miguel Severo (foreground). The eight-part romantic comedy series is now streaming on YouTube.
STAR/ File
Gaya sa Pelikula: A narrative that represents the LGBTQIA+ community
You must have been living under the rock if in case you didn't notice the sudden boom of Boys' Love (BL) series in the local filmmaking scene. In fact, the number of locally-produced BL series keeps on multiplying, it has already become challenging to keep track of them.
It's about time, director JP Habac agreed, for people to watch narrative films of this genre that represent the LGBTQIA+ community.
"It's been so long that our queer creators have kept their silence. So, now is just but the right time for them to be given this kind of platform in order to fully and properly represent gays, lesbians and other members of the LGBTQ+ community in mainstream media," he said.
JP is the director of Globe Studios' digital series Gaya Sa Pelikula (Like in the Movies) that had its pilot streaming last Sept. 25 on YouTube. Globe Studios, the film production outfit behind such award-winning films as Birdshot, Goyo, Hintayan Ng Langit, LSS and Dead Kids, returns via its first-ever narrative digital series sure to bring all the kilig and laughter in a refreshingly unique way with Gaya Sa Pelikula, written and created by Juan Miguel Severo.
"When I was offered this project and initially read the background of the story, I felt excited to work on it. More so, upon learning its goal and advocacy, I sensed the immediate need to release Gaya Sa Pelikula," shared JP. "People have a lot of time to watch online series these days and this is a good opportunity to show what a lot of people should see when it comes to LGBT-themed stories.
"When I was reading the script, I told myself this should be out soon because, well, Gege (referring to Juan Miguel) and I would always say in interviews na sobrang tagal nanahimik ng mga queer creators na mabigyan ng ganitong klaseng platform at maipakita 'yung tamang representation ng mga bakla, lesbians at lahat ng nasa LGBT community sa mainstream media."
But this is not to say that JP finds the local movie productions bias to love stories anchored on the relationship of the opposite sex. "I mean, even before visible naman ang mga characters ng LGBT community in mainstream media but not fully represented. So that's our goal in this project. Well, actually the whole team has long wanted to give members of LGBT the proper representation."
Gaya Sa Pelikula is an eight-part series of 20-minute episodes that is a prequel to the unproduced teleplays on Wattpad by Juan Miguel. It is a romantic comedy series that has Ian Pangilinan and Paolo Pangilinan in lead roles. The series centers on Karl Almasen (Paolo), a 19-year-old recluse architecture student in the middle of an identity crisis and Vlad Austria (Ian), a schoolmate on the run from his own family.
The two become housemates after Karl is forced by his parents to move into his uncle's condo unit to learn to live alone — a family tradition — prior to the start of the second semester of college. Vlad, on the other hand, rents the other room to hide from his own family. Find out how the two get to know more about each other and about themselves than they could have ever imagined.
Gaya Sa Pelikula was also chosen to be part of YouTube's Super Stream content line-up. Super Stream is part of the video-sharing platform's effort to enable Filipino viewers to access partners' content such as movies, TV shows and more for free for a limited time.
Asked what sets Gaya Sa Pelikula apart from other BL series, JP replied, "We are not competing with any other BL series. Truth is, we are delighted by the growing number of Filipino BL series kasi gusto naming maramdaman nila (viewers) na normal maging bakla."