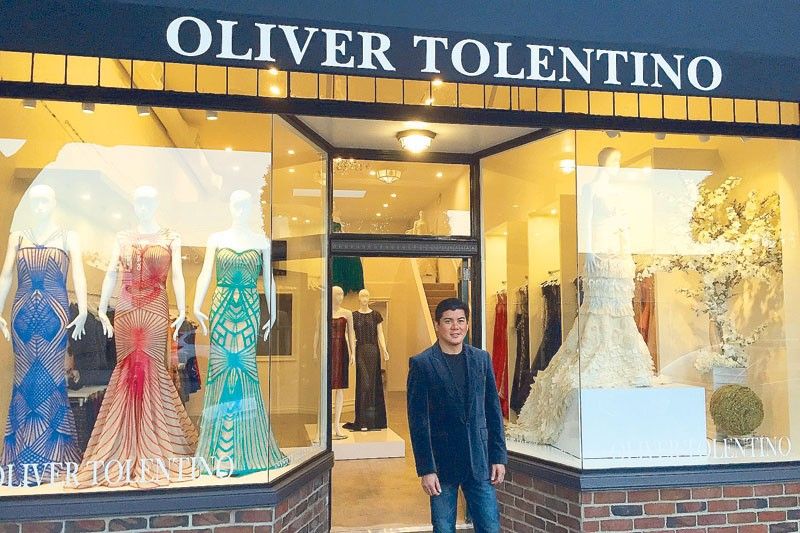 Oliver Tolentino at his shop in Beverly Hills: Spared by the riots raging just a few blocks away.
Keeping indoors to avoid another lethal 'virus'
FUNFARE
-
Ricky Lo
(The Philippine Star) - June 4, 2020 - 12:00am
When I watch the continuous CNN airing of violent riots on the streets across America...north, south, east and west...I become concerned about the safety of friends who live in the epicenter of what some people may consider another "virus" — the virus of violence.
Since the killing of George Floyd, a Black man, by a cop who knelt on Floyd's neck during an arrest (suspect already charged in court), the COVID-19 pandemic has been sidetracked from the headlines. Images of the riots and lootings from coast to coast are as frightening as the tally of COVID-infected people around the world. Floyd's last words before he died, calling "Mama," have become the battle cry of the rallyists — "I can't breathe!"
Funfare connected with two Filipinos living on opposite ends of America.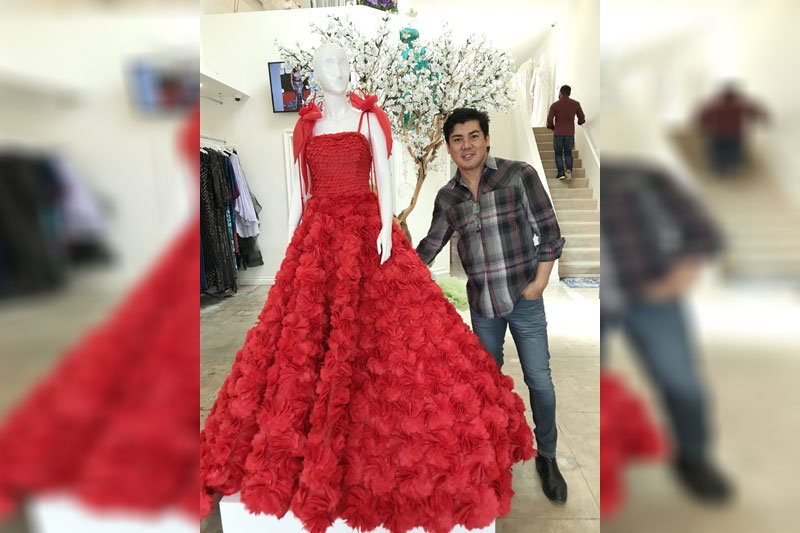 Oliver Tolentino (West Coast) who runs a shop in Beverly Hills just several suffocating breaths away from where a store selling branded bags was looted by rioters.
The Hollywood celebrity designer reported that last Saturday (May 30) night, the Farmers Market/Grove demonstrations occurred several kilometers from his house and atelier.
"It was horrible seeing all of the boutiques on Melrose Avenue get vandalized and looted," Oliver shared. "When I first opened here in the States, my first boutique was located on Melrose in West Hollywood. I moved about four years ago to a larger space in Beverly Hills. It's so sad seeing the crowds march on Rodeo Drive and break into Gucci and Alexander McQueen. Fortunately, my boutique is a little southeast of Rodeo and even though there was looting south of us, we were not affected."
He further said, "I know people back home are wondering what is happening in the States, but it's complicated. The protesters upset over the death of George Floyd are sincere and peaceful. Unfortunately, several other groups, looters and anarchists, appear at these rallies and take advantage of the situation with the goal of stealing or vandalizing property and creating chaos."
Oliver also noted that his boutique has been closed for almost three months due to the COVID-19 lockdown in Los Angeles. The city has just allowed retail shops to open up. Oliver's plan was to re-open and resume operations the other day (Tuesday, June 2).
Boots Babushka (East Coast), the enduring Pilita Corrales impersonator from Tagbilaran City (real name: Eugenio Palanas) whose bittersweet life story was dramatized on Charo Santos-Concio's MMK (Maalaala Mo Kaya) a few years ago. Boots (his professional surname Babushka means "old lady" in Russian) used to be a prominent figure in New York City's popular annual Gay Pride Parade.
"The curfew in NYC had just been imposed at 11 tonight (Monday, June 1)," Boots reported in a phone interview. "That's due to the riots and looting going on non-stop. By the way, for three years now, I haven't been invited to the LGBT parade because of my being an openly staunch Trump follower."
Boots is a most sought-after hairstylist who has a by-appointment-only shop right in his apartment in Manhattan.
He added, "I am the head of a Facebook group called 'Wear & Tear Melania & Ivanka Dress Du Jour,' lol! I'm a true-blue TRUMP'ette! I also have a group on Facebook called 'Boots Babushka's ARK, the Animal Paradise.' That group is for my members to post funny pics, vids, stories of pets and all sorts of animals on this planet. By the way, during the NYC International Gay Pride 2019, when Madonna had a show at the Pier 97 Pride Island, I joined Elton Lugay's TOFA group as usher of her show. I was lucky to be kissed by tall International hunks as I was assigned at the entrance door scanning wristbands."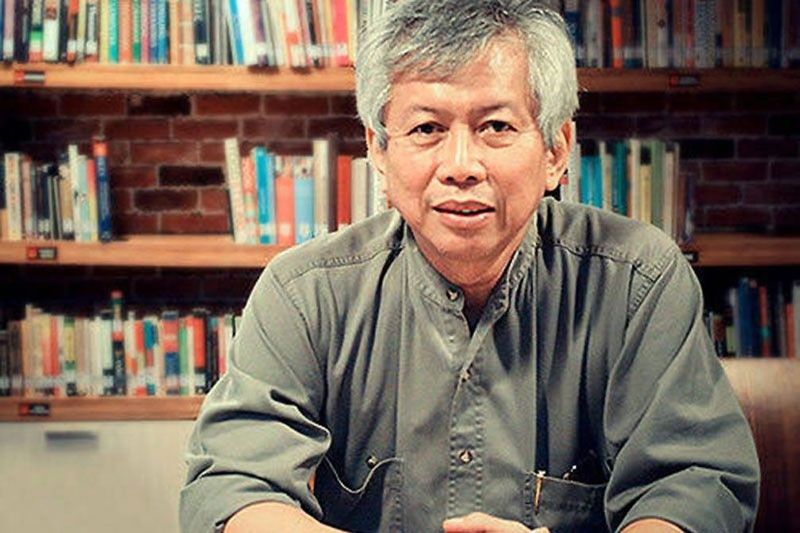 A timely salinawit by Pete Lacaba
Lest I get lost in translation, I am printing verbatim the original Filipino story sent to Funfare by Pete Lacaba (photo) who does brilliant Tagalog lyrics to popular songs you can sing-along to.
Here it is:
Noong19-kopong-kopong, napagtripan ko ang paggawa ng mga adaptasyon sa wikang Pilipino ng mga awiting dayuhan. Salinawit ang itinawag ng kapatid kong si Billy sa mga adaptasyong iyon. Isa sa mga ginawan ko ng salinawit ang Imagine, kanta ng Beatles na ang lyrics at musika ay kay John Lennon. Eto iyong salinawit ko.
ISIPIN MO
Sa himig ng Imagine
Orihinal na titik at tugtugin ni John Lennon
Salinawit: Pete Lacaba
Isipin mong walang langit.
Magagawa mo 'yan.
Wala ring impiyerno
O kabilang-buhay.
Ang buhay mo ay narito
Sa ibabaw ng mundo...
Isipin mong walang bayan.
Mahirap bang gawin?
Wala na ring digmaan,
Walang paninikil.
Isipin mong payapa na
Ang buong mundo…
Yoohoooooo!
Ako ba'y nangangarap?
Hindi ako nag-iisa.
Sumama ka sa amin.
Ang mundo'y pag-isahin.
Isipin mong ang yaman
Ay di sinasamba.
Walang mga gahamang
Nagsasamantala.
Pantay-pantay ang tao
Sa buong mundo…
Yoohoooooo!
Ako ba'y nangangarap?
Hindi ako nag-iisa.Sumama ka sa amin.
Ang mundo'y pag-isahin!
Ngayong panahon ng Modified Enhanced Community Quarantine (Modified ECQ) dito sa Quezon City, naisipan kong gumawa ng naiiba namang salinawit — isang parody version. Eto siya:
Isipin mong walang COVID
Sa himig ng Imagine
Parody Salinawit: Pete Lacaba
Isipin mong walang covid.
Magagawa mo 'yan.
Wala nang quarantingting
O social distancing.
Ang buhay mo ay simple lang,
Wala nang face mask diyan…
Isipin mong walang Wuhan.
Mahirap bang gawin?
Wala na sanang lockdown
Sa barangay natin.
Isipin mong sumemplang na
Ang veerus sa mundo…
Yoohoooooo!
Ako ba'y nangangarap?
Hindi ako nag-iisa.
Sumama ka sa amin.
Ibagsak ang quarantine!
Isipin mong ang distancing
Ay di na po sosyal.
Puwede ka nang bumeso
Sa kahit sino diyan.
Isipin mong sumemplang na
Ang veerus sa mundo…
Yoohoooooo!
Ako ba'y nangangarap?
Hindi ako nag-iisa.
Sumama ka sa amin.
Ibagsak ang quarantine!
(E-mail reactions at rickylophilstar@gmail.com. For more updates, photos and videos, visit www.philstar.com/funfare or follow me on Instagram @therealrickylo.)