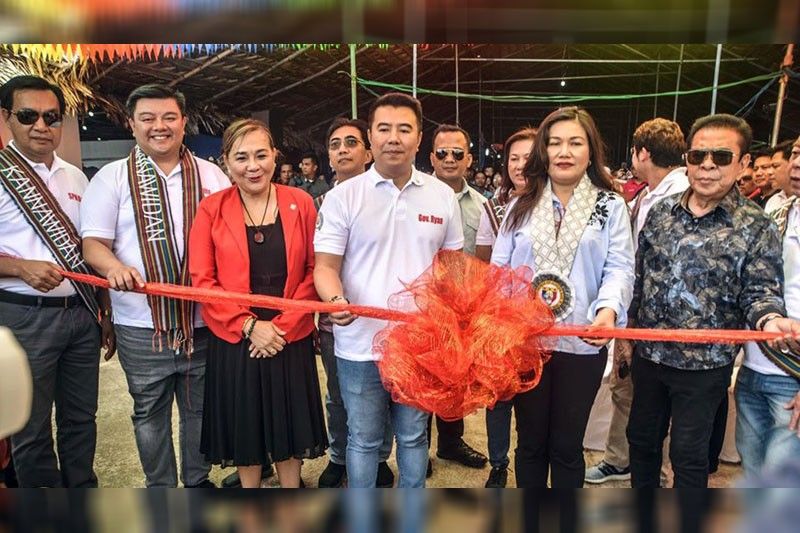 First Lady Cielito 'Honeylet' Salvador Avanceña with DTI Asst. Sec. Demphna Du-Naga, Ilocos Sur Gov. Ryan Luis Singson, Mayor Chavit Singson, Vice Governor Jeremias 'Jerry' Singson and Sangguniang Panlalawigan members visit the booth of each town in the province, which showcases One Town One Product (OTOP).
­­Stars light up Kannawidan 2020
The biggest movie and television stars dazzled at the Kannawidan Ylocos Festival 2020, filling up PGIS'
7,000-capacity Tamag Grounds in Vigan City from Jan. 28 to Feb. 9.
"Every Ilocano looks forward to the Kannawidan Festival because it is agrand celebrationof our culture. It is a time where every municipality comes together as one to thank God not only for our bountiful harvests but alsoto celebrate oursuccesses andgains as a province. Ourgratitude extends to all thecelebrities who graced thisoccasion and provided entertainmentto the people,"said Gov. Ryan Singson.Gabby Concepcion,Dimples Romana andBeauty Gonzales of KadenangGinto, Gerald Anderson,Derek Ramsay, RonnieAlonte, Vin Abrenica,Bianca Umali, Ken Chan,Ashley Ortega, DerrickMonasterio, Ritz Azul,Barbie Imperial, Loisa Andalio,Katarina Rodriguez,Maria Ozawa, chef JoseSarasola and Joseph Marcogreeted the Ilocanos.Jericho Rosales, PaoloBallesteros, Cristine Reyes,Jameson Blake, JC de Vera,and Erich Gonzales serenadedfans in the jam-packedopen fi eld. Also present was Andrew E. who made the crowd wild with his hit songs, while Parokya ni Edgar, Silent Sanctuary,
Ben&Ben, IDOLLS, Kaye Cal, The Juans, December Avenue, Skusta Clee and JK Labajo and his band rocked the Tamag grounds. Maja Salvador delighted fans as she interacted with the crowd in Ilocano dialect during the coronation of the Saniata ti Agtutubo (pageant for six- to 10-year old girls) and the Kannawidan 2020 Saniata ti Ilocos Sur Beauty Pageant which were both hosted by KC Montero and Isabelle Daza. Miko Raval and Enchong Dee also regaled the crowd with their own numbers. The UNP Gym was also packed with basketball-loving
celebrities like Onyok Velasco, JC Tiuseco, Joross Gamboa, Mark Herras, Jordan Herrera, Matt Evans, Jason Abalos, Gab Lagman and Dunker David Carlos. They participated in an exhibition game against Ilocos Sur Team, product of Gov. Ryan's Cup.