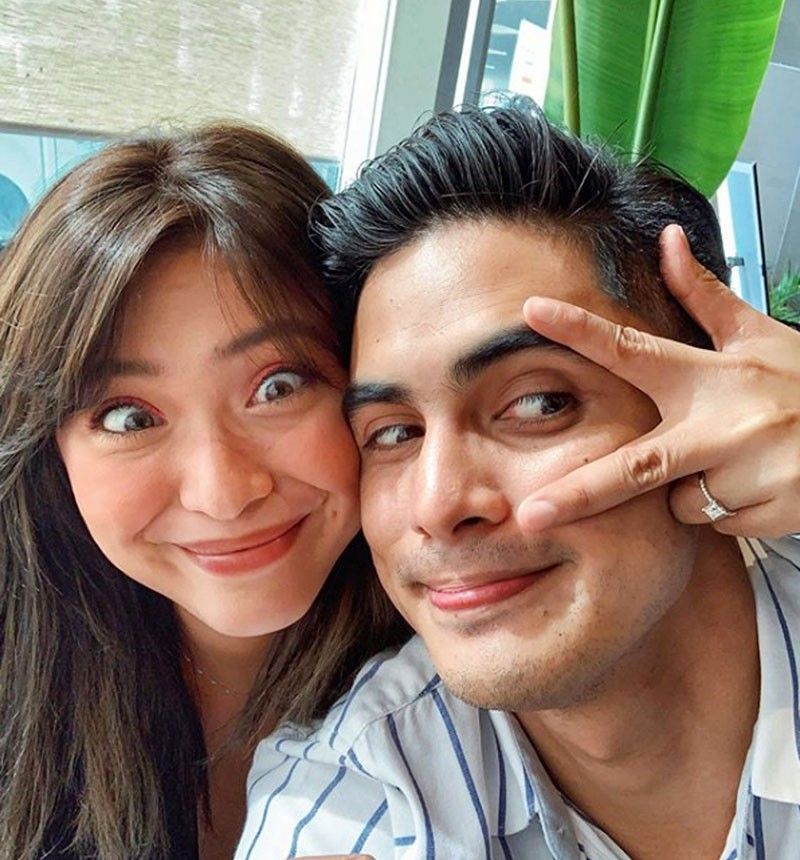 Joyce Pring and Unang Hirit segment co-host Juancho Trivino on her Instagram announcement of their Aug. 3 engagement
The love story of Juancho Trivino and Joyce Pring
FUNFARE
-
Ricky Lo
(The Philippine Star) - November 30, 2019 - 12:00am
Curtain-raisers:
• From Funfare's DPA: For several months now, a popular but low-key businessman has been quietly dating a beautiful lady who has long been separated from her husband. "Not sure if her marriage has been annulled," said the socialite DPA. "It seems that the very respectable businessman is fed up with the embarrassing headline-making incidents caused by his partner of many years. He has been very quiet, opting to keep mum about his issues-laden girlfriend. He's happy with his new love."
• After that recent incident at the premiere of a movie, stars afflicted with the green-eyed monster are now said to be infected by the "Bianca Umali Syndrome." Another Funfare "devotee" recalled similar incidents years ago. One, a beauty-queen-turned-actress got so jealous while she and her actor-boyfriend were abroad that she set the hotel curtains on fire. Good thing the firemen arrived on time and prevented a conflagration. Second, a singer-actor was so possessive that every time he left home, he would lock up his actress-partner at home. Thank heavens, no incident (like a fire) happened while she was virtually in prison. She was a prisoner of love, hehehe!!!
• And this one from Funfare's roving DPA: Did you know that the girlfriend of a TV host made a scene at the studio's basement parking when she was taken out as a co-host? She was probably feeling insecure (although she doesn't have to be) because the show has other pretty co-hosts. The TV host nipped a domestic war by putting the girl back on air. "Ingat na ingat na ngayon ang ibang magagandang co-hosts," according to the DPA. "Mahirap na nga naman, di ba?"
* * *
Happy for Joyce Pring and Juancho Trivino who have announced their engagement on social media although Joyce wouldn't reveal when and where the wedding would be, except to say that it would be "a garden wedding next year."
Joyce announced on her Instagram that Juancho proposed to her last Aug. 3 during her mom's birthday celebration in Boracay, saying that "we have been praying about this decision for a couple of weeks and even attended pre-marital counseling in church."
It's interesting to note that in an interview with The STAR a few months before the engagement, Joyce admitted that Juancho was courting her, joking that "I'm giving him a hard time," although Juancho stood a good chance. They became close while segment co-hosting for the GMA early-morning show Unang Hirit starting in October last year. The athletic Joyce is petite at 5'4" while Juancho towers over her at 6'1".
"He's lanky so his center of gravity is alanganin," laughed Joyce.
Asked then why she and Juancho clicked, Joyce (whose famous dad, policeman Joe Pring died when Joyce was two years old) said, "We are both old school. We have a similar upbringing. I want to be pursued the traditional way you know, with flowers and whatever. Am I giving him a deadline? No naman. Everything depends on how ready I am to go into a relationship. I haven't had a boyfriend for two years now. Juancho and I are together every day, so mahirap hindi ma-develop."
Why Roxanne cried a river at presscon
Had there been an award for Best Single Dramatic Live Performance by An Actress, Roxanne Barcelo would have won it hands downs.
It happened at the recent presscon for Love is Love, the initial offering of RKB Productions directed by GB (Giuseppe Bede) Sampedro that also stars JC de Vera, Raymond Bagatsing and Jay Manalo. The movie is opening nationwide on Wednesday, Dec. 4.
As this corner mentioned several issues ago, last June while Roxanne's parents were vacationing in the US, her father slipped in the bathroom and his head hit the floor, suffered a stroke and died a month later. Roxanne's family needed money and she was thankful that people came to their rescue.
Tears rolling down her cheeks, Roxanne narrated how the tragedy was eased by the projects that came her way…just when she was about to quit showbiz (after she broke up with an actor who sired a child with his new girlfriend recently).
"Work has been a therapy for me," said Roxanne who buckled down to work even during her father's wake. "I told myself that I would give my all to honor my dad. I thank God for the blessings. I've been used to working since I was 13 and if work comes, I will do it with all my heart."
Besides Love is Love, she was also cast in The Panti Sisters and The Art of Ligaw. When she competed in It's Showtime's Tawag ng Tanghalan Celebrity Edition and sang Somewhere Over The Rainbow with so much feeling, Roxanne melted the hearts of televiewers. The lyrics aptly described what she had gone through.
Incidentally, Love is Love is about people who believe that true love knows no gender. The actors claimed that, yes, love is love whether the object of that love is male or female. Local movies have reached a level of maturity and same-sex relationships are now tackled sans apology.
As Roxanne put it, "Love is a feeling. You get attracted to someone because of that feeling, regardless of gender. I am open-minded about this. Kung ano ang nararamdaman ng puso mo dapat bigyan ng laya."
(E-mail reactions at rickylophilstar@gmail.com. For more updates, photos and videos, visit www.philstar.com/funfare or follow me on Instagram @therealrickylo.)