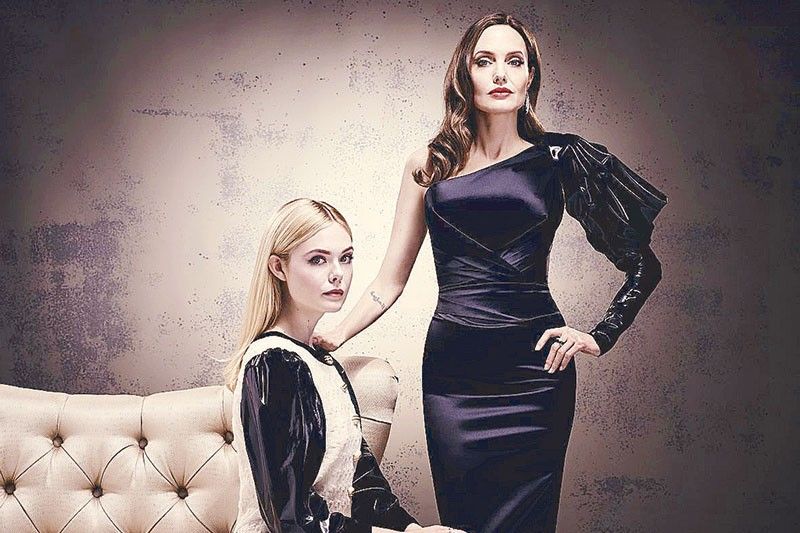 Angelina Jolie (right) and Elle Fanning topbill Disney's Maleficent: Mistress of Evil.
Jason Bell
'Mother-daughter' bond at the heart of Maleficent sequel
Maleficent: Mistress of Evil director Joachim Rønning feels lucky to helm the sequel to the 2014 box-office blockbuster that turned Disney's most notorious villain into a protagonist and gave a fresh spin to a well-loved fairytale.
MANILA, Philippines — Disney's Maleficent: Mistress of Evil director Joachim Rønning feels fortunate to helm the sequel to the 2014 box-office blockbuster that gave a fresh spin to a well-loved fairytale.
The first film turned Disney's most notorious villain into a protagonist and went on to gross more than $750M worldwide.
In a phone interview with STAR, the Norwegian filmmaker said that before he took on the project, he was already a fan of the Disney film, having been particularly drawn to its central character, Maleficent, wickedly and gorgeously played by Hollywood A-lister Angelina Jolie.
He gave props to Disney for making the bold move to come up with such a compelling anti-heroine through the movie.
Rønning said that the film's drawing power also lies in mother-and-daughter-like bond of Jolie's Maleficent and Elle Fanning's Aurora characters. It provided the emotional core of the movie, and he believes it is this emotional journey of the main characters that made it resonate with audiences around the world.
As the story goes, the "relationship" of Maleficent and Aurora was born of "heartbreak and revenge" but eventually was transformed into love. The horned fairy, who cast a dark spell on the infant princess, would also be the one to break it. She would treat Aurora as her own daughter, even granting her the title, Queen of the Moors. Aurora would reciprocate this love, unconditionally.
Rønning said that with any project, he always looks for the heart of the story.
Being a parent himself to two girls, he can easily relate to the dynamics between Maleficent and Aurora. "The (theme on the) importance of family was also what made me do this film," he said.
In Maleficent: Mistress of Evil, Aurora is still in love with Prince Philip (played by Harris Dickinson) from the neighboring kingdom of Ulstead and agrees to wed him. The wedding is seen to unite the human and fairy worlds. But Maleficent has reservations about the impending union based on her own painful experience with love.
The prince's father King John (portrayed by Shakespearean actor Robert Lindsay) happens to be married to Queen Ingrith, a scheming woman and "worthy adversary" to Maleficent. So, who's the real "Mistress of Evil" now? Teaser trailers raise this question.
When it came to casting the role of Queen Ingrith, producers wanted someone who could "hold her own" opposite the formidable Jolie and they found it in the Golden Globe-winning and three-time Oscar nominee Michelle Pfeiffer.
"There are very strong female characters in this movie," Rønning noted.
He said he feels so lucky to be directing these actresses, which are regarded as some of the finest in the world. It was also a delight for him watching his stars, in character, battling it out on the set.
Maleficent: Mistress of Evil also promises stunning visuals, lavish production and set design, and battle-ready costumes, among others, to showcase a "visually lush" and "epic" universe fit for its characters. The sets had to occupy multiple sound-stages because of their "enormous" sizes. Principal photography was done at the famous Pinewood Studios outside London from May to August 2018.
According to the production notes, Rønning formed an accomplished creative team made up of director of photography Henry Braham, BSC; production designer Patrick Tatopoulos; costume designer Ellen Mirojnick; composer Geoff Zanelli; film editors Laura Jennings and Craig Wood, ACE; visual effects supervisor Gary Brozenich; makeup designer Paul Gooch; special makeup effects designer David White; and stunt coordinators Simon Crane and Jo McLaren.
Still and all, a film can have all the "spectacle" of the world, but if the story isn't relatable, it falls short of its goal of entertaining and touching the hearts of its viewers.
That's what, indeed, Rønning believes in. That, the success of the first film had a lot to do again with that emotional core, courtesy of the relationship between a mother figure (Maleficent) and a daughter figure (Aurora). He felt it was very important for him to continue this in the succeeding chapter because that's what makes the film relevant and relatable.
Rønning, who is a prolific director, writer and producer originally from Sandefjord, Norway, said that he has always wanted to work in Hollywood.
"I've always wanted to do films and I've dreamed of this since the 1980s, making short films with my father's home video camera."
After studying in a film school and setting up a production house that did commercials, he came up with his first Norwegian feature film, the World War 2 drama Max Manus, in 2008. It became the highest-grossing Norwegian film of all time. He next directed Kon-Tiki (2013) about the legendary explorer Thor Heyerdahl. It became the first Norwegian film to ever receive both a Golden Globe nomination and an Academy Award nomination for Best Foreign film.
In 2017, Rønning then directed Pirates of the Caribbean: Dead Men Tell No Tales for Disney. It earned a whopping $800 million worldwide.
Now, as the director of the highly-anticipated Maleficent sequel, it seems it's not just a dream come true, but his own fairytale coming to life.
(Disney's Maleficent: Mistress of Evil hits Philippine cinemas on Oct. 16.)