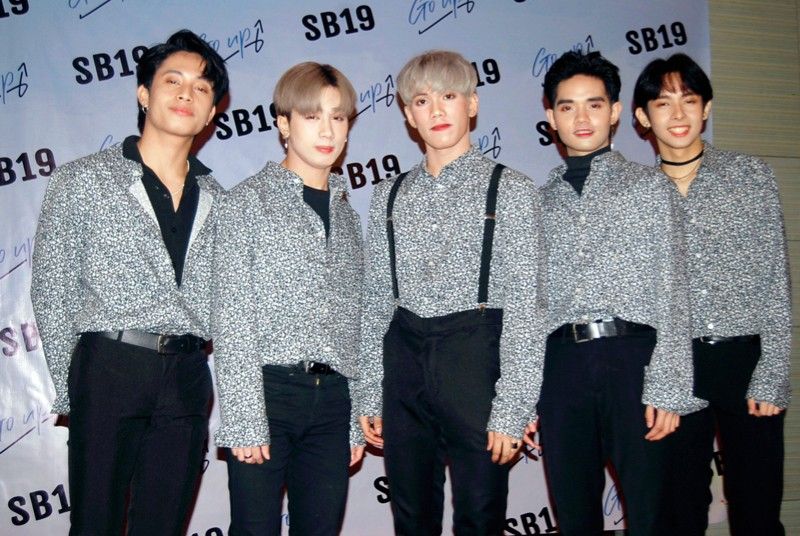 From left: Ken, Josh, Stell, Sejun and Justin can sing and dance a wide variety of genres, compose their own music and create their own choreography
Photo by Honey Orio-Escullar
SB19 is newest P-pop idol in town
MANILA, Philippines — SB19, the five-member P-pop group that debuted last year with the single Tilaluha, is back with a freshly-released track titled Go Up. With this, the boys are deadset on breaking new grounds in the local music scene after having spent more than three years of intensive training and preparations under the K-Pop system of Korean entertainment company, ShowBT Philippines Corp.
Sejun, Stell, Josh, Ken and Justin represent SB19 who can sing and dance a wide variety of genres, compose their own music and create their own choreography.
Noticed for their heavily-influenced K-pop sound and style, the boys said they would prefer to be identified as P-pop artists who wanted to make it big in OPM industry and show the public that they have that Filipino flare that we are all familiar with.
"Although we are under a Korean company, hindi namin syempre nakakalimutan yung pagiging Filipino namin and we are doing this because our success is also for the Filipinos. We are creating our own (style) so yun po yung uniqueness namin in representing the Philippines while we learn from other cultures," said Justin, SB19's youngest member.
Meanwhile, released last July 19 on Spotify, Apple Music, Dezeer, Amazon Music and Google Play Music, Go Up talks about the hardships and overall journey one goes through in reaching one's goals. The song also encourages people to never give up on their dreams.
SB19 has worked with music producer group RealBros which is behind numerous K-pop hits, led by Oh-won Lee who composed and produced the song. Go Up's music video, on the other hand, was directed by JC Gellidon who has worked with local and international brands and celebrities, including Donnalyn Bartolome and Brian Puspos.
SB19 also dreams of collaborating with big artists like Sarah Geronimo and Iñigo Pascual.
"Now that we have released Go Up," said Stell, SB19's main vocalist, "we also look forward to do more mall shows, TV appearances, radio guestings. We also hope that we could release a full album kasi marami kaming songs na nakaimbak and we are excited to share this to our Pinoy audiences."