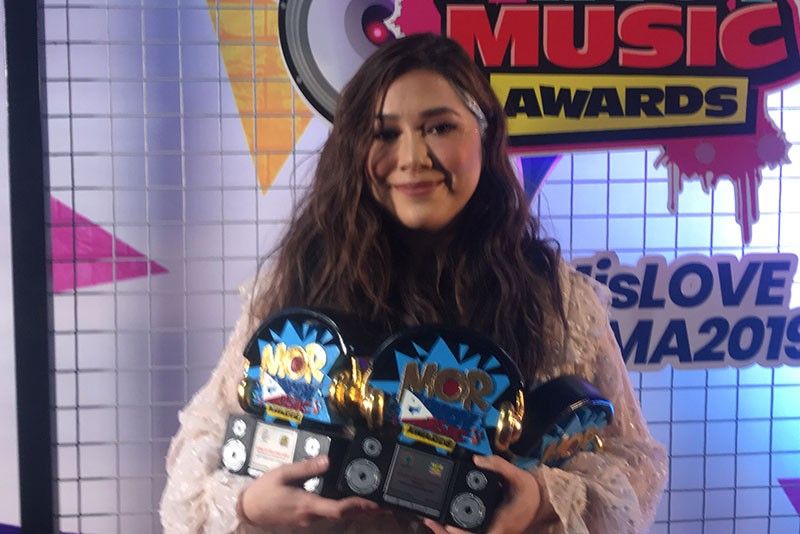 Singer Moira dela Torre
ABS-CBN/Released
Fear of blindness, death: Moira Dela Torre opens up about 'high risk' nose job
MANILA, Philippines — Multi-awarded singer Moira Dela Torre has revealed the reason behind her broken nose.
During the recent press conference for her concert "Braver," the "Idol Philippines" judge admitted that she is "85 percent well" and still recovering from her nose job gone wrong.
"Well, basically, may nagkamali. And my nose went on necrosis. And it was a very simple procedure. It's non-invasive. But it went wrong," confessed the "Titibo-tibo" hitmaker, explaining that following a non-invasive procedure, her nose went into necrosis, wherein tissues and cells die.
The singer said she was unable to take action on her broken nose immediately, which put her at "high risk" of dying or going blind.
"Hindi po siya naagapan agad because we had no idea what was happening. I was at high risk of being blind, of aneurysm, of heart attack and stroke."
For three months, the singer was on "house arrest" because of what happened. She also lost a lot of opportunities.
"It was a really tough season kasi andami kong nawalang trabaho. Feeling ko dahil nasa gitna ng mukha ko 'yun tapos andami pang sakit na sobrang high risk ako. It wasn't just my career that I was gonna lose. It was my life or my eyesight like I wouldn't be able to see my husband!"
Although the mishap came only about a month since their wedding, Moira's husband, singer Jason Hernandez, was "super calm."
"Siyempre he was super calm, but I know that he was super scared inside," the "Tagpuan" singer enthused.
"Kasi bagong kasal kami and that was like what a month after our wedding. Or two months after our wedding. The whole time he was at the hospital with me."
Despite of what happened, Moira was not planning to file a case against the clinic that performed the procedure.
"Ayoko po. Naaawa po ako eh. Napatawad ko na rin naman po and I know that the person didn't mean to do it. I've forgiven that person. That person helped me fix everything," she shared.
"I'm better now. God is good. I'm 85 percent healed but I'm 100 percent healed internally. I feel like this whole season made me so much better."
For those also facing a difficult situation, Moira assured that everything would be better.
"It gets better. It gets so much better. It's so hard to be in that position and I know how much anxiety it can bring 'pag nandun ka. And alam ko po na mas maraming tao na mas malala pa ang napagdaanan kesa sa akin. But I just wanna say I'm proud of you whoever you are. So proud for keeping yourselves strong and grounded and I know God has amazing plans. And I know that it will get better."