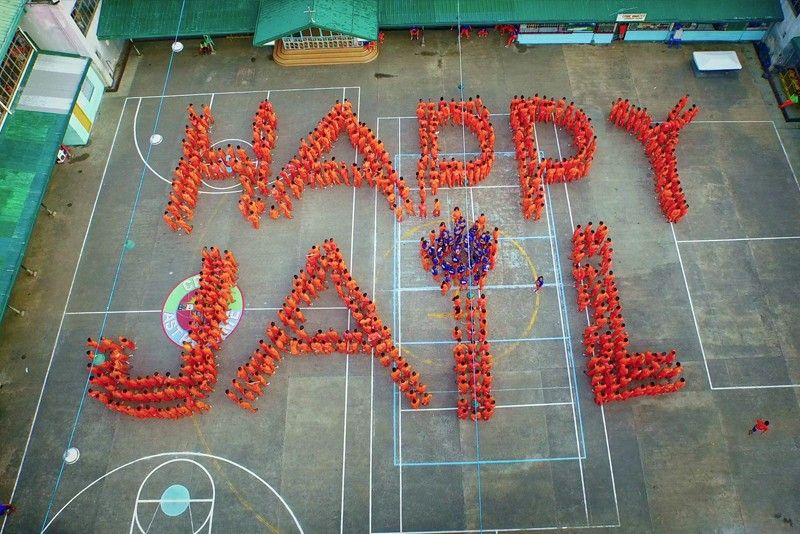 As a daughter of Filipino immigrants from Sagay, Negros Occidental who "instilled in us a pride and love for our Filipino heritage," Michele found it natural to set her sights on her family's home country after her critically-acclaimed film debut Matt Shepard is a Friend of Mine (which won 10 Best Documentary and Audience Choice awards from festivals worldwide) in 2014.
Photos courtesy of Netflix
Happy Jail proves 'life-changing' for Fil-Am filmmaker
Premiering on Netflix come Aug. 14, Happy Jail — a documentary series directed by Michele Josue — started out as a straightforward exploration of the program that birthed the YouTube sensation 'dancing inmates' of the Cebu Provincial Detention and Rehabilitation Center (CPDRC), but had evolved into a deep dive on life behind bars in the famous Philippine prison.
MANILA, Philippines — It was "extremely important" for Emmy-winning Filipino-American filmmaker Michele Josue to bring a Filipino story to a global audience.
As a daughter of Filipino immigrants from Sagay, Negros Occidental who "instilled in us a pride and love for our Filipino heritage," Michele found it natural to set her sights on her family's home country after her critically-acclaimed film debut Matt Shepard is a Friend of Mine (which won 10 Best Documentary and Audience Choice awards from festivals worldwide) in 2014. She says, "I feel that because of my lineage, because I am Filipino-American, I have this obligation to usher Filipino stories into the mainstream hopefully. So, after the success of my first film, I just felt that that would be a natural progression in my career, and one that I was very excited to explore."
And so, Michele came up with Happy Jail, a five-part Netflix original documentary series. According to her, it started out as a straightforward exploration of the dance program that birthed the viral YouTube video of the inmates of the Cebu Provincial Detention and Rehabilitation Center (CPDRC) dancing en masse to Michael Jackson's Thriller, but had evolved into this deep dive on life behind bars, shining a light on the complexities, struggles and even small joys happening inside the famous Philippine prison. "So, I am eternally grateful for the opportunity to return and reconnect to the Philippines and to create Happy Jail, an honest, humanistic portrait that amplifies the stories and voices from my family's homeland."
Michele and her team began filming during Easter of 2016, right before President Duterte came to power and the "war on drugs," the administration's centerpiece program, commenced. Happy Jail, which took three years to finish, became witness to the impact of the drug war and various controversies — including placing the management in the hands of an ex-convict — on CPDRC and the people inside it.
The STAR was able to talk to Michele over the phone ahead of the global premiere of Happy Jail on Netflix come Aug. 14. Here are excerpts from the exclusive interview.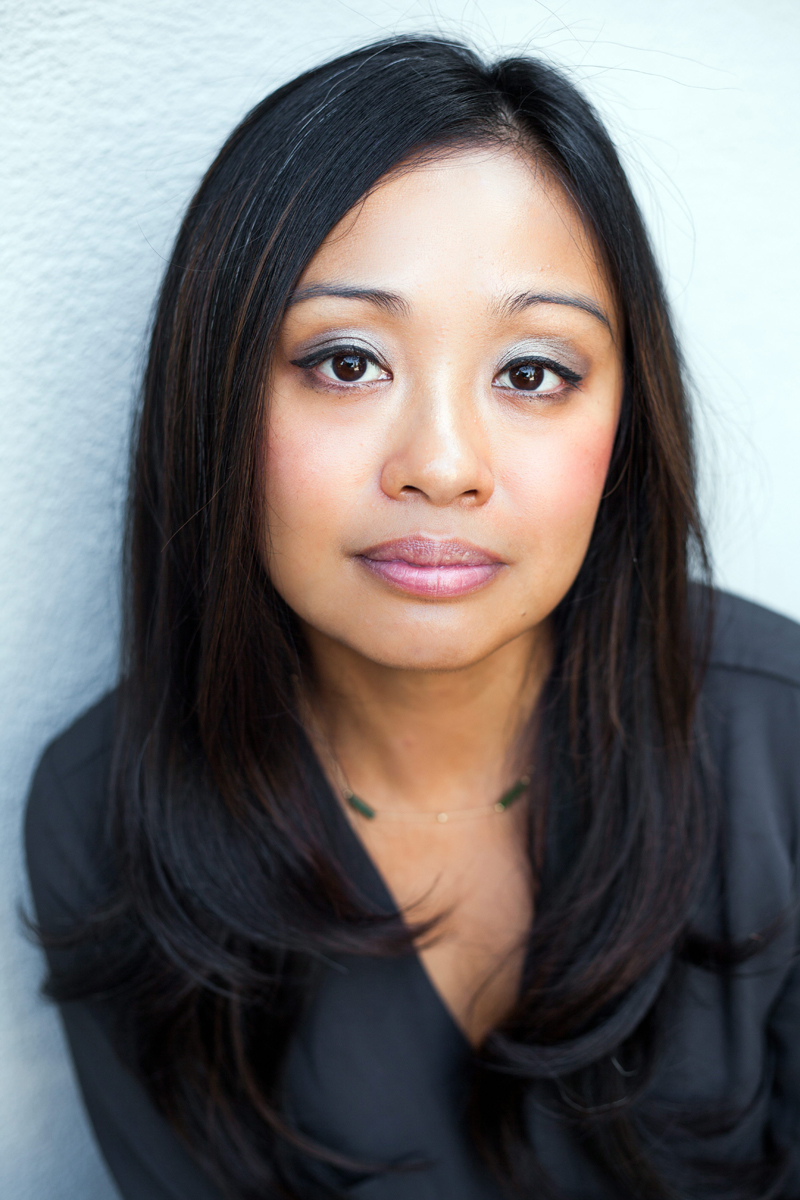 Michele Josue
In terms of the level of pressure and difficulty, how would you compare the making of Happy Jail to that of your first docu (in 2012), Matt Shepard is a Friend of Mine?
"Such an interesting question, because the subject matter is so different. So, the pressures were different, but still as intense. My first film, just because it was so personal and about personal loss and what that looked like, it was challenging and painful in a different type of way, but ultimately, cathartic, and I think helpful, you know, for the rest of the world.
"This one, I thought naively, that it wouldn't be as hard (laughs) but I was very wrong. I became very attached to this story. And I wanted to shepherd it to the end and made sure that we were doing this story and the people who entrusted us with their story, I wanted to do them justice. I felt that these are very vulnerable — the most vulnerable cross sections of the Philippines. And I wanted them to have a voice. I felt an obligation for them. So, that was a different kind of pressure."
Of all the possible stories from the Philippines, why did you decide on the dancing inmates of CPDRC for your second docu considering so much has been written and reported about them already?
"You're right. I first found out about the dancing inmates when the rest of the world did way back in 2007. And I was struck by them, so impressed and fascinated. And that image, you know, seeing them dancing the Thriller like that just stuck with me all these years. So, when I finally finished my first film, I was still just compelled by them and wanted to see if they were still dancing, if the program was still intact.
"I went on a vacation to visit my family. And I decided to plan my trip so that I could visit the jail and see them dance for myself. It's different when you see them on YouTube, but to see them dancing right there in front of you, it's a different experience. I got goosebumps and I just felt like, 'Oh my gosh, this is something that is still happening that the world needs to see.' So, that was the main reason.
"And, you know, I just felt that the dancing inmates, that joy and that unity in this face of such hardship is just a beautiful representation of the Filipino spirit that I felt, why not? Why couldn't this be the next film? I think the world should continue to know about them."
Can you share what was the first day of filming like inside CPDRC?
"Yeah, it was very hot. And it was right around Easter time, I believe in 2016. And I just remembered how incredibly hot it was. And I was standing in the shade. And those almost thousands of inmates were dancing in the high heat, in the high sun to Michael Jackson, over and over again, you know, several numbers, and I was like, oh my god, this is incredible. Just seeing that, and having my small crew see that with me and capturing that was just a very unforgettable experience.
"Right away, that was the first thing we shot — this huge Michael Jackson dance medley. After that was over, we were really more interested in what happened after the dance, when they took off the uniforms, how they chose to relax and relate to one another in the quad. And that was just equally impressive to us, getting to know how they lived and relaxed in this environment."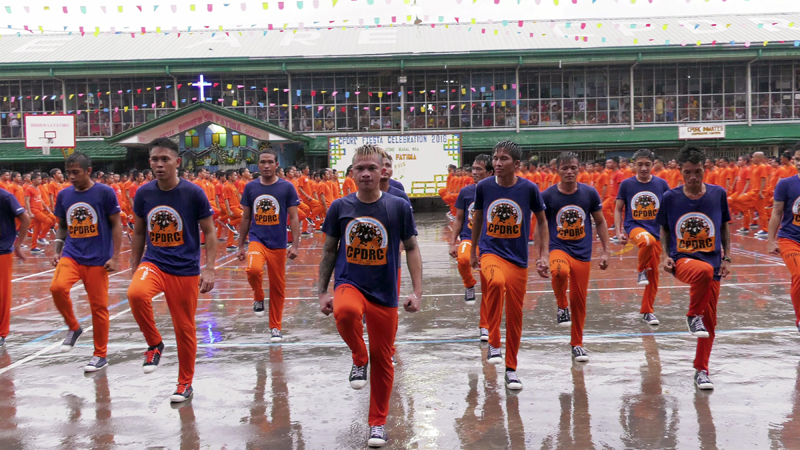 I think you really had incredible access to CPDRC. I could see that in your docu series, having previewed it. But what were the biggest challenges in filming Happy Jail?
"Thank you for that insight, I really appreciate that because I feel that we really lucked out with having that open access, that full access to the jail. And it allowed us to be there at such a momentous moment in the jail's history and watching everything unfold. So, the biggest challenge for us was just being very flexible and nimble, and maintaining that stamina in following the action and keeping track of all of it, because things were changing for us so fast. Things were changing for them so fast and you know, (these) trickled down to us. So, we were just trying to keep up with everybody."
How did the ongoing drug war affect the making of the documentary?
"Our point of view was super focused on the life of the jail, and the jail is its own character, if you will. So, I think, because we started filming right at the beginning of the drug war, we were able to see how that affected the jail and ultimately changed it so much. And we were watching the effects of it unfold on the ground through this really interesting lens, you know, through this famous jail. So, we were seeing an influx of inmates coming in, and how they were trying to figure out how to deal with all of it. That was our prime lens into that situation. But otherwise, we were just very hyper focused on CPDRC, and the people inside it and their humanity and sharing their stories in a respectful, dignified, authentic way."
I must say, Happy Jail really captured the inmates' dedication to dancing, rain or shine.
"I really felt for them. And you know, I love dancing, I go to hip-hop dance classes every week. I love singing and dancing, and I appreciate that. So, that's just something I think culturally, you understand about them. Seeing them (dance), it just made sense to me. But beyond that, like on a more meaningful level, it was really inspiring to see how dance was such a powerful expression of hope for them and in some cases, even redemption. And I think that was a beautiful thing to witness and to capture on film."
Your docu series also delved into the local politics. How were you able to balance everything out?
"I think a lot of that happened in the edit. But while we were filming, as I've mentioned in the beginning, it really started out to be just this really straightforward portrait of the dancing inmates and how this dancing program was rehabilitating the people inside CPDRC. But being documentary storytellers, we were witnessing really meaningful, big changes taking place, and, you know, twists and turns happening that we just had to follow. And the story just got bigger and bigger. And in some cases, less the jail.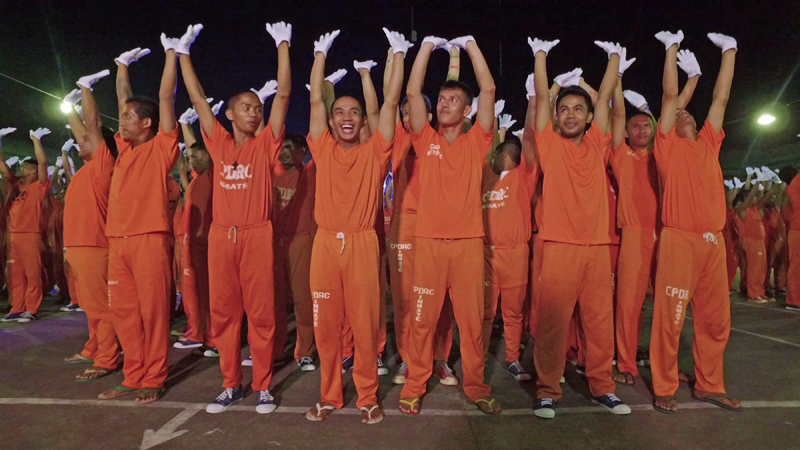 "So, we just were following the story. It led us to certain government officials and hearing what they had to say. We just wanted to do the whole story justice, to get all different points of view and how (these were) affecting this one jail. And it was just very intricate and very interesting to see it unfold, and only started to make sense later when we stopped filming. And we were going through the footage, and just figuring it out and mapping it out. And then, we were able to see it a lot more clearly."
Are you updated or in touch with some of the inmates you featured in the series?
"I heard that few of our inmates are no longer in jail, which is wonderful. But I don't have certain updates on others, although I wish I did because I wish them all well."
How did this experience impact you as a filmmaker and as a Filipino?
"I am Filipino-American, and grew up in the States. My family was always trying to instill in us Filipino pride and love for our country. We always have that growing up, and we were able to go back to the Philippines very often. Usually, almost every year, every summer growing up. That was really wonderful for my childhood. But then, you grow up and your life gets busy, I wasn't able to go back so much.
"So, after my first film, I was really wanting to rekindle that connection to the Philippines. I was mindfully looking for a project that would allow me that opportunity to get in touch with my heritage. And I will say that this experience, shooting Happy Jail, was really life-changing in that way. I really was able to go experience Philippines as a professional and as an adult and navigating my way without my parents. I think, it was a really wonderful, meaningful opportunity for me. I really hope to make more stories in the Philippines and share it into the mainstream media."
My last question, is there anything you hope we do, as fellow Filipinos, and the audience as well, for — to use your words — this vulnerable sector of the society, especially after watching the series?
"I think there needs to be a lot done. And it's hard to pinpoint where that can start. I would love to, you know, direct people to either donate or volunteer with certain organizations where their causes are aligned with the welfare of the inmates. I mean, that might be one thing. I think, just general awareness because a lot of the rest of the world really don't understand or even know about or fathom what's going on beyond their own local communities. So, I think, just getting educated on whether there are organizations out there that could help these types of things."