Thailand banks on diversity and star power to attract Pinoys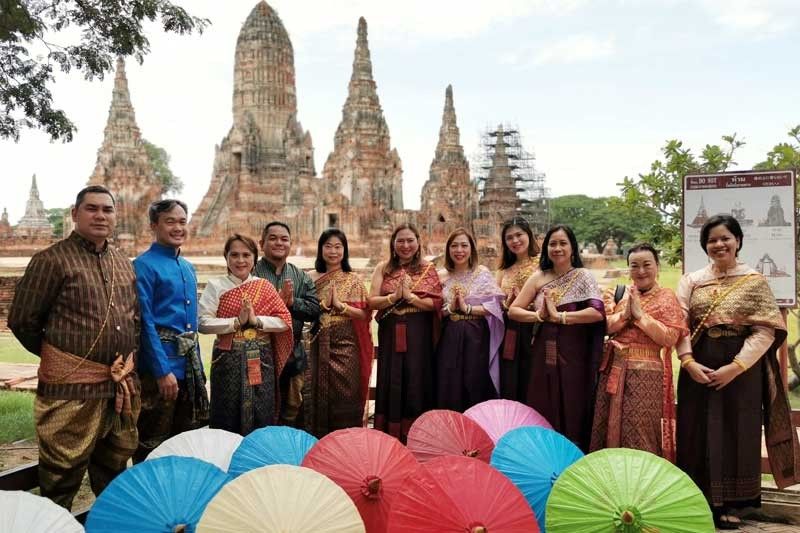 MANILA, Philippines — The Tourism Authority of Thailand (TAT) is banking on the diversity of its tourism offerings, the help of local partners and the power of celebrity to attract the Filipino traveler.
Case in point: TAT recently flew Thai superstar Urassaya "Yaya" Sperbund to the Philippines for a fan meet and fashion show. She became popular in the Philippines due to her lakorn (a.k.a. teleserye) The Crown Princess which aired on GMA over the summer.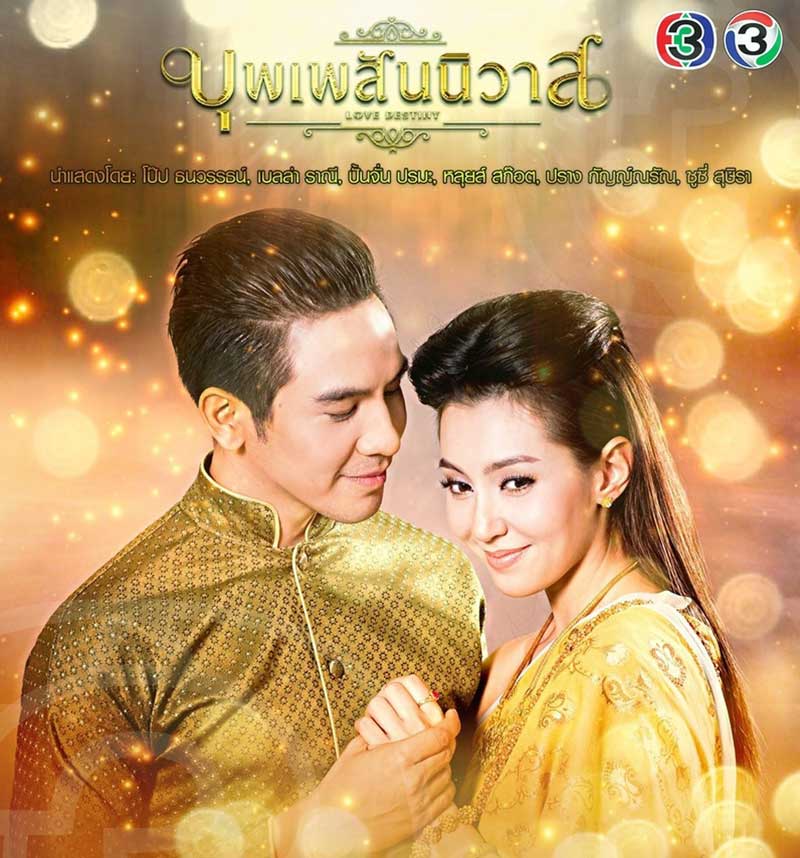 Thai drama Love Destiny has made the ancient Siamese capital popular again among tourists.
Using star power is part of aggressive efforts to entice more Filipinos to visit the neighboring ASEAN country, according to Kajorndet Apichartrakul, TAT director for Philippines and Singapore. "(Bringing stars) is another strategy we found that suits the public in the Philippines well or much better than working only with agents or the travel industry."
Previously, TAT brought to Manila Thai heartthrob Mario Maurer, as well as former Miss Universe Thailand Chalita Suansane "because we know Filipinos are keen on beauty pageants — something we have in common." TAT also helped in making it possible for Thai artists like pop singer ToR Saksit and Pinoy artists such as Maja Salvador to collaborate in music. "I think, bit by bit, these can help Filipinos keep Thailand in their mind all the time," he told The STAR.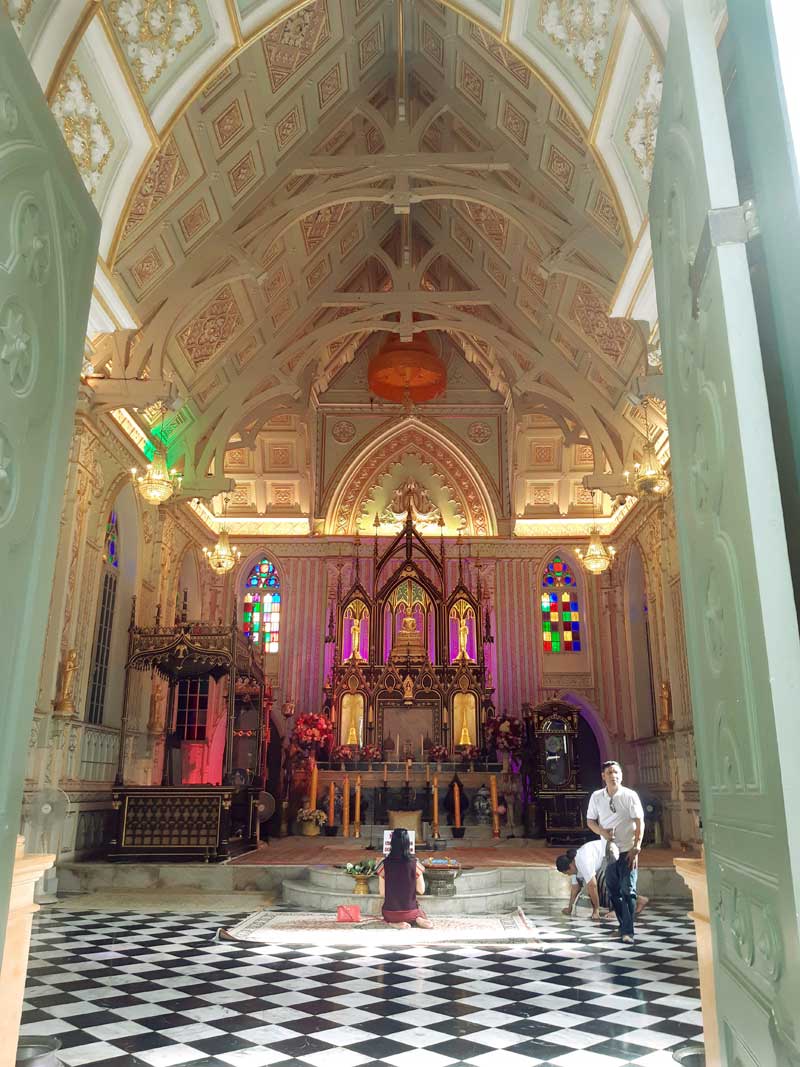 Wat Niwet Thamprawat looks like a cathedral.
In 2018, nearly half-a-million Filipinos traveled to Thailand. TAT is looking to increase these numbers by 12 percent by the end of the year. Complementing these efforts is strengthening relationships with local partners in and out of Metro Manila. "We did a lot for the whole country, the other potential provinces, including Cebu, Davao, Iloilo and Clark, Pampanga. Those areas produced or gave us productive clients, which we cannot do it by ourselves."
Apichartrakul, who's ending his four-year "tour" as TAT director for Philippines and Singapore this month, recalled how he initially had little knowledge about the Philippine market. "In the last four years, I had to learn a lot. I had to learn from the market itself, from the partners, from our representatives that were previously assigned, to help us with the Philippines. It was difficult at first… We had to identify the market behavior and then plan activities and projects that suit the market."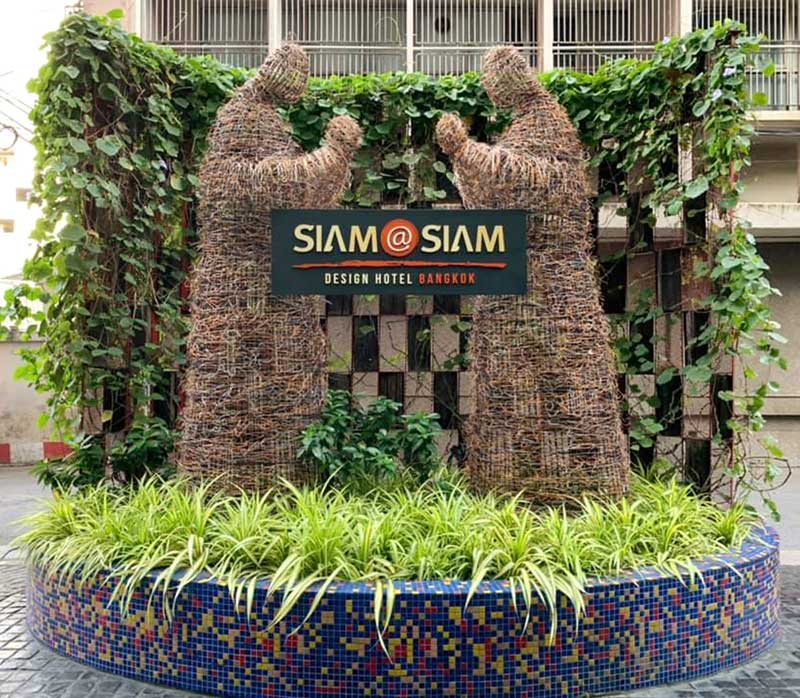 Nightly hotel entertainment features Filipino musicians.
When asked what's the strongest selling point of Thailand to Filipinos, he said it's the diversity of his country's offerings. "I think, (there are) more than 50 flights a week direct to Bangkok from the Philippines," he added. "Then, it's easy to travel (around Thailand) via connecting flights like with Bangkok Airways also."
He stressed, "Thailand is a big country, in terms of attractions... we have lots of things to offer. We call it diversity. When we think, of course, of Thailand, we think of Bangkok, because it represents Thailand very well, it's one of the most visited cities in the world right now, according to CNN, travel agents, among others. But Bangkok is not the only thing that represents Thailand. The country actually has a long history, long-standing culture and attractions that are diverse. Even if you come back four to five times, you will experience the diversity very well. I think this is the strength of Thailand."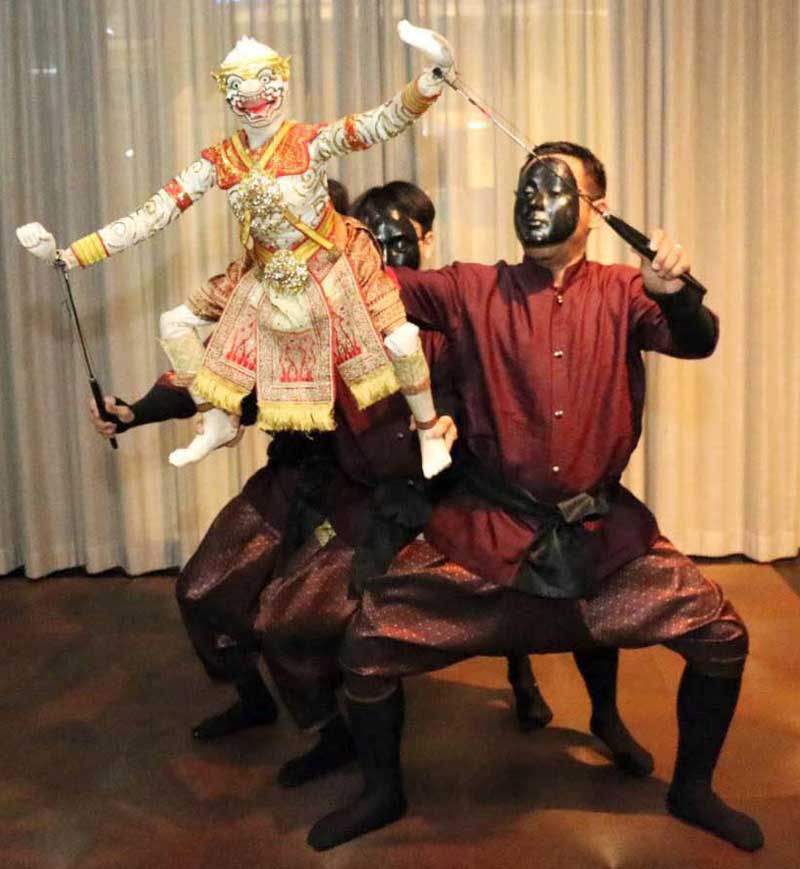 Joe Louis Puppet Theater and Art of Thai Cuisine at the Asiatique.
Indeed, diversity was strong in this writer's latest visit to Thailand. Despite having been to this country more than five times ­— some personal, others for familiarization tours — this trip was no repeat experience.
The STAR joined a group that included top travel agency executives ­— Rowena Coloma (Travel Specialist Ventures), Rels Rendaje (Triplink South Travel Centre), Dorothy Aytona (Skynet Travel), Jeremy Letran (Golden World Travel & Tours), Cristina Porciuncula (Airport Tourama) and Sabina Pe (Bridges Travel and Tours), plus Len Rivera of TAT Philippines, Wipaporn Waleesajjakrn of TAT, Kris An Prado of Bangkok Airways and Melo Villareal of Out of Town Blog and Lakbay Pilipinas.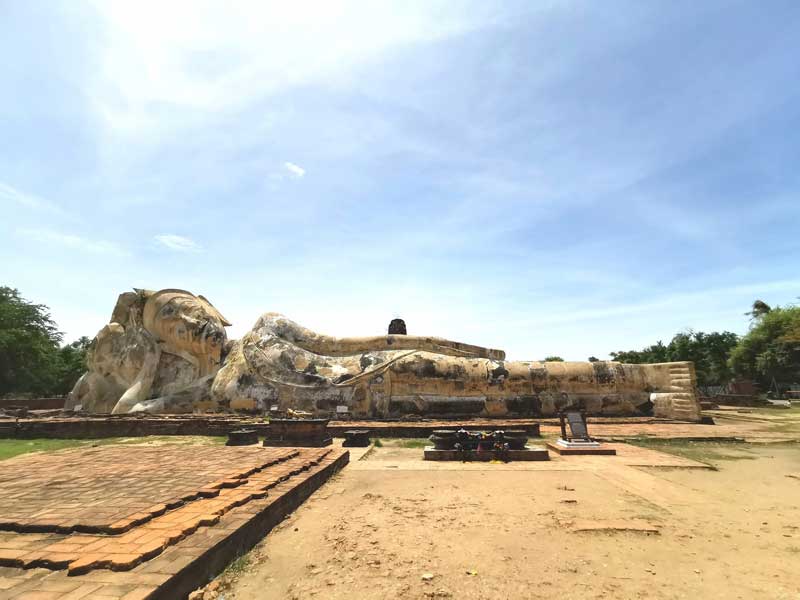 The temple complex of Wat Lokayasutharam is famous for its reclining Buddha. Photos by MELO VILLAREAL
This writer was in the company of expert travelers no less, but we were all first-timers to what we did at the UNESCO World Heritage Site of Ayutthaya, some 80-km. away from Bangkok. For one, we dressed up in traditional wear (costs from 200 to 300 Thai Baht or 300 to 400 pesos, per costume) in an impromptu photo shoot backdropped by the royal splendor of Wat Chai Wattanaram. According to tour guide Toom of KBS Travel, the restored ruins and history-laden temples of the old capital have seen a resurgence in popularity after the airing of the 2018 megahit Love Destiny, a period drama about an archeologist who meets an accident and wakes up in the body of a noble woman living in the 1600s.
The group also visited another nearby temple complex, Wat Lokayasutharam, whose main attraction is a 42-meter-long reclining Buddha. In Wat Mahathat, tourists were seen jostling for a picture with a stone Buddha head entwined in the gnarling roots of a tree.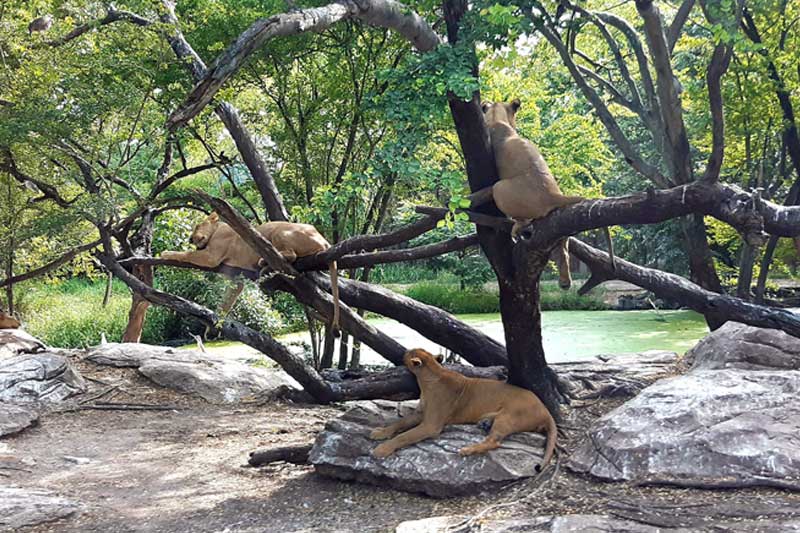 Some of the wildlife at Safari World's 200-acre park and zoo in the Khlong Sam Wa district of Bangkok.
A trip to Ayutthaya wouldn't be complete without stopping by Wat Niwet Thamprawat, said to be the only temple in Thailand steeped in European-style architecture. Since it sits on an island on Chao Phraya River ­— on a bank across Bang Pa-in Palace — this temple is accessible via cable car.
Another highlight from the trip was the Safari World, a leisure park and open zoo in the Khlong Sam Wa district of Bangkok that remains a tourist favorite after three decades of operations.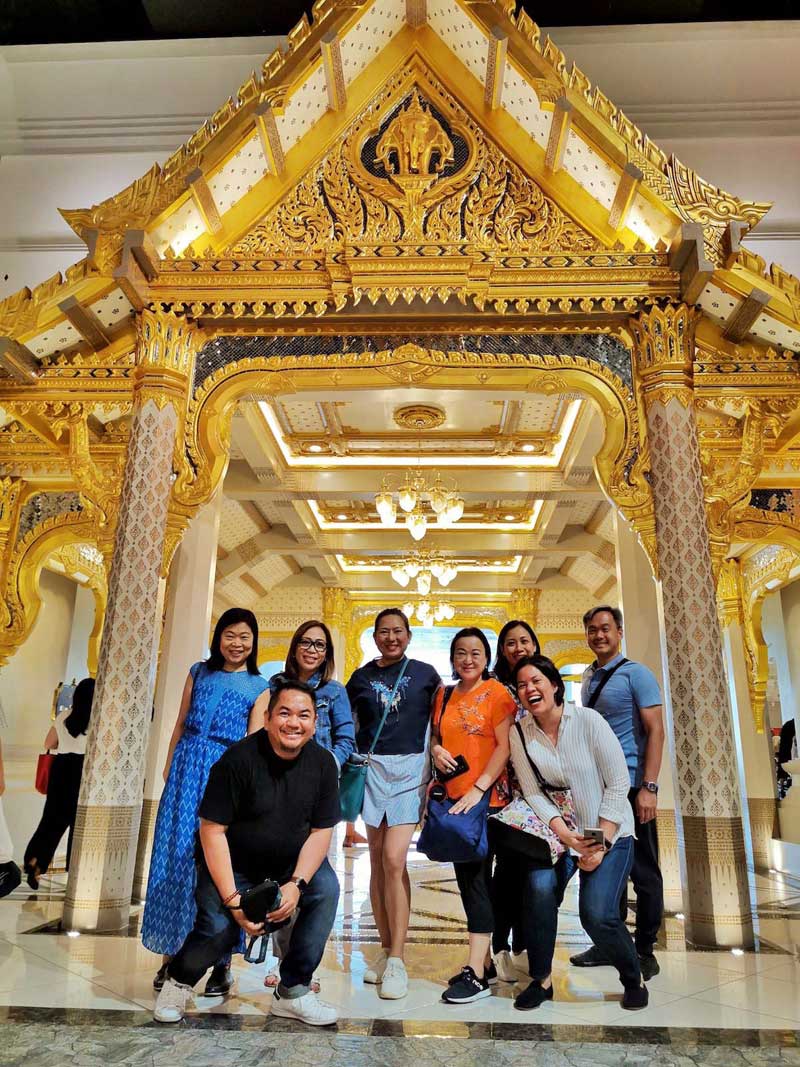 Traditional designs at Icon Siam, Thailand's 'biggest commercial and entertainment hub'.
For shopping and dining, on the other hand, worth trying is the Joe Louis Puppet Theater and Art of Thai Cuisine at the Asiatique Riverfront in Wat Phraya Krai. This was where watched the national treasure that is Hoon Lek, a traditional Thai puppet show. Asiatique is also a night bazaar/mall that provides other entertainment like Calypso Cabaret Show and Muay Thai Live.
Then there's Icon Siam, the "mother of all malls" in Thailand! It boasts of the "ultimate" cultural hub and co-creation retail space named Siam Sook that showcases a little bit of everything that Thailand has to offer, courtesy of over 3,000 local artists and entrepreneurs from 77 provinces. It has a floating market, Thai pavilions, local snacks and shops for regional handicrafts and textiles, massage areas and even daily performances.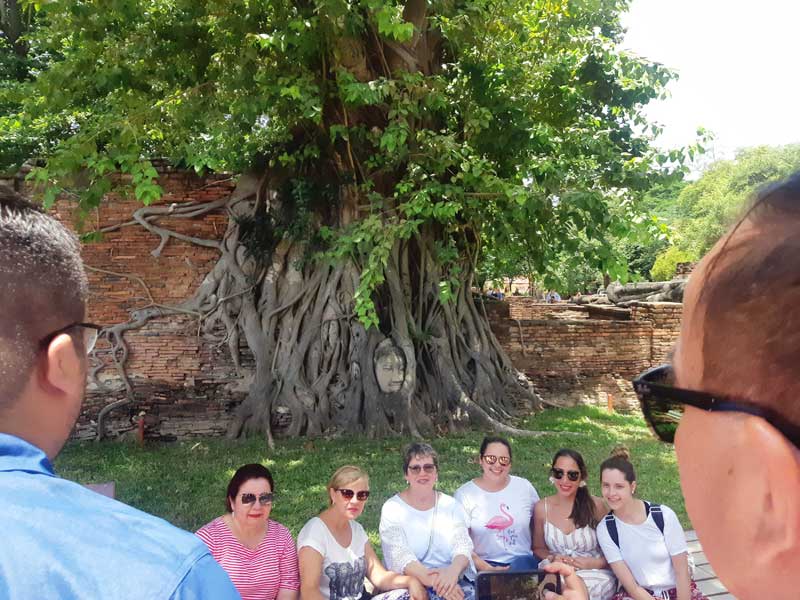 The Buddha head in tree roots is the crowddrawer in the Buddhist temple Wat Mahathat.
Meanwhile, the [email protected] Design Hotel Bangkok along Rama I Road, Wang Mai, was where we were billeted, and guess who's in charge of the nightly entertainment at the hip boutique hotel? Not one but five (alternating) Filipino bands and musicians.
The three-day trip to Thailand was part of a five-day, twin-city itinerary (the other city was Danang, Vietnam), as TAT pushes for Thailand as a "gateway to the ASEAN economic community" and jump-off point to other exciting ASEAN destinations.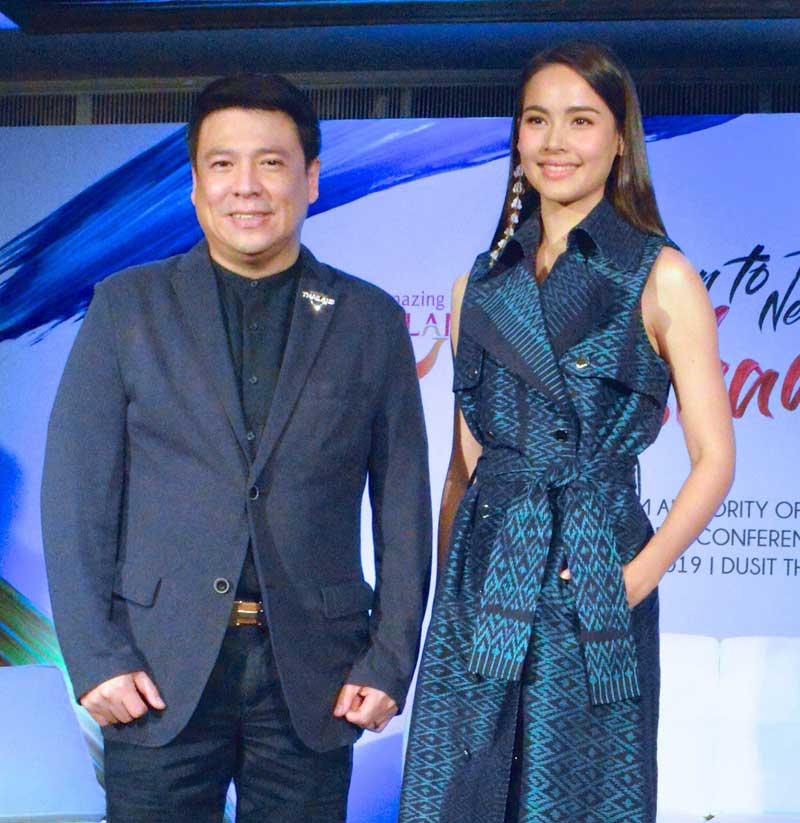 TAT director for Philippines Kajorndet Apichartrakul (with Thai star Yaya Sperbund during her Manila visit last June) —VER PAULINO