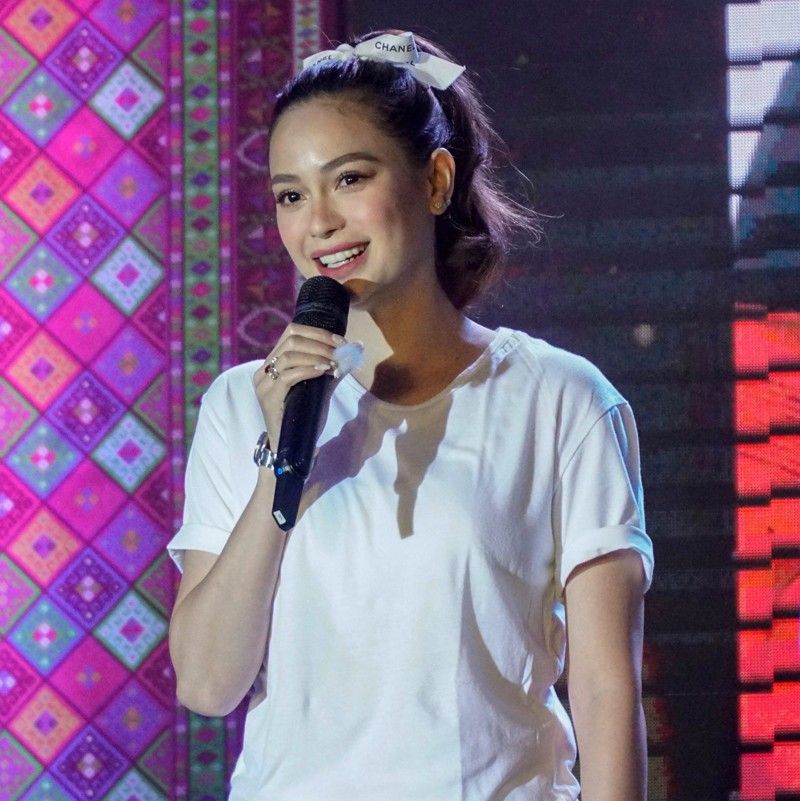 Arci Muñoz on the message of her PPP film Open: If you find something or someone special, hold on to that person, don't let him go, don't go looking for another one.
Photos courtesy of FDCP
How Arci got over cheating boyfriends
MANILA, Philippines — Arci Muñoz revealed that she had not only once but twice experienced infidelity in a relationship.
The 30-year-old actress confessed that she had three exes, two of whom she caught cheating on her.
Without naming names, she further related that she discovered one ex was cheating because he got another girl pregnant.
"Tapos na. Matagal na matagal na. (I found out about it) because he got someone else pregnant. Nakabuntis po siya. Nalaman ko (na) buntis na yung girl. Baby na," Arci told The STAR and other reporters on the sidelines of the recent launch of Pista ng Pelikulang Pilipino (PPP) Year 3, wherein her film Open is one of the 10 official entries. A flagship program of the Film Development Council of the Philippines (FDCP), the filmfest runs on Sept. 13 to 19.
When asked how it could have possibly happened under her nose, Arci explained that she's not the type of girlfriend who guards a boyfriend like a hawk.
"I'm not that kind of person. Why would I guard him, right? Of course, I have trust in that person. That's why we're in a relationship. Meaning to say, the foundation is trust, right? If you have trust in me, then I won't destroy that trust. Once the trust is broken, it's hard to fix it. It's really hard — (once you destroy the) trust, love, respect," she said.
According to Arci, she got over her broken heart through faith. "I have strong faith in God. So, I believe that all that is happening in my life, there is a purpose."
It was done to her several times and when that cheating produced a child, she felt that the incident delivered the "ultimate" message "na ang tanga mo, ito nalang ang paraan para magising ka. So I said, 'Thank you, Lord! You saved me from all that heartbreak and stress.' After that, I felt so much better."
The topic cropped up during an interview about Open, which is topbilled by Arci with JC Santos, directed by Andoy Ranay, and co-produced by T-Rex Entertainment and Blacksheep. In the film, the seemingly perfect couple Rome (Arci) and Ethan (JC) feel that their relationship has gone stale. To save their 14 years of togetherness, they mull the idea of going "open." It's something Ethan wants to do, and the only way Rome feels she can make her man stay.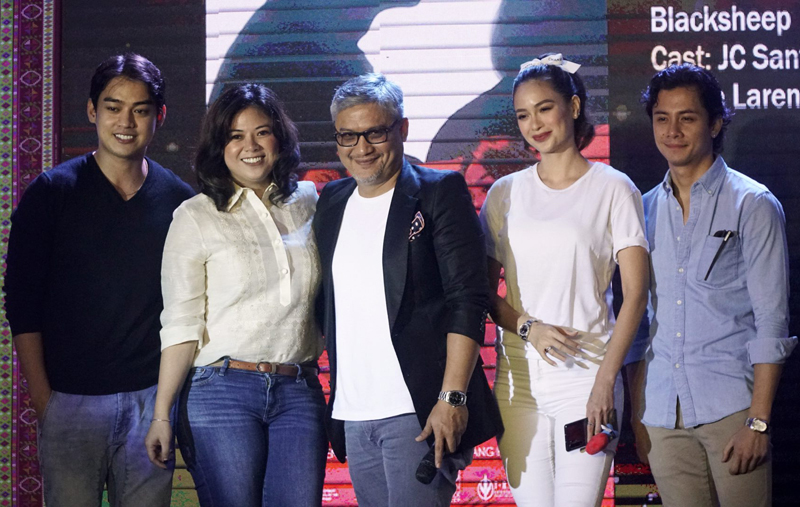 Arci with Open co-stars Vance Larena (leftmost) and JC Santos (rightmost), director Andoy Ranay and FDCP chair Liza Diño
"Personally, in my opinion, it's not workable. It doesn't work! No relationship will work if you're being shared with someone else. Di ba dapat, if you really wanna make your relationship work, because you've been together for 14 years, just like in the story, you treasure one another, each other? You're gonna fix the relationship within the relationship," Arci said.
"(The film's takeaway message is) to love each other. If you find something or someone special, hold on to that person, 'wag mo nang pakawalan, 'wag ka nang maghanap ng iba."
Arci shares some steamy scenes with her leading man JC, whom she described as "very professional" and who reminds her of close college buddies at the UP Theater Arts. For her, Open is her most daring film to date.
What does Anton, her real-life love of two years, think of the film's concept? "Hindi niya alam, pati nanay ko. He doesn't know as to what extent ang ginawa namin in the story. But he knows it's about open relationships," she said, adding her boyfriend has been very supportive of her artistic side.
She also said they've never had major fights, only very minor ones over her tattoos and piercings, and her fangirling over BTS member Jimin.
Meanwhile, the businessman boyfie is noticeably staying under the social-media radar and as non-showbiz as possible. "Ayaw po niya ng social media. Sinasabi niya, 'wag mo nga akong isama sa mga showbiz shit hahaha! So, I said, okay," she laughingly explained. "He's just a very private person. There are people like that."
Arci readily admitted that she can picture him as husband material, but refused to answer if she feels the guy will propose marriage in the near future.
"I don't want to assume. I don't want to pressure him," she said.