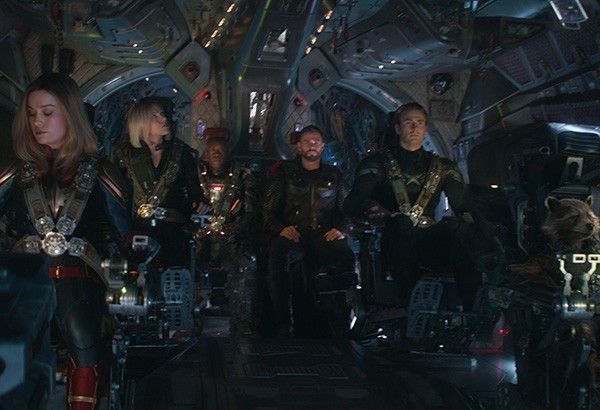 Marvel Studios' AVENGERS: ENDGAME..L to R: Captain Marvel/Carol Danvers (Brie Larson), Black Widow/Natasha Romanoff (Scarlett Johansson), War Machine/James Rhodey (Don Cheadle), Thor (Chris Hemsworth), Captain America/Steve Rogers (Chris Evans) and Rocket (voiced by Bradley Cooper).
Marvel Studios/Released
'Avengers: Endgame' is most tweeted movie ever
(Philstar.com) - May 3, 2019 - 7:07pm
MANILA, Philippines — After 11 years and 22 Marvel movies, "Avengers: Endgame" marks the end of an era.
Since its release, fans all around the world have been turning to Twitter to talk about #AvengersEndgame.
In addition to setting records at the box office, "Avengers: Endgame" also became the most-tweeted about movie ever on Twitter with more than 50 million tweets since the start of the year, of which nearly half came during the past week.
While #Thanos was most discussed as the big baddie in the movie, the big surprise is #Thor beating out #IronMan - must have been something to do with his "new" look in "Avengers: Endgame."
These are the countries that Tweeted the most about the movie. It's clear that the Americans and Brazilians share a passion for talking about the Avengers on Twitter, while the movie was wildly Tweeted-about in Asia Pacific as five of the top 10 markets come from that region.
1. USA
2. Brazil
3. Philippines
4. Thailand
5. Malaysia
6. Japan
7. UK
8. Mexico
9. Indonesia
10. France
"Avengers: Endgame" concludes the Marvel Cinematic Universe' #InfinitySaga storyline, and the Marvel fandom have been flocking to Twitter to express their love and appreciation with the #ThankYouAvengers hashtag.
Meanwhile, the cast and directors of the movie mounted a #DontSpoilTheEndgame campaign urging all fans to give one another a chance to have the same emotional experience when watching the move for the first time.
The hashtag #DontSpoilTheEndgame has since trended globally, with fans (mostly) abiding by the rules and keeping their silence. Dedicated fans who have yet to catch the movie have gone to great lengths to remind others to stay spoiler-free.
"Avengers: Endgame" is still showing in cinemas nationwide. It recently shattered box office records in the country as it reportedly opened with P205,676,345 (US$ 3,880,685) in 970 screens, with select cinemas starting at 4 a.m. and some holding 24-hour screenings.
In a special screening organized by Grab, the TNVS company launched GrapPay, a mobile wallet that enables one to purchase cinema tickets by first, scanning the QR code available in SM cinema ticketing booths, then entering the amount, and tapping pay.
GrabPay is now available in all SM Cinemas in Metro Manila and Cebu and will be available nationwide by end of this year.
Likewise, Oppo recently officially launched the new F11 Pro Marvel's Avengers Limited Edition smartphone, alongside the grand opening of the brand's first ever pop-up store in Bonifacio Global City.
The brand claims to be the only smartphone company given license by Marvel Studios and Disney to carry the Avengers brand in its limited-edition smartphone, which comes in a unique design called Space Blue.
The back cover features a design inspired by Captain America's armor, the bold red Avengers "A" collides with the blue background in the brand's signature gradient effects to form the red-blue color-blocking. A customized wallpaper featuring the magnificent Avengers logo completes the look. It also comes with a Captain America-themed case with a central-located finger ring, inspired by Captain America's iconic shield. — Reports from Jan Milo Severo