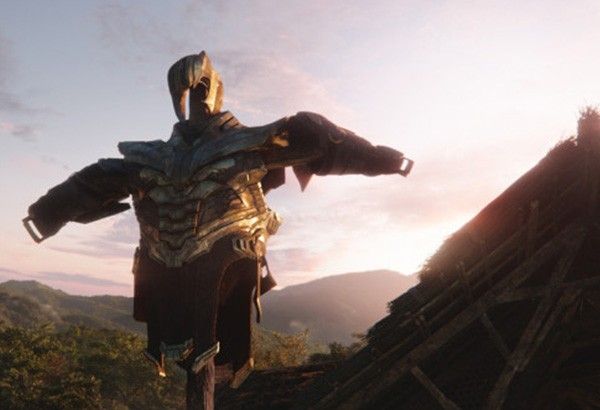 Scene shot in the Philippines showing the "bahay kubo" where the villain Thanos retired after annihilating half of the universe's population.
Disney, Marvel Studios/Released
Production outfit confirms: 'Avengers: Endgame' also partly shot in Philippines
MANILA, Philippines — Warning: this story contains spoilers.
Just like its predecessor "Avengers: Infinity War," Marvel Studios' "Avengers: Endgame" was also partly shot in the Philippines, an international production company working with Marvel Studios confirms.
In its Facebook page, Indochina Productions revealed that it is among the production companies that worked on the movie in the Philippines.
"Super proud to have been part of AVENGERS: END GAME and also get credited for our work in The Philippines," Indochina Productions said.
Members of Indochina Productions' team confirmed in the post's comments section that the aerial and ground shots of the villain, Thanos, going to what seems to be a Filipino nipa hut or "bahay kubo," were shot in the Philippines.
It is unclear though if the movie's stars went to the Philippines to shoot the scenes.
The post also showed a screenshot of Indochina Productions' filmography, which includes "Avengers: Endgame" with a budget of $400 million and a global gross sales of $644 million as of April 29; and "Avengers: Infinity War," with a budget of $321 million and a gross worldwide sales of $2.05 billion.
Last year, right after "Avengers: Infinity War" opened in Philippine cinemas, Indochina Productions confirmed on its Facebook account that the final scene showing the villain Thanos, played by Josh Brolin, was shot at the Banaue Rice Terraces.
RELATED: Netizens react to Banaue Rice Terraces' scene in 'Avengers: Infinity War'
"Avengers: Endgame" recently broke box office records with a haul of $350 million in North America and $1.2 billion worldwide, according to the estimates of industry watcher Exhibitor Relations.
"Avengers: Endgame" also showed dominance in the local box office as it not only posted the Biggest Opening Day record, it also continued its rampage over the next four days, earning a total of Php937,521,966 ($17.7 million) to date, posting the Biggest Thursday, Biggest Friday, and the Biggest Opening Weekend of All Time, setting yet another local box office record.
The fourth film in the Avengers franchise and the conclusion to 22 films in the Marvel Cinematic Universe has already surpassed the $1-billion mark in the global box office, reaching an unprecedented $1.2 billion in just five days.