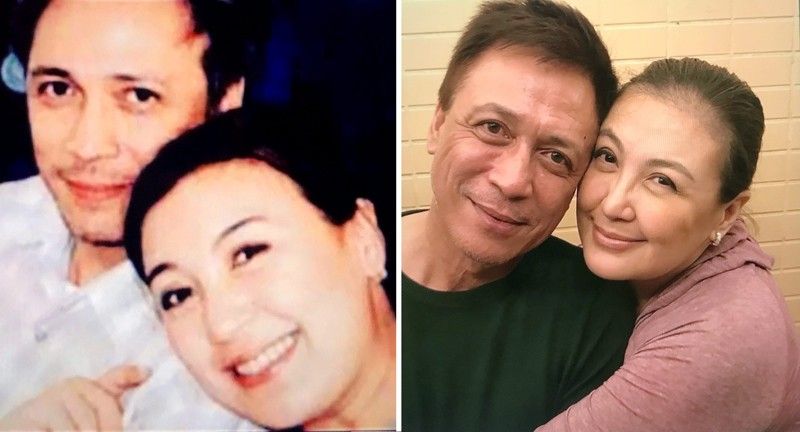 Then and now: Sharon Cuneta and Chet Cuneta ('My only full brother'). Asked to describe Chet, Sharon said, 'He's honest, sincere and smart.'
A pilot and a Bullet on campaign trail
FUNFARE
-
Ricky Lo
(The Philippine Star) - April 30, 2019 - 12:00am
If you see Sharon Cuneta on the campaign trail, don't think that she's running (for any position). It's her brother Cesar Joseph "Chet" Cuneta who is ­— for mayor of Pasay City once ruled by their dad, the legendary Pablo Cuneta, for nearly 50 years.
"He is my only full sibling," said Sharon.
"As far as I know," said Chet, "we are all 21 brothers and sisters. Only Sharon and I are from the same parents."
A pilot for various airlines (Asian Spirit, Grand Air, Air Asia Malaysia and Air Asia Philippines) for more than 33 years with a record of over 15,000 hours (equivalent to more than a million miles), Chet first ran for councilor also in Pasay City in 1998 but "not seriously" since he was only "pushed" into it by friends.
"I was busy flying," said Chet who is also an instructor in Air Asia. During a dinner in May last year, Pres. DU30 told Chet that he should run. "Now, I'm serious," added Chet who has taken a leave of absence from his work.
At 59, Chet is five years older than Sharon who is all praises for her kuya.
Asked how she would describe Chet, Sharon said, "He is honest, sincere and smart. He graduated with a silver medal in performance and a gold medal in academics."
Chet said that he was barely 14 when their dad first ran for mayor of Pasay City and served during the time of several presidents, from Elpidio Quirino to Ramon Magsaysay to Carlos Garcia to Diosdado Macapagal to Ferdinand Marcos, missing a beat during the Cory Administration and ran again, retiring after serving the city during the term of Presidents Fidel Ramos and Joseph Estrada.
"I know our dad to be compassionate and to have a heart for the poor because he himself was born poor," noted Chet. "He used to be a kutsero and a barbero like his own father."
Between now and the May 13 midterm elections, Sharon will be more visible than she was when Chet filed his COC (Certificate Of Candidacy).
"She would make a good politician," said Chet. "But, in her own words, sabi niya, 'I have the heart but not the stomach for it'."
* * *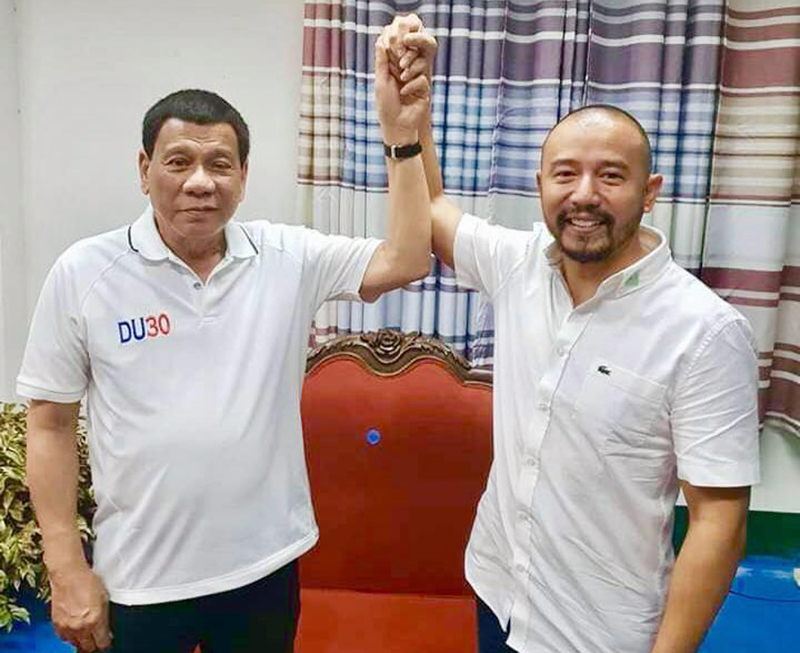 Pres. DU30 with Zamboanga del Norte (first district) Rep. Bullet Jalosjos who is running for governor
Like Chet, Seth Frederick "Bullet" Jalosjos has followed in the footsteps of his father, former Congressman Romy Jalosjos (who has his own showbiz connection as producer of a TV show). He's an incumbent congressman in the first district of Zamboanga del Norte where he's running for governor in next month's midterm elections.
During a session with the movie press, Bullet revealed that his one big dream is to produce a movie about Josephine Bracken, said to be Dr. Jose Rizal's common-law wife.
"Who was Josephine Bracken? Who was she, really? What motivated her to stay even after the execution of Rizal in Bagumbayan?" Jalosjos asked.
Bullet recalled that he was "burned" (napaso) on his first venture as a movie producer. But this time, he promised to be "hands-on."
Bullet has not yet chosen a director or a writer to handle the project. He is a good friend of director Lino Cayetano (who is running for mayor of Taguig City), Epy Quizon, and journalist Arlyn Dela Cruz (also a director). Or, why not Elwood Perez?
* * *
(E-mail reactions at rickylophilstar@gmail.com. For more updates, photos and videos, visit www.philstar.com/funfare or follow me on Instagram @therealrickylo.)