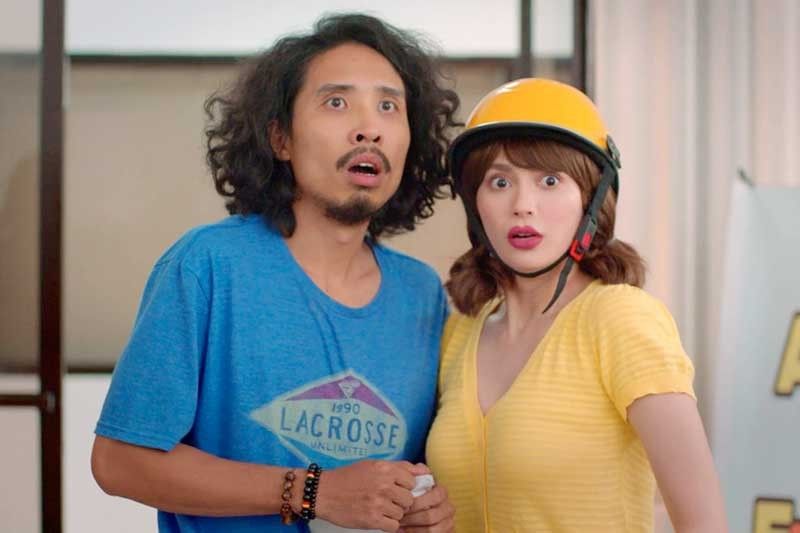 Pepe Herrera and Arci Muñoz as an earthling and a princess, respectively, in a scene from Jhon en Martian
Romcom of interplanetary proportions
Jerry Donato
(The Philippine Star) - April 14, 2019 - 12:00am
MANILA, Philippines — Viewers won't see a Greek muse (from "above") who can roller skate nor a lass (from a fairy-tale land) who can talk to animals in the Victor Villanueva series, Jhon en Martian. What they will get acquainted with is a Martian princess named 223, whose spaceship has accidentally landed on Earth and has been reduced to a toy (bound to be auctioned). That's where the iWant romantic-comedy will take off. It will start streaming today.
"(I am) in a way, the nostalgia of the comedy boom in the '80s and '90s (like the works done of such artists as) Dolphy," replied direk Victor when asked if he was paying tribute to a comedy genre via the five-episode TV series during a chat with The STAR. "I wanna hearken (back to) those days. That is something me and my dad liked to watch before... the movies (of those eras) that we liked to watch together." Jhon en Martian, the title alone suggests the iconic family-oriented comedy show of yesteryear.
If that's the case, Jhon en Martian is a comedy of the present that pays homage to the comedies of the past. Direk Victor approached his work with the qualities of the then comedies of his growing-up years that linger vividly in his memories.
"I think what I (saw in the comedies of those) times yung pagka-natural (lang), yung pagkakwela ng pag-deliver ng jokes, very barkada," he shared. "It's like the kind of jokes that you will tell (or share with) your friends." It is the comedy that the director looks for and is perfect playground for themes like camaraderie.
Prior to his iWant venture, Victor was calling the shots for CinemaOne Originals entry, My Paranormal Romance; Patay na si Jesus; and Star Cinema's Kusina Kings.
"Perhaps, that's my style. I want to put them (the characters) in a situation na nakakatawa (comical)," said Victor on handling the genre.
According to Antoinette Jadaone, creative producer of the series, Jhon en Martian has an irreverent, no-holds-barred, male humor.
"I like (comedies that are) irreverent and absurd na (parang sa) Patay na si Hesus, na random lang," said Victor. "… Most of my friends are guys. Yung pagiging irreverent, I like to play with irreverence and absurdity. I'm into world building and I'm into those things that are out of nowhere. Duon ako na-e-excite, especially this one, which is about Mars, na pwedeng paglaruan and what excites me is the prospect of building a world around it."
Based on the first two episodes that the select members of media had the opportunity to watch, one could say that Victor knows the terrain of his comedy.
"I think comedy is something na another way for you to tell the truth, na in a way na ma-a-absorb easily (ng manonood), and at the same time, natawa ka, na-entertain ka," he said. "But it makes you think. That's how I see comedy. With this (one), it deals with, you know, other people you are not familiar with, (showing) compassion, may ganun."
However, what viewers will look forward to is a comedy of interplanetary proportions brought about by earthling Jhon (played by Pepe Herrera) and Martian 223 (Arci Muñoz). The guy is off to Malaysia for a better job and chased by the latter with the ability to assimilate (adapt to a new environment) by shapeshifting and to learn the vernacular by kissing or using the phenomenon Mars Intergalactic Oral Transference. The Martians communicate in a language described by the director as "medyo beatboxy ang
dating, na hindi talaga human (sounding)."
As for the romantic feel, there are references to Dao Ming Xi and Shan Cai of Meteor Garden and Agnes and Jerry of Sana Maulit Muli in the worlds-apart narrative. Part of that is the Martian princess' discovery of the different human emotions, which are prohibited in her planet.
Joining the cast are Rufa Mae Quinto as Queen 222, the Queen Mother of the Royal Empire of Mars; Mon Confiado; Jojo Alejar, Aiko Climaco, Jelson Bay, Kedebon Colim, Dolly de Leon, GB Labrador, Emman Nimedez, Joel Saracho, TJ Valderama and Ge Villamil.
Created by Joma Labayen, Jhon en Martian is co-produced by Dreamscape Digital, Quantum Films and Project 8 Corner San Joaquin Projects.
(For updates, like www.facebook.com/iWant, and follow @iwant on Twitter and @iwantofficial and @dreamscapedigital on Instagram, and subscribe towww.youtube.com/iWantPH.)