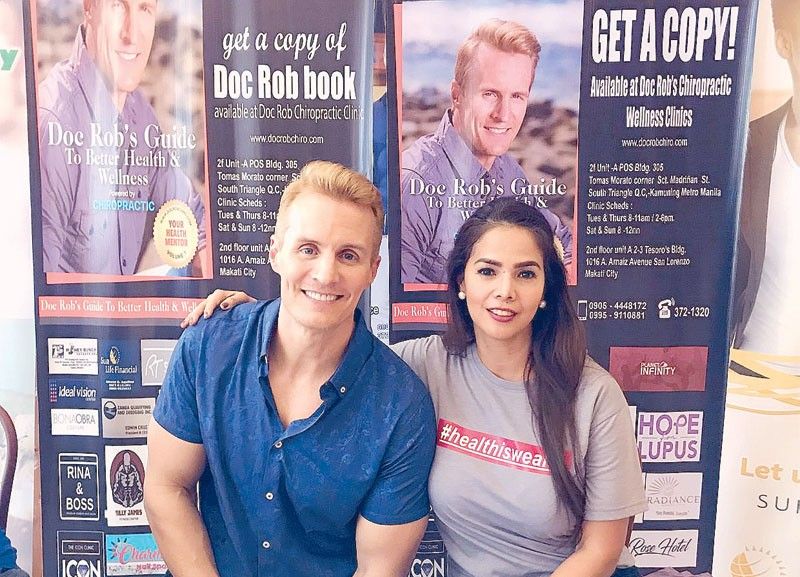 Chiropractor Robert 'Doc Rob' Walcher III and wife Patricia Javier during the recent launch of his book Doc Rob's Guide to Better Health & Wellness
Helpful tips from Doc Rob…and Patricia's Chiropractic Walk
FUNFARE
-
Ricky Lo
(The Philippine Star) - March 4, 2019 - 12:00am
Did you know that when Doc Robert "Rob" Walcher III was about six or seven years old he would get on the back of his father, Robert Walcher II, and walk up and down his spine? And when he was 20, while working out he hurt his lower back so badly that he couldn't bend down?
"Nothing was working," he wrote in Doc Rob's Guide to Better Health & Wellness, a book he has just completed with the help of his wife Patricia Javier. "And finally, after one month my dad said, 'You know, why don't you see my chiropractor?' I did. The chiropractor adjusted my spine in five minutes. I felt 50 percent better. That's when a light went off in my head and I thought, 'That's it! That's what I want to do!' I wanted to be a chiropractor. I studied at the Palmer College of Chiropractic in San Jose, California."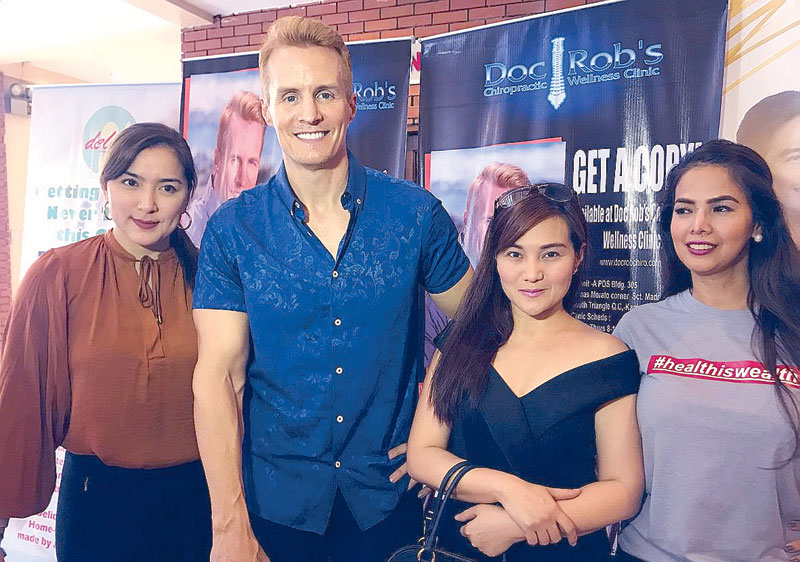 ...with Ara Mina and Gladys Reyes, the couple's friends who are among Doc Rob's star clients…
And that's what Doc Rob has been practicing in San Diego, California, and since he and Patricia transplanted themselves to their sons Robert and James several years ago. Doc Rob made that confession during the recent launch of his book at their clinic at the second floor of the POS Building on Scout Madrinan corner Tomas Morato, Quezon City, at the back of the Belo Medical Clinic and right across from the Il Terrazo Mall.
"Wellness is important in a marriage," said Patricia. "If both of you are healthy, masaya ang pamilya. Otherwise, you suffer from aches and pains (sakit sa kasukasuan) and you become grumpy and it affects not only you and your husband but also your children."
"We exercise with our kids," shared Doc Rob. "We run around the Amoranto Stadium near our place. And we follow a healthy diet."
Patricia is now training under Rodgil Flores' Kagandahang Flores (KF) for the Mrs. Universe pageant in August in South Africa where she will compete with 88 hopefuls. If Venus Raj was noted for her Pilapil Walk, Shamcey Supsup for her Tsunami Walk, Janine Tugunon for her Cobra Walk and Catriona Gray for her Lava Walk, guess what kind of walk Patricia is perfecting to stun her competitors?
Yes, the Chiropractic Walk! How does it go?
"Chest out, stomach in, back ramrod straight and then you walk as if you are twisting your whole body in a gently sexy way," explained Patricia.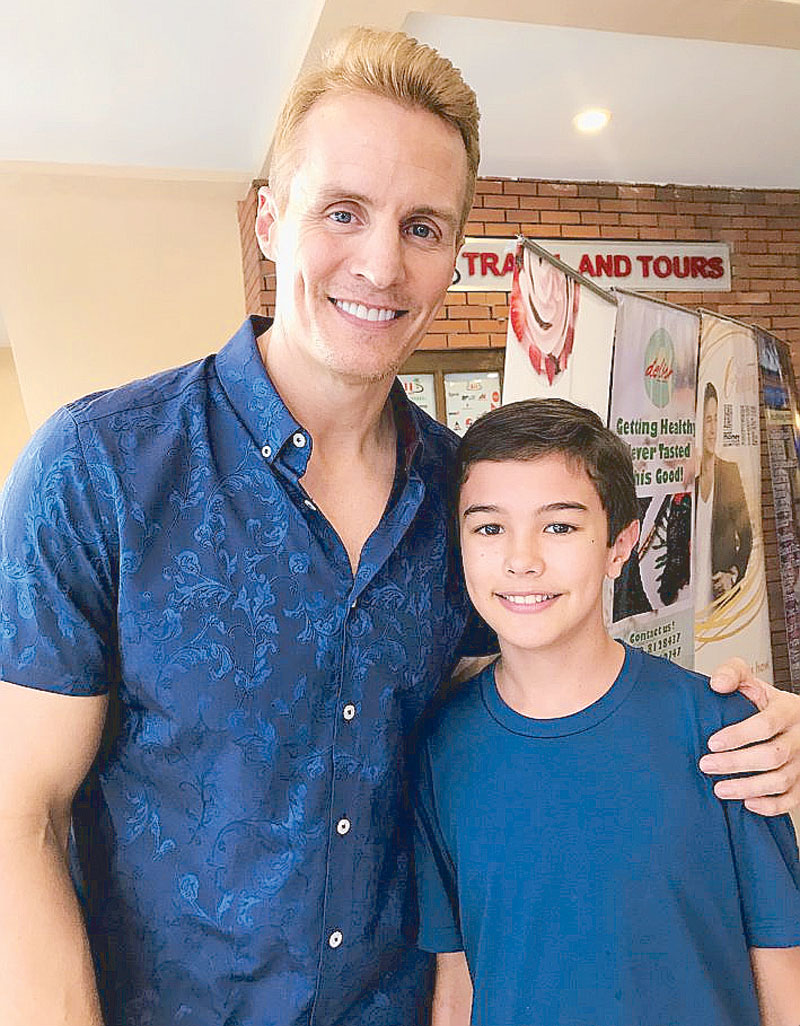 ..Doc Rob with son Robert IV…
Doc Rob's book includes a lot of tips that are helpful to everybody regardless of age. Here are two of the five recommendations on "keeping your spine healthy" quoted from the American Chiropractic Association (ACA): 1). When lifting items, avoid twisting as it is one of the most dangerous movements for your spine, and 2). When talking on the phone, don't place it between your ear and your shoulder. Reduce your chances of incurring a shoulder strain by using a headset.
More tips:
• Why drink lemon water on an empty stomach: It acts as natural diuretic, boosts metabolism, improves skin health, prevents flu and colds, promotes weight loss, reduces blood pressure, dehydrates the body, relieves constipation and speeds up athletic recovery.
• Drink a glass of water…when you wake up to cleanse your organs, before a meal to dilute your digestive juices, before you take a shower to lower your blood pressure and before you go to sleep to keep you hydrated.
Gladys happily slapped La Salle studes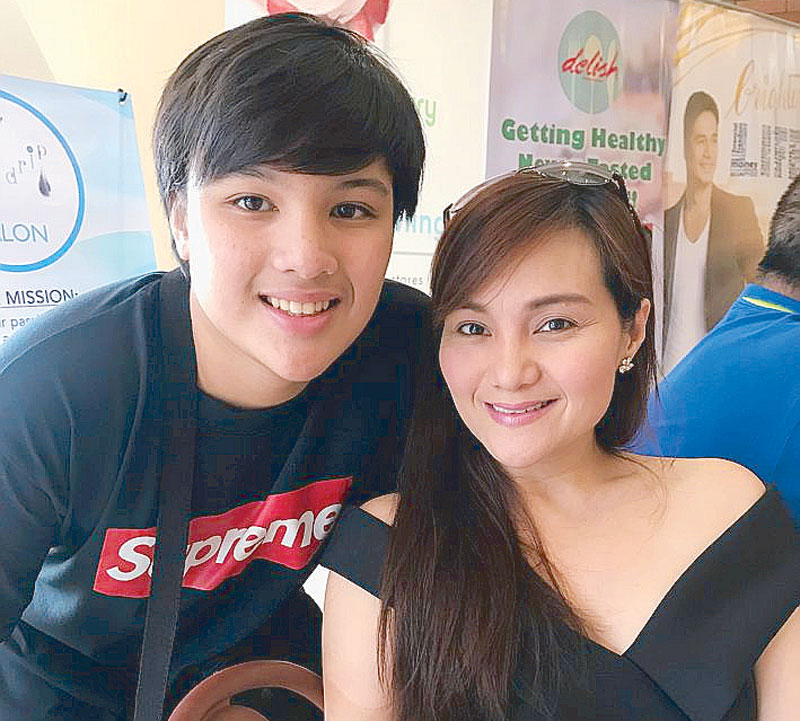 …and Gladys with son Gian Christopher, a blogger
Did you know that Gladys Reyes, touted as showbiz's "Primera Kontrabida," recently conducted a basic-acting workshop among 50 students at De La Salle University (DLSU) where she slapped around 20 participants?
"They suggested a sampalan scene with dialogue and I happily obliged," related Gladys who was among the guests at Doc Rob's book launch. As you all know, Gladys has slapped more than a dozen co-stars. "There was no script and it was fun. They enjoyed it and so did I."
In one scene, the exchange of lines went this way…Student: "I don't want to mess with a cougar!" Gladys replied with a big PAK!!! right smack on the girl's face. In another scene, it was another student's turn to slap Gladys. Student: "Akala mo matalino ka!" And Gladys got it right smack on her face, very gently now.
The workshop went so well that there's a demand for a repeat.
"Depends on my work schedule," said Gladys who is busy with three shows — TODA One I Love and Daig Kayo ng Lola Ko on GMA and MOMents on NET25.
(E-mail reactions at rickylophilstar@gmail.com. For more updates, photos and videos, visit www.philstar.com/funfare or follow me on Instagram @therealrickylo.)