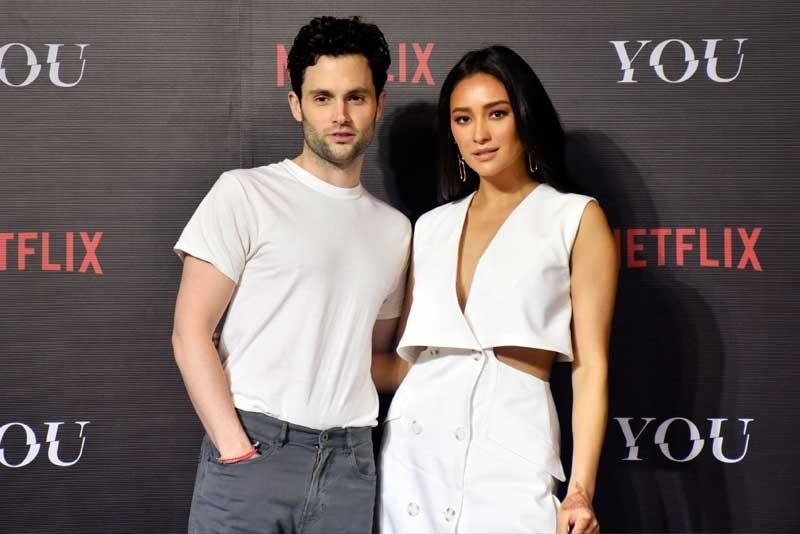 Penn Badgley and Shay Mitchell bring You closer to the Filipino fans. The series is now streaming on Netflix.
Photos by Marice Isidro
You stars on working together: Like halo-halo
MANILA, Philippines — Local food seemed to be the first order of business for Penn Badgley and Shay Mitchell, the stars of the Netflix show You, during their Manila visit early this week.
The two were here to meet the press and fans of the psychological thriller adapted from Caroline Kepnes' best-selling novel of the same title.
Penn posted on his Instagram Stories a picture of the giant bowl of halo-halo he shared with Shay prior to the media junket last Monday at the Peninsula Manila. "It was massive. It was great. It was lots of sugar at 10 a.m. or something. It was nice. That's it so far," said the 32-year-old actor when asked what Pinoy food he has tried out so far, during the curated In Conversation event.
As a first-time visitor to the Philippines, Penn said he would love to experience more. "Yesterday (Jan. 13), I was just adjusting to jet lag and just staying at the hotel. I had the choice between the Filipino breakfast and the American breakfast. I actually asked the woman (at the hotel) what would you recommend? 'Ah, Sir, I think I would stay with the American (laughs).' But I'm adventurous. I'll try anything. I'll definitely do it."
When told that the Philippines is the "social media capital of the world" with the average Filipino spending almost four hours on socmed every day (according to the 2018 Global Digital Report), Penn said, "You know what, I think that's the average for a lot of people."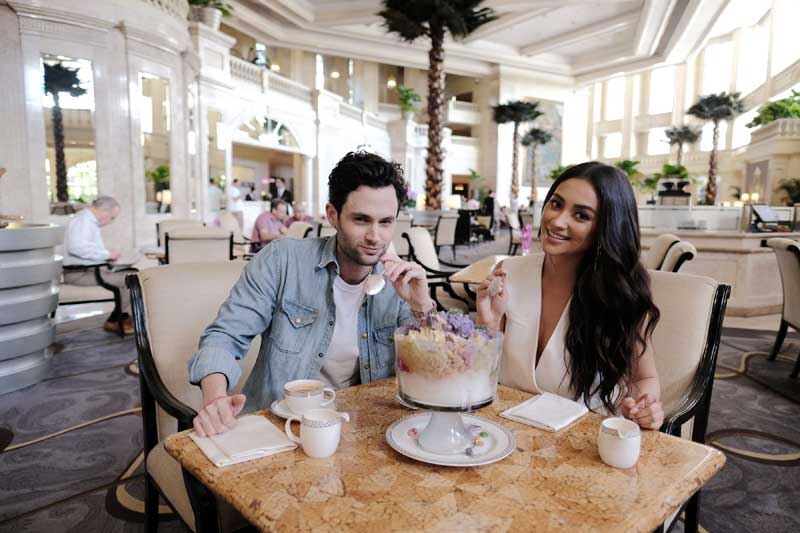 The stars share a giant bowl of halo-halo — Photo from Netflix
The good, the bad and the ugly of social media use is one of the themes underpinning the series. In You, Penn is Joe Goldberg, manager at a boutique bookstore called Mooney's who falls in love (nay, becomes obsessed) with his customer, the budding poet named Beck (played by Elizabeth Lail), and cyber-stalks her to tragic results. Shay, on the other hand, plays Peach Salinger, heir to the JD Salinger family and one of Beck's BFFs and the most suspicious of Joe.
Penn and Shay's characters have a testy relationship with each other, although off screen they enjoyed each other's company and had fun filming You. "I remember just reading some of the scenes between the characters Peach and Joe and just imagining how I would play that. But honestly, being on the set and getting to work with Penn the first time, it's 10 times more fun. It's funny, having to kill him with my eyes. And he literally does," Shay mused.
"The writing on the show is so incredible, and I love Peach's character. With vast resources and family money, she is the controlling queen bee of Beck's inner circle of privileged friends. She has her sights set on Joe, in a way that feels oddly adversarial with Beck. Just to have that back and forth with Penn's character is hilarious. I really enjoyed playing her," she added.
For his part, Penn likened working with Shay to "halo-halo." "I love working with Shay. I really do. I am impressed by Shay. I feel that we're quite different but we just mix well, like the ingredients of halo-halo, unity in diversity."
The stars also talked about how it felt to be part of You. Shay said it was the script that attracted her to the series. "As soon as I read the script, I didn't care if I was part of it or not. I couldn't wait for the show to come out. It has all the elements of what makes a really good show. We had so much fun. It went by so quick."
Penn, on the other hand, mused that it wasn't quite fun for him because (spoiler alert!) "I'm a murderer here."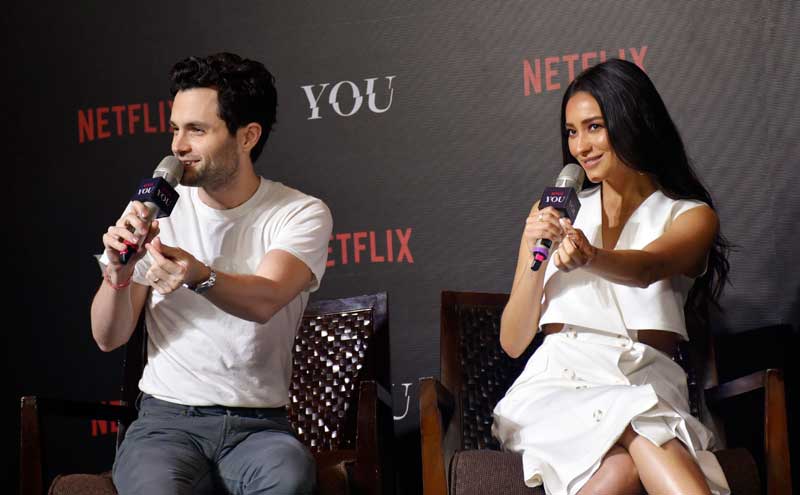 Penn and Shay do the heart sign while saying 'Mahal namin kayo!'
Because of the nature of his character, a charming but creepy stalker-turned-serial killer, Penn admitted that he has had conflicted feelings about being cast as Joe. "When I read the script, I was quite troubled. I understood all these elements of the show but I was the person reading, I'm thinking I don't need to play Peach, I don't get to play Beck, I don't get to write the thing, I don't get to score the thing, I don't get to watch it, I have to be Joe. Everyone else gets to watch it and enjoy it in this different way and for me, when I read it, argh, good luck with that. I don't know if I could do this for such a long period of time but when you do a film for instance, it's like you do it for two months but you don't do it again. This is six months to a year, and we don't know (it) may go on for a season after season.
He continued, "So, you know, I think I had a lot of reservations, which was appropriate because now we could all watch something and feel somewhat responsible. I think that's the thing. It's like to a degree, everybody else is able to consume it in this way that it is enjoyable. It's like I kind of have to take on the burden of making it somewhat real for myself, you know what I mean? And it's just a big difference."
You has already been renewed for a second season. Penn said that he appreciates the response the show has received worldwide as well as how it has managed to "entertain, thrill and scare" and brought attention to conversations on consent, victim blaming, stalking, privacy and "disturbing things that Joe does, which shouldn't be considered normal."
Apart from the In Conversation event, Penn and Shay had roundtable interviews on Monday afternoon, including with media who flew in from outside Metro Manila and from neighboring countries. Questions about politics, previous shows (Gossip Girl and Pretty Little Liars) and personal life were prohibited, although Shay proudly noted her being Filipino-Canadian. Her mom is from Pampanga. The actress has been to the country twice in the past.
Penn and Shay also had a fan event yesterday at The Greenbelt Gallery in Greenbelt 5, where there was a pop-up Mooney's bookstore, a setting in the series.