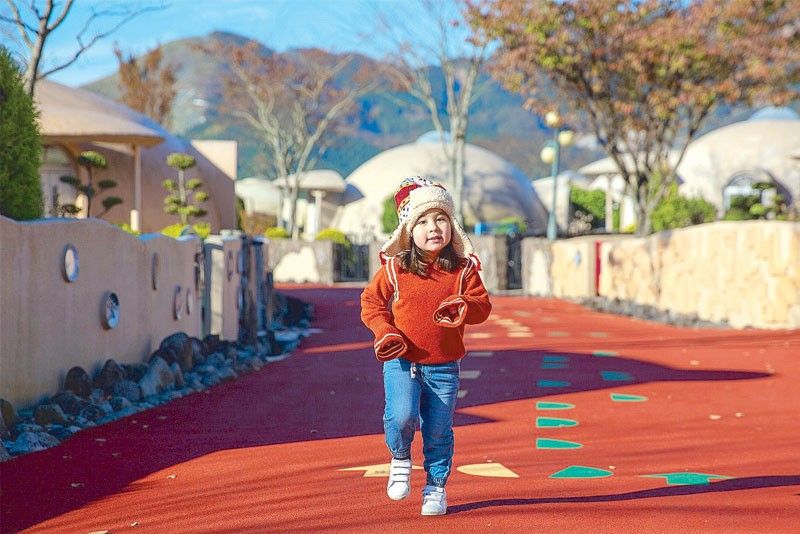 Scarlet Snow Belo Kho runs around the Aso Farm Land in Kumamoto Prefecture, where hotel rooms are quirky, quake-resistant domes made of styrofoam material (below).
Photos by Arch. Marc Henrich Go
Scarlet Snow goes kawaii in Kyushu, Japan
MANILA, Philippines — Scarlet Snow Belo Kho has made her first trip to Kyushu, the southwesternmost main island of Japan.
The three-year-old toddler of celebrity doctors Vicki Belo and Hayden Kho Jr. was cuteness overload in the land of Kawaii (Japanese term for everything adorable) during a tour organized by the Japan National Tourism Organization (JNTO) last Nov. 2 to 6.
On the invitation of JNTO, The STAR had an inside look at the Belo-Kho family visit to scenic, cultural and historic sites, particularly in Kyushu's Nagasaki and Kumamoto prefectures (or regions).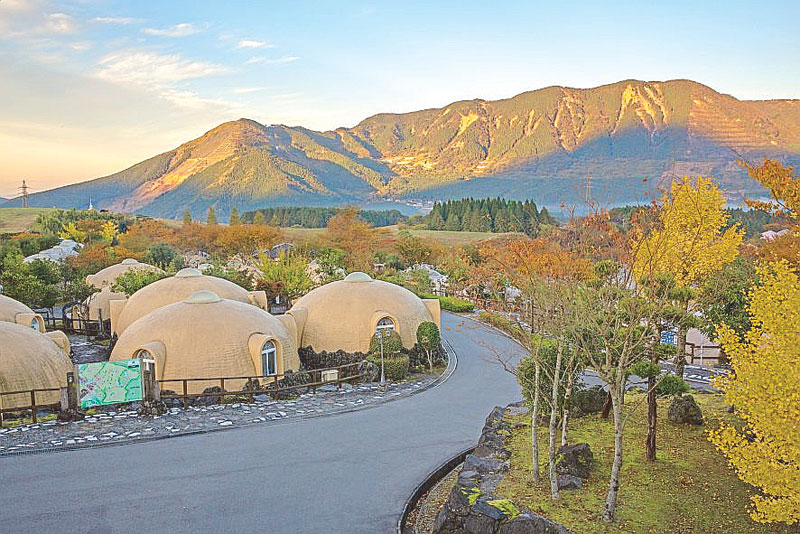 A bus that read Scarlet Snow Fam Tour welcomed the group at the airport of Fukuoka, which has direct flights to Manila usually carrying Pinoy seafarers, we were told.
Scarlet is the Philippines' youngest influencer with 2.7 million Instagram followers to date. When accepting an invitation to travel or brand to endorse, her parents said the main consideration is Scarlet has to like it.
"Daddy has the last say but we discuss it. We really have to like it. We have to be authentic. We don't want her to lie. She can't anyway," Vicki told The STAR. "For travel, we thought, we love Japan and she's never been here yet. No. 1, she should have fun. She should enjoy the trip because we don't want her to be bored. We want her to be enjoying because it's a family vacation."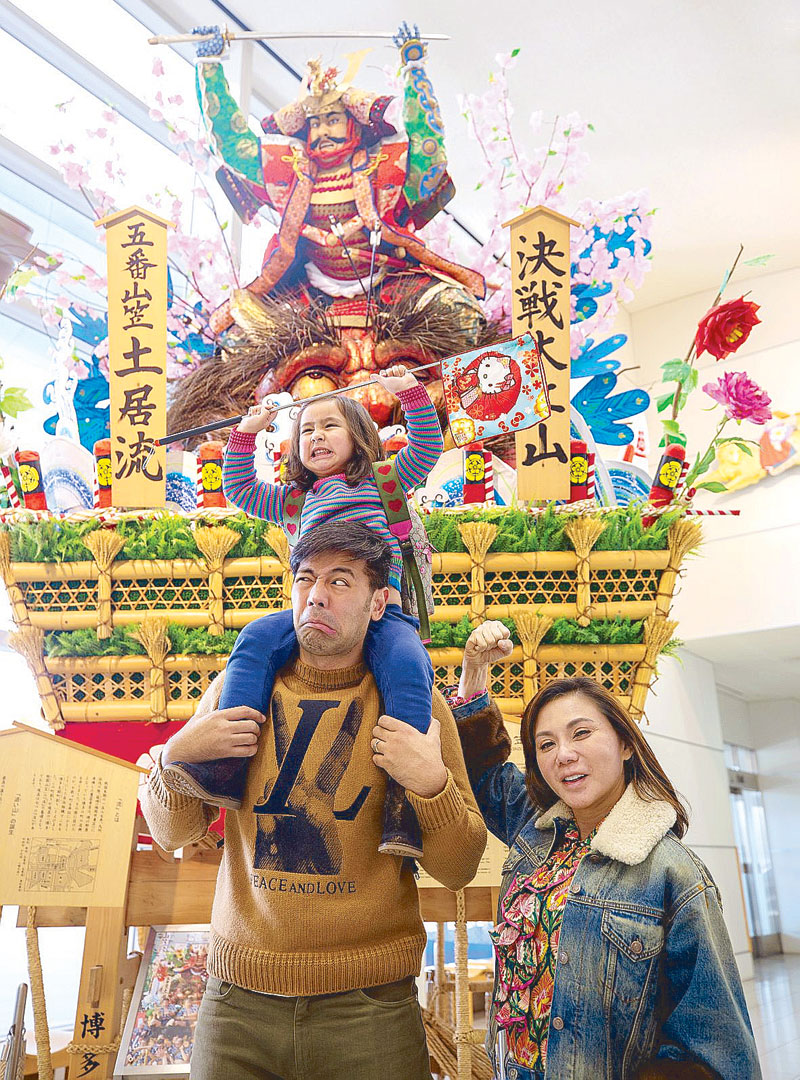 Vacation time for Scarlet and her parents, celebrity doctors Hayden Kho and Vicki Belo
While they can very well afford to go to these places, they admitted that special access is hard if you go on your own. And nothing is quite like an itinerary prepared by an expert host.
Vicki added, "Travel is very educational also. We sometimes are pulling Scarlet out of school, so what she learns from our trip has to be more than what she will learn in school."
On the first day, Scarlet and the fambam went to Kumamoto's Aso district, where accommodations at Aso Farm Land are quirky, quake-resistant domes made of styrofoam material. Found within the Aso-Kuju National Park — home to the "world's largest above-ground active caldera" Mount Aso and the Kuju Mountains — the hotel boasts of "healing" facilities like onsen (hot spring) baths.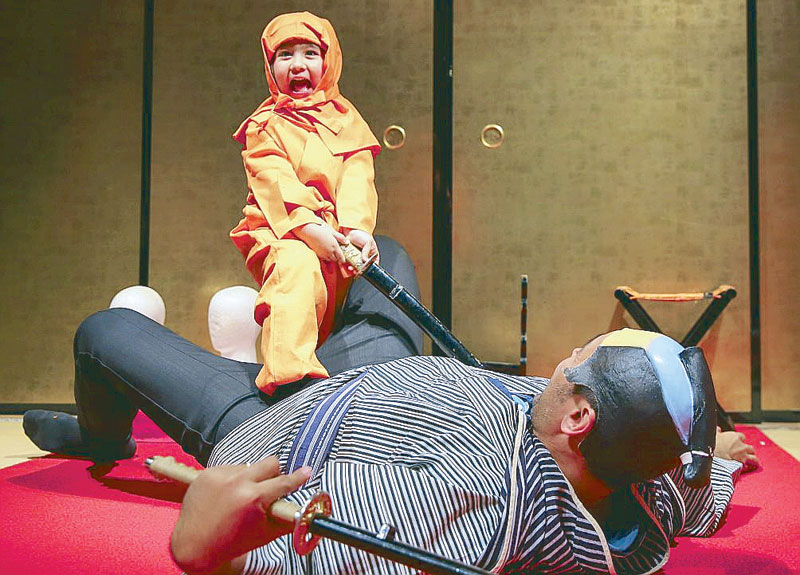 Scarlet playing a ninja warrior at the Kumamoto Castle Museum
Families also flock the property for its mini-zoo. Scarlet and other kids got to pet animals like the capybara, the world's largest mouse. "She's not at all materialistic. Hindi siya mahingi. What makes her happiest is animals and friends," said Vicki.
The group was then brought to Nakadake, the center peak of Mount Aso, which has a crater and lake that you can observe from the ridges. Tour guide Shoko Taniguchi showed some facilities like the cable car damaged by earthquakes and an eruption in 2016, but Mount Aso continues to draw tourists (if the weather permits). Visitor safety is priority at the summit with emergency shelters and speakers blasting advisories, including volcanic gas hazards, in English and other languages. At the mountain base, campsites can be seen in Kusasenrigahama, a stunning grassland said to have inspired many a Japanese poet.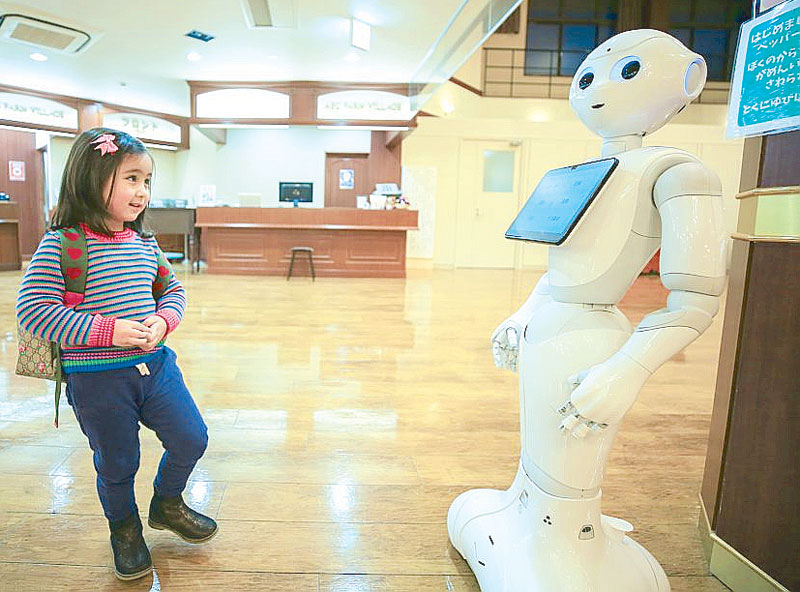 Interacting with a hotel robot
The Belo-Khos also experienced Japan's apparently increasingly-popular farm tourism. They picked apples and oranges at the Kichijien orchard owned by Masaaki Maeda, whose Filipina aunt helped manage the sprawling Kumamoto farm some 15 years ago.
The day ended at Kumamoto Castle that dates back to the 1400s and reportedly attracts almost two million tourists yearly. However, it's undergoing restoration following the 2016 earthquakes and it would take decades to finish, said Shoko. But the keep has been so far intact, a symbol of hope against adversity for the locals.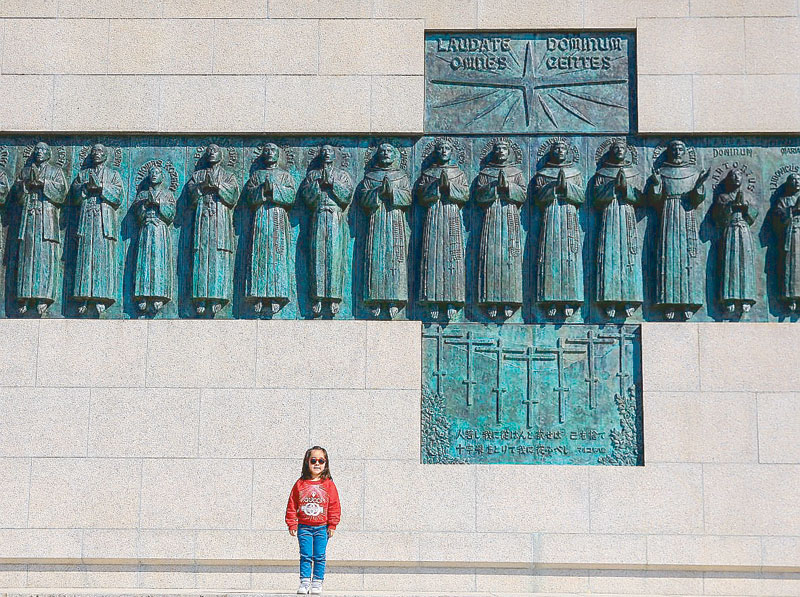 The Twenty-Six Martyrs Memorial in Nagasaki
Below the castle is a super fun entertainment space and museum with interactive features. Families can also dress up in period costumes. A tip on how to make your tiny tot enjoy all the picture-taking: try play-acting on the spot. That's what Daddy Hayden did, acting as the "monster" with Scarlet playing the ninja warrior who "protects Mommy Princess."
Day 2 saw the group touring Sakitsu, a quaint fishing village tucked away in a cove facing a bay in Amakusa, still in Kumamoto. The place is part of the "Hidden Christian Sites in the Nagasaki and Kumamoto Region," which made it to UNESCO's World Heritage Sites this year. When her Mommy Vicki said, "Look Scarlet, there's a cross, Jesus is here," while pointing at the Gothic-style church that stood above the houses, Scarlet answered, "Oh yeah, that's the church. There's a cross, Jesus is here. Everywhere there is a cross because Jesus is everywhere!"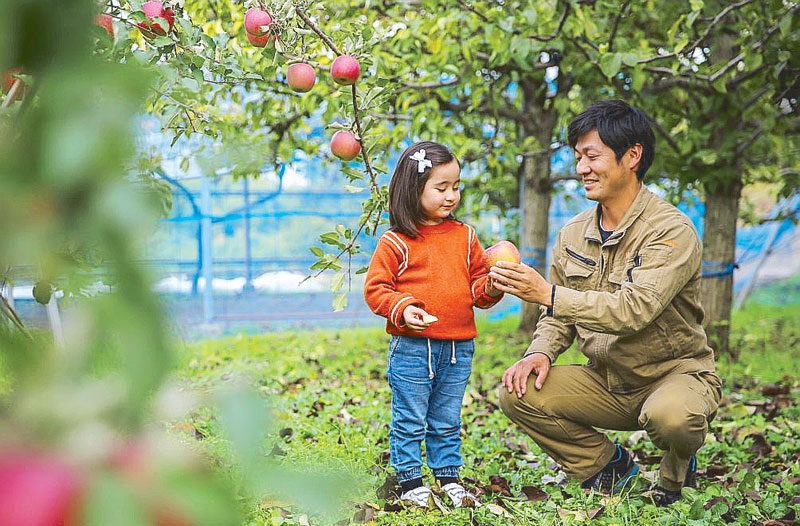 Scarlet picks apples at the Kichijien farm owned by Masaaki Maeda
Later on, the group took a boat cruise to have a closer look at the white statue of the Virgin Mary watching over the bay. Locals pray to her for safety at sea.
After a lunch of local fish cuisine at Ikesuyamamoto, it was dolphin-watching time in Itsuwa-machi Futae (port), Amakusa city. About 200 Indian Ocean Bottlenose Dolphins appear throughout the year. Not on this day though. Tour boats sped to wherever the few surfaced so much so Scarlet innocently thought the boats were dolphin hunters. It was a teaching opportunity, Hayden later reflected in an Instagram post.
Just as the sun went down, the group made it to Dejima in Nagasaki for a step back in time. The man-made island used to be where the Dutch carried out trade with the Japanese in the 1600s.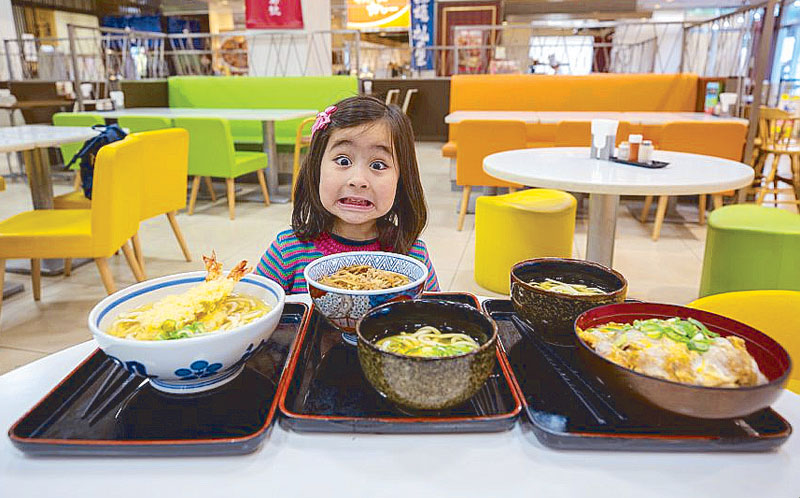 Ready for ramen
The third day had the family experience more "Hidden Christian Sites" in Nagasaki City, capital of Nagasaki Prefecture. These are the Oura Catholic Church, the oldest standing Christian church in Japan, and the Twenty-Six Martyrs Memorial St. Philip's (Nishizaka) Church. Both places are dedicated to the memory of the 26 Christians persecuted and executed in the city in 1597 for their faith. The Twenty-Six Martyrs Memorial will interest Filipinos with its monument honoring the first Filipino saint Lorenzo Ruiz, who was also martyred in Japan.
True enough, Pinoy tourists chanced upon Scarlet at the memorial's museum and immediately asked Hayden if they could have a picture with her. "She has no concept of it yet," said Hayden when asked if Scarlet is aware that she has fans. "She thinks it's all normal."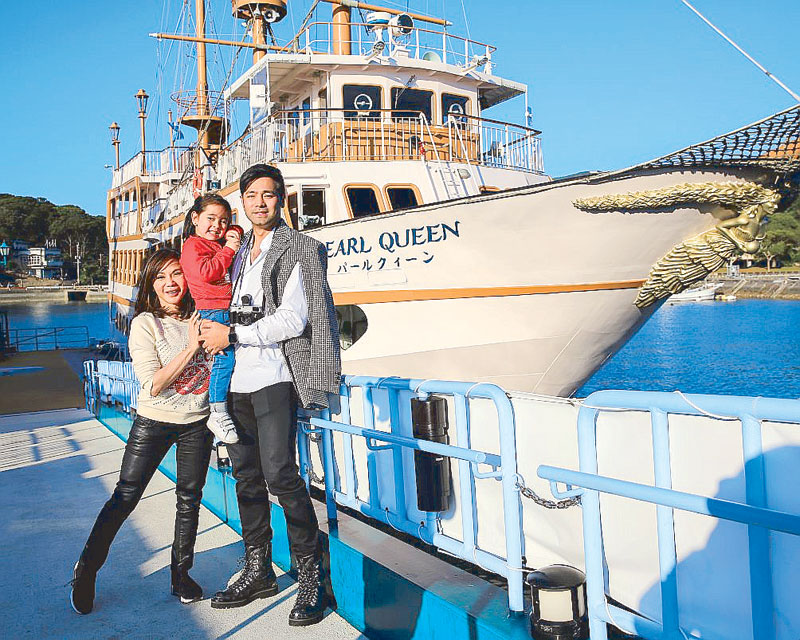 All set to board the Pearl Queen at the Kujuku Islands Pearl Sea Resort
Scarlet's signed drawing and photo would also join the images of popular visitors hanging on the walls of Kyushu's oldest café, Tsuruchan in Nagasaki. The group sampled its famous specialty, Turkish Rice, for lunch.
The family headed next to the Kujuku Islands Pearl Sea Resort, a waterfront complex still in Nagasaki Prefecture that offers cruises around some of the 200 islands of Kujukushima Sea. It also has an aquarium that introduces visitors to the underwater treasures of Kujukushima via the luminous jellyfish dome, dolphin pool, feeding tank and pearl harvesting activity. Unique creatures abound, prompting Scarlet to gush again and again: "They're so cute!"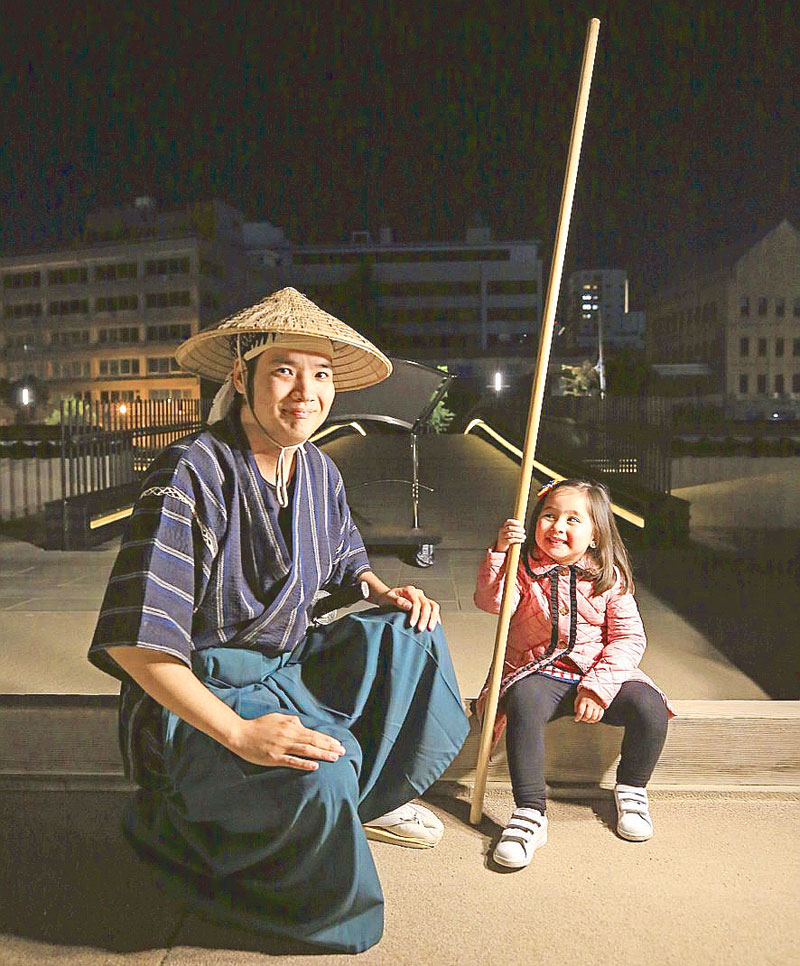 Enjoying a step back in time at Dejima Island
The day ended with a dinner of the famous Saga Beef where Scarlet, now completely at home with the Japanese tour guides, regaled them with the entire story of her favorite animated film The Lion King.
(The adults in the trip also enjoyed the side trip to the Tosu Premium Outlet in Saga before the flight back home.)
In today's digital times, family trips are not only happy, Instagram-worthy memories in the making. They're always bonding moments and opportunities for children to learn about the world they live in. "(Scarlet) will never learn anything until she first learns that she is loved," said Hayden. "And for a child, love means time."
(For more details on Kyushu, visit www.japan.travel/en.)