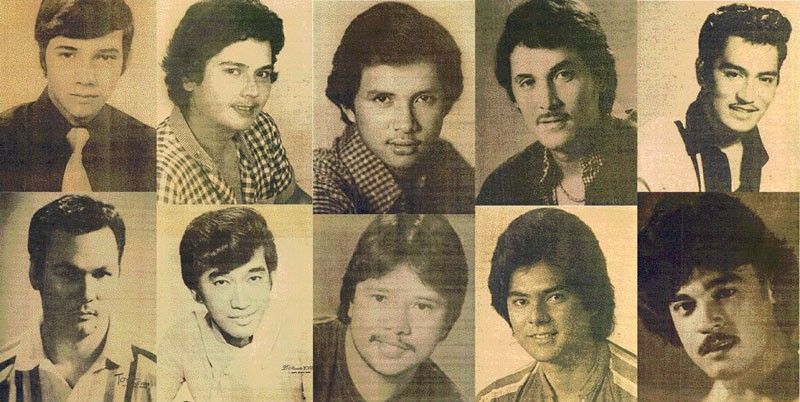 Clock wise from upper left: Walter Navarro,, Alfie Anido, Joel Alano, Anthony Alonzo, Jun Aristorenas, Mark Gil, Jimi Melendez, Jay Ilagan, Eddie Peregrina, Jess Lapid Sr.
REMEMBER WHEN?
-
Danny Dolor
(The Philippine Star) - October 28, 2018 - 12:00am
Nov. 1 (All Saints' Day) and Nov. 2 (All Souls' Day), the nation remembers the dead — lighting candles, offering flowers and saying prayers.
Remember When? recalls actors who once graced the big screen — entertaining, inspiring and dazzling millions of moviegoers. Action heroes, drama greats, matinee idols, comedians, singers, dancers — now all gone.
As they come to mind:
Fernando Poe Jr., Rudy Fernandez, Jun Aristorenas, Bernard Belleza, Jess Lapid Sr., Anthony Alonzo, Andy Poe, Eddie Fernandez, Lou Salvador Jr., Ace Vergel.
Jay Ilagan, Johnny Delgado, Mark Gil, Jimi Melendez, Ike Lozada, German Moreno, Bernardo Bernardo, Walter Navarro, Joel Alano, Dolphy, Juancho Gutierrez.
Rolly Quizon, Alfie Anido, Rico Yan, AJ Perez, Zaldy Zshornack, Vic Vargas, Tito Galla, Alberto Alonzo, Ric Rodrigo, Luis Gonzales, Ramil Rodriguez.
Rogelio dela Rosa, Leopoldo Salcedo, Jose Padilla Jr., Fred Montilla, Ben Perez, Cesar Ramirez, Mario Montenegro, Efren Reyes Sr., Domingo Principe, Manuel Conde, Johnny Monteiro, Fernando Poe Sr.
Nestor de Villa, Oscar Moreno, Pancho Magalona, Armando Goyena, Ricky Belmonte, Amado Cortez, George Estregan, Butch Bautista, Gil de Leon, Jon Hernandez, Freddie Quizon.
Miguel Rodriguez, Eddie Peregrina, Pugo, Jaime dela Rosa, Chiquito, Bayani Casimiro, Leroy Salvador, Van de Leon, Tony Santos Sr., Eddie del Mar, Alfonso Carvajal, Dindo Fernando, Eddie Rodriguez, Edgar Salcedo, Romeo Vasquez, Von Serna, Georgie Quizon, Francis Magalona, Lauro Delgado, Reycard Duet, Danilo Montes, Max Alvarado, Baldo Marro.
Rene Requiestas, Roy Alvarez, Panchito, Redford White, Cachupoy, Tony Marzan, Oscar Roncal, Tugo, Tugak, Ben David, Arnold Mendoza, Rod Navarro, Charlie Davao, Val Castelo, Willie Sotelo, Oscar Moreno, Frankie Navaja, Rey Ruiz, Rodolfo 'Boy' Garcia, Teroy de Guzman, Ramon Zamora, Vic Silayan, Vic Diaz, Paquito Diaz, Leopoldo Salcedo, Ross Rival, Ronel Victor, Oskar Keesee, Fred Galang, Babalu and Mat Ranillo Sr.
Remember When? must have missed a lot of names…but then in the hearts and minds of loved ones, they are forever remembered.— RKC