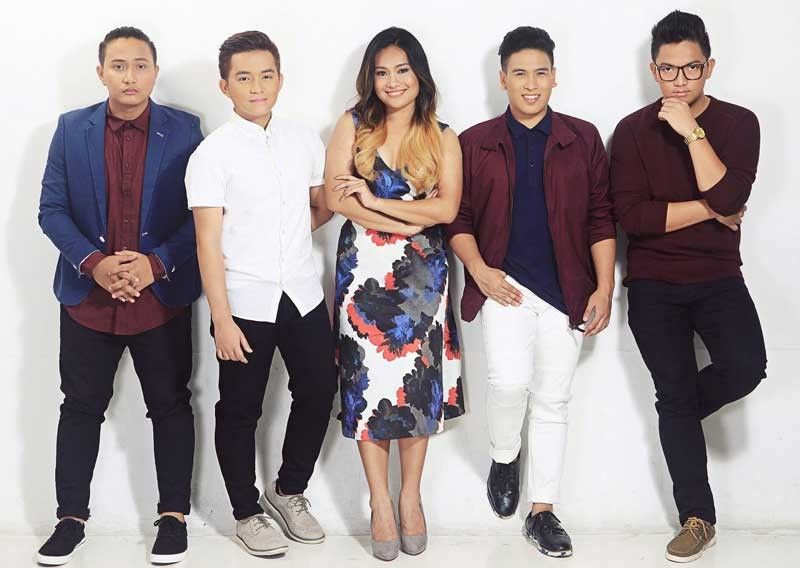 Acapellago has become internationally recognized for its vocal prowess with prizes won around Europe and Asia.
Time again for Akapela Open
It is Akapela Open time once again and time fo us to give a listen to the way Pinoys fare in what is considered the oldest and the truest form of singing. That means a cappella, just the voice, clear and pure and precise with the notes. No musical instruments or auto-tune to ruin the mood.
The fifth Akapela Open Finals, one of the multi-hypenated Ryan Cayabyab's pet projects, is on its home stretch. This is presented by the Cultural Center of the Philippines and The Music School of Ryan Cayabyab and will be held at the Tanghalang Nicanor Abelardo of the CCP on Oct. 20 at 7 p.m.
Competing for the grand prize will be former Akapela Open champion Astrafellas from Baguio against former finalists, the Conchords of Quezon City and Phisix of Makati. Also in the race are the Calafellas of Pangasinan; KNKTD of Manila; Mvibe of Quezon; Psquare of Davao; Sayil and Syncofellas of Bulacan and the Vocalmyx of Cagayan de Oro. And brace yourselves for the evening's music line-up, all of the finalists will be performing original Filipino songs from the '80s era. That means the best of Manila Sound. This show promises to be a great treat for music lovers.
I suppose that Acapellago, a two-time champion at Akapela Open, will be performing. The group of extraordinary singers has become internationally recognized for its vocal prowess with prizes won around Europe and Asia. And maybe also Pinopela which won the Akapela championship two years ago and is now making a name for itself in the global a cappella market.
More on Pinoy music. Over a hundred Filipino talents, old and new and from assorted genres, including a cappella, Acapellago and Pinopela will both be performing, will be at the Pinoy Playlist music festival that will be held at the Bonifacio Global City in Taguig on the next two weekends of the month. This is presented by the BGC Arts Center and the Sunlife Foundation, both of which should be commended for this awesome support that they are extending to Filipino music. Now get a load of this artist line-up, all of who you can watch live at Pinoy Playlist for very reasonable prices.
For Week 1 on Oct. 11, 12 and 13: Shanti Dope, Gloc-9; Razorback with Nicole Asencio, Jim Paredes, Boboy Garovillo, Noel Cabangon, Itchyworms, UP Tugma, Gio Levy, Pinopela, Thor, Kiana Valenciano, Paolo Sandejas, Wishfuls, Pedicab, Imago, Sandwich, The Bloomfields, Papuri, Arnel De Pano, Neocolours, Nyoy Volante, Ben & Ben, Joshua Feliciano, Arman Ferrer, Lara Maigue, Jimi Marquez, Rica Arambulo, Hazel Faith & Melbillio, VIIXi, Stellar, Banda Ni Kleggy, Davey Langit, 6cyclemind, Rachelle Gerodias & the Kundiman Cast, Lou Bonnevie, Johnoy Danao, Clara Benin, Eileen Sison 7 Guarana Band, Tim Pavino, Bukas Palad, Baihana, Debonaire District, Vincent de Jesus, North Drive Band, Better Days, Hilera, Gracenote and Moonstar 88.
3rd Avenue Band, Acapellago, Richard Reynoso, Rannie Raymundo, Chad Borja, Renz Verano, Sam Concepcion, Cornerstone Artists, 5th Gen, Andrew Fernando, John Lesaca, Coeli, Hoochie Coochie Mikkie, Tala, AMP Big Band, Autotelic, The Bratpack, Avayadown, Wish Orchestra, Ryan Cayabyab Singers, Jacqui Magno, Bullet Dumas & Friends, IV of Spades, Nicole Asencio, Reuben Laurente, Robert Sena and Isay Alvarez, Zion Aquino, Zsaris, Both of Us, Lady I, 70s Superband, Vispop Artist, Reggae Mistress, Dulce, The CompanY, Mitch Valdes, Nanette Inventor, Da Pulis, Jake Zyrus, Hangad, Anna Fegi Brown, Myke Salomon, Russ Cabico, Toto Sorioso, Fern, Extrapolation, Bayang Barrios and Mike Villegas, RJ de la Fuente, Katrina Velarde, Abby Asistio and Abra.
Go to TicketWorld and check out the dates when your favorites will be performing and make sure you get your tickets. If possible, watch during both weekends. These names on the list always put on a good show and you will surely enjoy yourselves.
Still on Filipino music and still at the Pinoy Playlist festival. And I say this one is the most exciting news of all. The titles of the Top 10 finalists of Philpop 2018 will be revealed on Oct. 18 at 10 p.m. This will be done during the Pinoy Playlist show at the BGC Arts Center in Taguig City. All of the competing composers and the interpreters of their songs will be present. So make sure that your faves will be on that list by going to the Philpop site and texting your votes now.