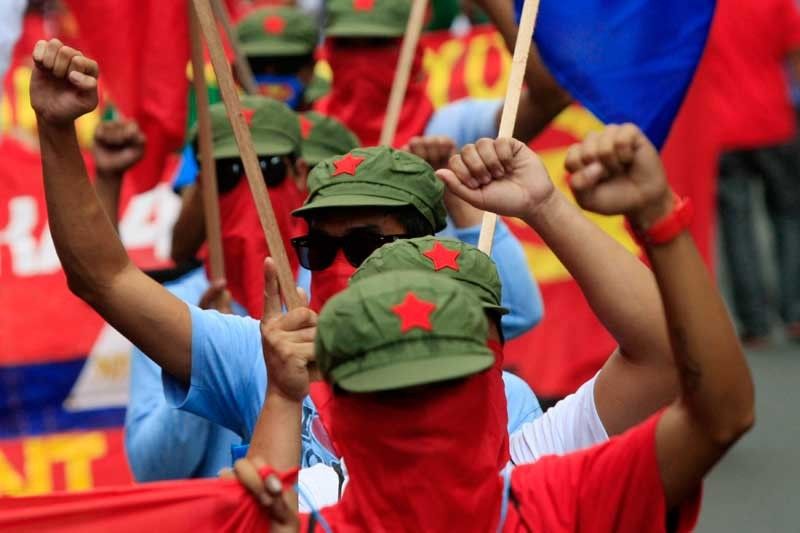 Justice Secretary Menardo Guevarra said the NBI, the investigative and law enforcement arm of the Department of Justice (DOJ), has been tapped to conduct a fact-finding investigation to look into information from the Armed Forces of the Philippines (AFP) that communist groups, opposition personalities and some disgruntled soldiers are conspiring to oust Duterte.
Edd Gumban
LIST: Film industry workers denying alleged 'Red October' involvement
MANILA, Philippines — Over 300 film industry insiders released a statement on Thursday in response to an allegation by the Armed Forces of the Philippines that martial law films are being used to lure students to join communist rebels in an alleged plot to overthrow the Duterte administration.
"We, filmmakers, media workers, artists, cultural workers, academicians and other members of the film and artistic community, deplore the recent statements of the assistant deputy chief of staff for operations for the Armed Forces of the Philippines, Brig. Gen. Antonio Parlade Jr., who essentially accuses us and the organizations that sponsor film screenings on martial law of recruiting for the New People's Army," the film and media workers say in a statement.
According to the artists, the accusation "is red-baiting and slander of the worst kind."
"It impinges on our right to freedom of expression, speech and assembly, and endangers us and our audience, especially in the context of the Duterte regime's murderous anti-war and counter-insurgency campaigns and the President's recent pronouncement that 'rebels' are now targets for 'neutralization' or can be arrested without warrant, despite constitutional guarantees against it."
The artists maintain that their film screenings "provide an invaluable service to the youth, the students and the general audience, especially since our education system has largely failed in informing them about the systemic atrocities that happened during the martial law era. The screenings hope to provide them with knowledge and insight into that dark chapter in our history, especially since many of the actual perpetrators and beneficiaries of that fascist dictatorship have fully rehabilitated themselves back into mainstream politics and into positions of power."
The artists uphold that the screenings help students "understand the roots of fascism, and how our failure as a society to stamp out those roots have led to its resurgence. Our events have also become venues for discussion and dialogue, between us as artists and documentarians of reality and the youth and the people we wish to serve. On the whole, we have hoped to equip the audience with information and critical skills so that they themselves can adequately decide the course of action to take as responsible citizens of the country."
"We wonder why the AFP slanders us," the artists say.
"Have they now become active defenders of the Marcoses and the criminals behind martial law? Or do they merely wish that the youth and the people remain ignorant of their central role as an institution in the wholesale trampling of our democratic rights—then and now?"
The statement continues: "As the people are unlikely to believe such hysterical lies by the AFP, we urge them to continue to support the exhibition of films and other informational materials on martial law. Let us further spread the word. We will not be cowed by these threats even as we will continue to condemn and expose these threats. The screenings will go on—and multiply—in schools, in communities, in factories, in farms, in offices, in migrant gatherings. The truth telling will continue!"
As of October 4, 2:32 p.m., the signatories of the statement include:
Aaron Alsol, student filmmaker
Aaron Cabangis, cinematographer
Abbie SJ Lara, filmmaker
Abigail Lazaro, filmmaker
Achinette Villamor, producer
Active Vista Film Festival
Adjani Arumpac, filmmaker
Adrian Arcega, filmmaker and educator
Adrian Mendizabal, UPFI MA Media Studies student
Adrienne Vergara, actor/performance maker
Afi Africa - filmmaker/actor/educator
Agot Isidro, Actress
Aiess Alonso, filmmaker
Alanis Magbanua, film student
Alejo R. Barbaza, filmmaker
Alemberg Ang, producer/teacher
Alex Poblete, filmmaker
Alexis Obedencio, film student
Alwin Reamillo, producer/ visual artist
Alyssa Suico, filmmaker
Alyx Arumpac, filmmaker
Amos Paquia, student researcher
Amparo Adelina C. Umali, III, faculty, UP Center for International Studies, film advocate
Ana Karina A. Cosio, researcher, writer
Ana Marika Francisco, filmmaker
Andre Yan, student filmmaker
Angel Romero, writer, artist, women, LGBT and human rights advocate
Angel Velasco Shaw, filmmaker, educator, cultural organizer
Angeli Bayani, Actress
Angelica Taruc, film student
Anna Isabelle Matutina, filmmaker
Antoinette Jadaone, filmmaker
Anton Pelon, writer/creative producer
Ara Chawdhury, filmmaker
Arbi Barbarona, filmmaker
Arjanmar Rebeta, filmmaker
Armi Rae Cacanindin, producer
Arnel Mardoquio, filmmaker
Arvin Kadiboy Belarmino, filmmaker
Aubrey Llamas, filmmaker
Austin Tan, student filmmaker
Avic Ilagan, filmmaker - artist/teacher
Baby Ruth Villarama, filmmaker
Benedict Mique, filmmaker
Bern Torrente, filmmaker
Bernie Mercado, writer-filmmaker
Bianca Balbuena, film producer
Bonifacio Ilagan, scriptwriter and director
Boombee Bartolome, media makeup artist
Brandon Relucio, filmmaker
Brian Arda, independent film actor
Brian Spencer Reyes, filmmaker
Brian Villanueva, educator, filmmaker
Carl Chavez, filmmaker
Carla Manalo, film colorist
Carla Pulido Ocampo, filmmaker
Carlo Cielo, movie fan
Carlo Lopez, filmmaker
Carlos Mauricio, cinematographer
Carmelo Paulo Relativo Bayarcal, media and creative consultant
Carol Bunuan Red, producer
Celeste Legaspi, actress, singer, producer
Cenon Obispo Palomares, filmmaker and film educator
Cha Escala, Documentary filmmaker
Cha Roque, filmmaker
Chaela Tordillo, film student
Chai Fonacier, actor, writer
Che Tagyamon, filmmaker
Cherish Aileen Brillon, educator
Christian Babista, filmmaker
Christian Linaban, filmmaker
Christine Silva, animator/filmmaker
Chuck Escasa, filmmaker
Chuck Gutierrez, filmmaker
Chuckberry Pascual, teacher, writer
Cocoy Lumbao, visual artist/writer
Cynthia Cruz-Paz, filmmaker
DAKILA artist Collective
Dale Custodio, director/educator
Dan Villegas, filmmaker
Danielle de los Reyes, producer, writer
Daphne Esplana, filmmaker
David Carandang, UPFI student
Dennis Marasigan, actor, filmmaker, teacher
Denzel Yorong, filmmaker
Detsy Uy, film event organizer/humanitarian worker
Ditsi Carolino, filmmaker
Dola Garcia, filmmaker
Dos Ocampo, filmmaker
Dwein Baltazar, filmmaker
Dwight Gaston, writer, designer, actor
Edward Paciano Cabagnot, writer & film educator
Edward Salcedo, filmmaker
Edwin Guillermo, actor/filmmaker
Edwin Rico Verances writer/filmmaker
EJ Mijares, filmmaker
EJ Salcedo, filmmaker
Eli Hiller, filmmaker and Photojournalist
Ella Mage, Journalist/filmmaker
Ellen Marfil, filmmaker, Pelikulove
Elmer Gatchalian, writer
Eluna Cepeda , filmmaker
Emman Pascual, filmmaker
Emmanuel Dela Cruz, educator, film event organizer and filmmaker
Enriq Pingol, filmmaker
Epoy Deyto, filmmaker and instructor
Eric Cabahug, writer
Erik Matti, filmmaker
Eseng Cruz, filmmaker/teacher
Ethel Mendez, producer
Faye Castillo, film student
Fiona Borres-DeLuca, filmmaker
Film Weekly
Frances Grace Mortel, photographer/filmmaker
Gab Ramos, UPFI student
Gabby Fernandez, filmmaker, educator
Gabrielle Tayag, filmmaker
Gale Osorio, filmmaker/Festival Organizer
Gary C. Devilles, PhD, Chair Filipino Department, Ateneo de Manila University
Gene Paolo Abrajano, filmmaker
Genevieve Reyes, Actress
Gerlyn Altura, filmmaker and media practitioner
Gershom Chua, filmmaker
Rianne Hill Soriano, filmmaker
Gianco Ante, multimedia artist
Gimson S. Alemania, Multimedia University of the Philippines Open University Filmmaking - Film School Manila
Gabriel Pancho, Film Weekly
Gio Potes, filmmaker, writer
Giosi Mendoza, filmmaker
Giselle "G" Tongi-Walters, filmmaker for Social Change & Women's Reproductive and Human Rights Advocate
Glecy Peñaloza, writer, researcher, filmmaker
Glenn Barit, filmmaker
Grace Simbulan, filmmaker
Guelan Luarca, screenwriter, teacher
Hannah Espia, filmmaker
Harlene Bautista, actor
Hazel Orencio, Actress
Hector Barretto Calma, filmmaker
Hector Graza Macaso actor/filmmaker
Henry Dela Cruz, Jr., screenwriter/Media Practitioner
Herb Comendador, filmmaker
Hiyas Bagabaldo, filmmaker
Hyro Aguinaldo, screenwriter
Ice Idanan, filmmaker
Idden de los Reyes, cinematographer-filmmaker
Ilang-Ilang Quijano, filmmaker
Iris Lee, filmmaker
Issa Encarnacion, filmmaker
Ivy Baldoza, filmmaker
Jade Castro, filmmaker
Jaerold Marc D. Ramos, educator/filmmaker/media practitioner
Jag Garcia, filmmaker and film professor
James Fajardo, UPFI Film student
Jamme Robles, UPFI student
Jan Michael C. Jamisola, filmmaker
Jan Philippe V. Carpio, writer, filmmaker, performer
Jan Tristan Pandy, filmmaker
Jane Biton, cultural worker
Janice Y. Perez, filmmaker and book author
Janina Fascists, filmmaker
Janina Gacosta writer/filmmaker
Janus Victoria, filmmaker
Jarell Serencio, filmmaker
Jay Rosas - writer, film screening/festival organizer
Jayneca Reyes, filmmaker
Jayson Bernard Santos, journalist/filmmaker
Jayson Septimo, cultural worker
Jed Medrano, filmmaker
Jedd Dumaguina, filmmaker
Jeffrie Po, filmmaker
Jeps Gallon, writer
Jericho Aguado, scriptwriter
Jerry B. Gracio, screenwriter
Jerry Benedict Rosete, filmmaker, media practitioner
Jessie Lasaten. filmmaker
Jet Leyco, filmmaker
Jewel Maranan, filmmaker
Jim Libiran, filmmaker
Jippy Pascua, filmmaker
JL Burgos, filmmaker
Joaquin Astilla, film student
Joel Ferrer, filmmaker
Joel Lamangan – filmmaker
Joey Javier Reyes, writer/filmmaker/teacher
Joel Saracho, actor
John Arcilla, performing artist
John Iremil Teodoro, writer
John Lapus, actor/filmmaker
John Rodriguez, Media Practitioner/director of Studies (Asia Pacific Film Institute)
Jon Red, filmmaker
Jonathan Olarte /filmmaker
Jonnie Lyn Dasalla, filmmaker
Josel Garlitos, writer
Joseph Israel Laban, filmmaker
JP Habac, filmmaker
Julienne Ilagan, filmmaker
Juliet Cuizon, filmmaker and film festival organizer
Jun Dio, filmmaker and educator
Jurex Suson, filmmaker
Justine Dizon, journalist, filmmaker educator
Kabunyan Palaganas, Photographer
Kara Moreno, filmmaker
Karen Lustanas, UPFI student
Karl Castro, artist
Karl Medina, artist
Katrin Maria Escay, filmmaker
Katrina Tan, Film Festival Organizer
Keith Deligero, filmmaker/Festival Organizer
Keith Sicat, filmmaker
Kenneth Guda, writer/editor
Khavn, filmmaker
Kidlat de guia, filmmaker
Kilab Multimedia
Kim Perez, producer
King Catoy, filmmaker
King Palisoc, filmmaker
Kip Oebanda, filmmaker
Kiri Dalena, filmmaker
Kodao Productions
Kris Cazin, filmmaker
Kristin Barrameda, writer
Kristine Camille Sulit, filmmaker/educator
Kristine Kintana, festival organizer
Kristinne Nigel Santos, writer
Kristoffer Brugada, filmmaker/educator
Ku Aquino, actor
Kyle Jumayne Francisco, production designer
Kyle Nieva, filmmaker
Laurence Marvin Castillo, educator
Lav Diaz, filmmaker
Law Fajardo, filmmaker
Lawrence Ang, editor
Lem Garcellano, writer, filmmaker
Leni Velasco, Festival Organizer
Leo Rialp, director and actor
Lih Ocampo, filmmaker
Louise Jashil Sonido, film scholar and media practitioner
Lucan-Tonio Villanueva, Film Weekly
Luis Liwanag, visual journalist/documentarian
M. Bonifacio, filmmaker
Ma-an Asuncion-Dagnalan, filmmaker
Mae Urtal Caralde, educator/filmmaker
Malaya Ad Castillo, writer
Marella Castro, writer
Maria Diosa Labiste, PhD, Department of Journalism, UP College of Mass Communication
Mariel Urbiztondo, filmmaker
Mario Cornejo, filmmaker
Marion Salvador, film student
Mark Aranal, actor-director
Mark Lester Menor Valle, filmmaker
Mark Raywin Tome, writer
Martika Ramirez Escobar, filmmaker
Marxie Maolen Fadul, production designer
Max Canlas, filmmaker
Maxine San Pedro, film student
May-i Guia Padilla, Media and Creative Consultant
Maya Quirino, Line producer
Mayday Multimedia
Meika Catog, filmmaker
Melanie Entuna, producer
Michael Angelo Dagñalan, writer/director
Michael Lacanilao, filmmaker
Michael Zerda/filmmaker
Mick Tuyay, photographer/filmmaker
Miguel Franco Michelena, filmmaker
Mika Fabella, filmmaker and writer
Mike Alcazaren, filmmaker
Mikey Red (designer/ filmmaker)
MJ Salumbides, film student
Moira Lang, filmmaker
Mon Garilao, filmmaker
Monchito Nocon, writer, film archiving advocate
Monster Jimenez, filmmaker
Myka Francisco, filmmaker
Nate Dorego, film Student
Natts Jadaone, writer
Nawruz Paguidopon, filmmaker
Neil Daza, cinematographer
Neil Portugal, producer/filmmaker
Nick Olanka, filmmaker
Nico Bagsic, journalist
Nikki Del Carmen, filmmaker
Nina Torralba, researcher-filmmaker
Nonong Buencamino, film composer/producer
Nonoy Gallardo, writer
Ogi Sugatan, filmmaker
Opaline Santos, theater practitioner
Oscar Nava, filmmaker
Pam Miras, filmmaker
Panx Solajes, artist/filmmaker
Paolo Villaluna, filmmaker/DGPI President
Pat Apura, animation director
Patrick F. Campos, writer and educator
Paul Grant, university professor
Petrick Franco, writer, media worker
Phylicia Santos, student
Phyllis Grande, film producer
Prolet, Poet
Qhris Lang, writer
Quark Henares, filmmaker
Rafael Magat, film student
Rafael Tibayan, film student, actor
Randolph Longjas, filmmaker
Ray Defante Gibraltar, filmmaker
Raymond Red, filmmaker
Raymund Villanueva, writer/journalist, Kodao
Raz de la Torre, filmmaker, educator
Rebecca Padilla, actor/performer/filmmaker
Revy Marata, UPFI student
Richard Soriano Legaspi, filmmaker, Academician
Ricky Lee, scriptwriter
RM Alfonso, UPFI student
Rob Jara, filmmaker
Rob Rownd, actor, filmmaker
Robert Sarmiento, production designer
Rolando Tolentino, UP Film Institute faculty
Rom Factolerin, filmmaker
Roman Perez Jr. filmmaker/cultural worker
Ronalyn Olea, writer/journalist, Bulatlat.com
Ronnie Gamboa, filmmaker
Rose Roque, educator, film archiving advocate, film event organizer (UP Manila)
Rovic Lalo, writer
Ryan Quimpo, writer/filmmaker
Ryle Custodio, film composer
Sari Dalena, filmmaker
Sari Estrada, filmmaker
Seymour B. Sanchez, filmmaker/teacher/writer
She Andes, filmmaker & educator
Sheron Dayoc, director/producer
Shirley Lua, educator and writer-critic
Sigfried Barros Sanchez, filmmaker
Sigrid Andrea P. Bernardo, filmmaker
Sonny Calvento, filmmaker
Sue Prado, actor
Tara Illenberger, filmmaker
Teng Mangansakan, filmmaker
Teresa Barrozo, film worker
Tey Clamor, cinematographer
The Breakaway Media
Theo Lozada, cinematographer
Tiara Orig, filmmaker
Timmy Harn, actor
Tito Genova Valiente, film critic and film educator
TJ Tan, educator, filmmaker
TM Malones, filmmaker
Tom Estrera III, artist
Topel Lee, filmmaker
Treb Monteras, filmmaker
Tudla Productions
Tyrone Velez, journalist, writer
Van Sulitas, president, UP Cinema
Victor Villanueva, filmmaker
Wanggo Gallaga, screenwriter and educator
Will Fredo, filmmaker
Willie Apa Jr., filmmaker
Xeph Suarez, filmmaker
Xzy Dumabok, UPFI student
Yason Banal, artist, teacher
Ysabella Fernandez, film student
Yves G. Patron, film sound engineer
Yves Jamero, filmmaker
Yvette Fernandez, writer
Zig Dulay, filmmaker