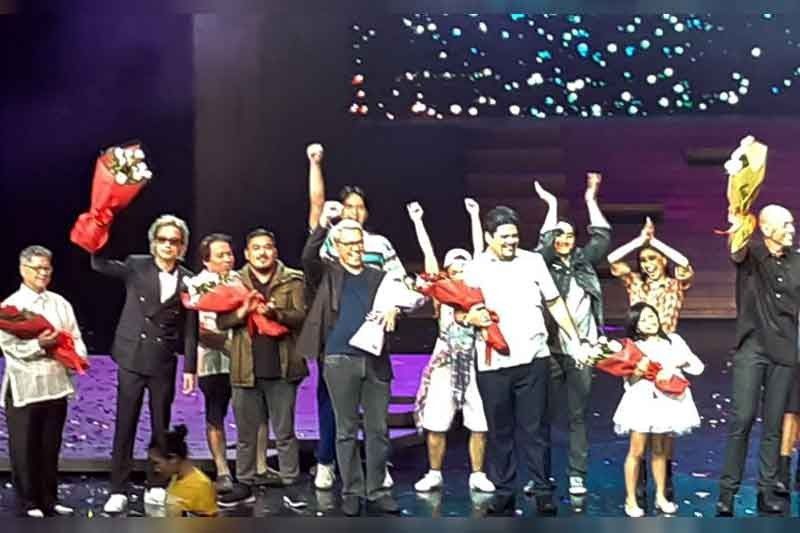 A beaming Ely gets a standing ovation as he joins the cast on stage during the curtain call. He gamely poses with enthusiastic fans at the gala's after-party at Resort World Manila's The Plaza.
Photo by Edmund Silvestre
Ely Buendia gives El Bimbo musical two thumbs up
MANILA, Philippines — The cast and crew of Resorts World Manila's (RWM) theater production of Ang Huling El Bimbo have every reason to be proud during their July 26 gala night attended by RWM president and CEO Kingson Sian.
Eraserheads frontman Ely Buendia, who is behind the '90s Pinoy iconic songs from which the musical was entirely based, gave the show his seal of approval after catching it for the first time at the Newport Performing Arts Center.
"Very well made," was how Ely described the show to The Philippine STAR at the after-party and shortly after sending his loyal fans into a frenzy with his surprise appearance at the curtain call. Donning a platinum hair and dark shades, Ely joined the cast on stage while being showered with applause, cheers and colorful confetti.
"I love the way they stitched all those songs together into one solid musical," said the 47-year-old legendary musician, who penned Eraserheads' famous songs — from Tindahan ni Aling Nena, Pare Ko and Spolarium to With A Smile, Poor Man's Grave and Ang Huling El Bimbo — and made them classic hits with ex-bandmates Raymund Marasigan, Buddy Zabala and Marcus Adoro, who were all not present at the gala.
"It was pefect as it is," Ely added, recognizing the genius team behind the musical led by director and choreographer Dexter Santos, playwright Dingdong Novenario, musical director Myke Salomon as well as the brilliant cast headed by Gian Magdangal, Jon Santos, OJ Mariano, Reb Atadero, Topper Fabregas, Boo Gabunada, Sheila Francisco, Jamie Wilson, Bibo Reyes, Menchu Lauchengco-Yulo and the unforgettable Tanya Manalang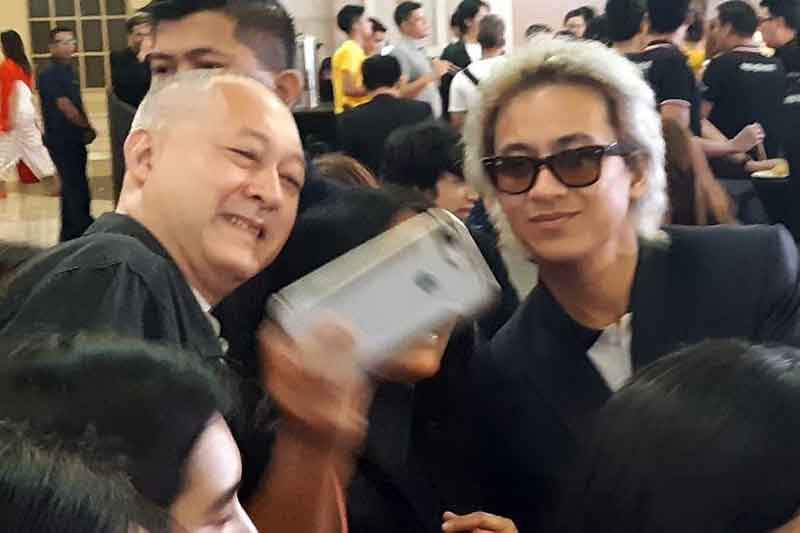 Ely disclosed that he has no direct hand in the musical produced by RWM and its production outfit Full House Theater Company. "And it's for the best," he noted. "I'd rather sit in the audience and enjoy it. And I did enjoy it."
When pressed for suggestions to further improve the show, he replied: "Just more smoke in the Alapaap number, and that's it."
Myke said the whole team can now heave a sigh of relief after getting Ely's blessing. "May basbas na kami," Myke proudly told The STAR about the musical. "But we won't stop working to polish it and make it even better."
Ely's manager Day Cabuhat said she's mesmerized by the show — from the sets, costumes and lighting to the performers' superb acting and vocal excellence — and gave it a 10. She expressed hope that Ely's former bandmates would see it as well.
"It was the way they handled the music that was really amazing," said Day, who was also Eraserheads' manager before it disbanded. "I've lived the music for so many years and it was a delight to hear not just the hit songs but also the obscure ones that made the cut."
Comic Jon Santos couldn't agree more.
"I am so happy that the reception was very positive," Jon said. "We know that this show will rerun and rerun and rerun because we may have stumbled upon a piece that is both timely and timeless."
Ang Huling El Bimbo runs until Sept. 2 with shows every Friday, Saturday and Sunday. Tickets are available at the RWM Box Office and all Ticketworld outlets. Visit www.rwmanila.com