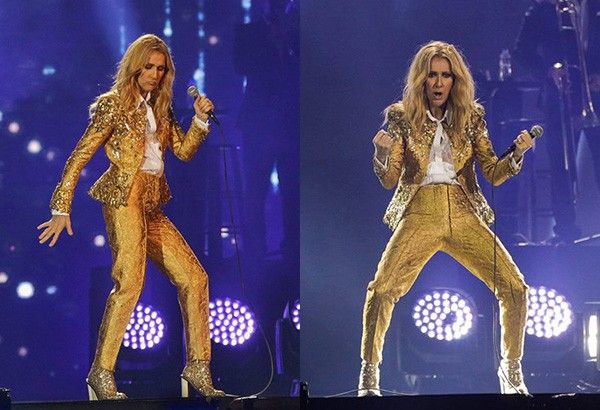 Celine Dion during her recent concert in Manila
The STAR/Mong Pintolo
Celine Dion in Manila: 'It feels amazing!'
MANILA, Philippines — Near, far, wherever they were, fans from all over the world braved the storms in Manila on July 19 and 20 to see Celine Dion's first concert in the country, at the Mall of Asia Arena.
Related video: Celine explains why it took time for Manila concert
The five-time Grammy-award winner arrived in Manila on a private jet in the early morning of July 19 and entertained questions from the press under the rain.
"We made it! We finally made it!"Celine exclaimed in the middle of her concert.
"My very first time in the Philippines and it feels amazing!"
"Don't ask me why it took me so long," she enthused. "I don't know. I guess I live too far away."
"But you know what, I'm just so very happy to finally be here with you!" she declared.
"I want to thank you all so much for your patience throughout the years and most of all for being with us tonight. Maraming salamat!"
Related video: Celine Dion in Manila concert highlights
During the concert, Celine dazzled the audience with her beauty and lean physique, quick costume changes, fireworks-like lighting, mind-boggling three-dimensional projected backdrop, live mini orchestra with backup vocals, and of course, her effortless performance of her international number one hits, including "Because You Loved Me," "It's All Coming Back to Me Now," "The Power of Love," "That's the Way It Is," "All by Myself," and "To Love You More." These are the contest pieces that launched the singing careers of many contest champions, including the Philippines' own Sarah Geronimo.
Celine looked like Belle in a black ball gown as she sang the "Beauty and Beast" theme song, which opened doors for her to sing more Hollywood movie soundtracks.
She said the audience should see her more often to see how crazy she is, just like when she narrated how Ryan Reynolds invited her to be part of "Deadpool 2," which opened at number one in the Philippines.
Before singing the movie's theme song, "Ashes," Dion showed her comedic side and acting chops by reenacting her imaginings before opening the letter Ryan sent.
Related video: Celine shares reaction after receiving Ryan Reynolds' invitation
Apart from singing, she showcased how great a dancer she is by performing tango alongside the sexy "Falling into You."
The concert's repertoire ranged from the melancholic "Recovering" composed by Pink to help Celine move on from her husband Rene Angelil's death; to the mellow "Pour que tu m'aimes," the biggest hit of her French singing career, she said; and to her Vegas party-like covers of Prince's "Kiss" and Tina Turner's "River Deep, Mountain High."
She changed the arrangement of some songs or gave them new treatments, such as a bird-like hum ending.
But of course, Filipinos will not go home (or will be unable to sleep) without hearing the encore, the number one movie soundtrack of all time, "My Heart Will Go On."
For this, instead of the flute entrance, Celine took over the flute part and then came out in a jewel-like pink and white gown that made her standout against a LED screen backdrop projecting underwater images of the sunken Titanic.
Just like her other songs, she rendered "My Heart Will Go On" exactly as people heard it many times on the radio or on loop in their own playlists, but this time, ending it with a haunting mermaid-like hum.
Her parting piece was an a cappella of the Elvis Presley classic, "Can't Help Falling in Love," which, she said, is what she feels about the Philippines and her Filipino fans.
After watching the show, many fans would agree:
1. Her voice did not age at all even after almost three decades in the industry.
2. She is the only one who can best sing her own songs. Nobody can ever give justice most especially to "My Heart Will Go On."
3. She is among the very few who can sing several quatrains of high notes in one breath!
4. The vast spectrum of her voice, which comes out as natural in her as breathing, makes her one of the best, if not the best, singers of all time. As she said, "I'm so passionate about singing. I was born singing!"
5. This first concert in Manila should definitely not be the last! — Videos by Kat Leandicho