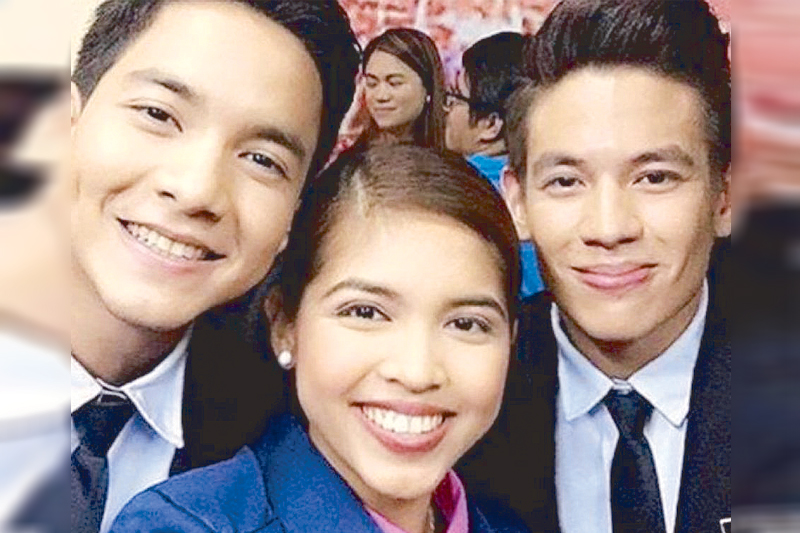 Jake Ejercito (right) with Maine Mendoza and Alden Richards in a 2016 Lenten presentation on Eat, Bulaga! Before that, Jake also appeared as guest in Maine and Alden's AlDub Kalyeserye.
Jake: Maine is just a friend; Breaking his silence, he says, 'I have no time for love'
FUNFARE
(The Philippine Star) - December 5, 2017 - 4:00am
Very much single, not yet ready to mingle.
Those eight words neatly sum up the current state of the heart of Jake Ejercito who has found himself in the eye of a killer storm spawned by Maine Mendoza's very long and very revealing open letter on her Twitter account Sunday last week on the heels of a story that she and Jake went out on a "date" (take note: quotation marks to be explained as you read on), which was a big no-no to the so-called AlDub Nation that wants Maine only for Alden Richards and nobody else, especially not Jake who has long been rumored to be the secret "third wheel" in the AlDub loveteam.
What stunned and saddened the AlDub Nation was Maine's confession that "Alden and I are just friends. We are a love team," which was really nothing new because Maine admitted the same thing in an exclusive interview with The STAR a few months ago before the airing of their first GMA soap starrer Destined to Be Yours. Alden himself has, bless him, never given anybody any "illusion" that there is "something" (beside friendship, that is) between him and Maine. Remember also a few months ago when Alden admitted that "I have no girlfriend" in reaction to a Funfare item linking him to a non-showbiz girl? Oh, but that was then!
"It was not a 'date'," Jake told Funfare in an exclusive interview over the weekend, referring to the controversial "sighting" at a place called Revel Bar. "Maine and I were in a group having fun, so I wouldn't consider it a date. For me, it is a date if there's only the two of you, the two of us," adding emphatically, "Maine is just a friend."
Like Sef Cadayona who was mercilessly bashed when he was linked to Maine, poor Jake is being bashed, too, with his daughter Ellie being dragged into the mess. That is foul, throwing mud at an innocent little girl who is finally at peace after her dad and her mom, Andi Eigenmann, have consented to a "time sharing" with Ellie in an out-of-court settlement.
Jake, who has appeared as guest in the AlDub Kalyeserye and in a Lenten presentation, has come home for good last August after he graduated with Business degree in a Singapore university (affiliated with a school in London where he started taking his course).
In her (appropriately called "open-heart") letter, Maine poured out all her feelings, baring all and sparing none, in the first paragraph thanking the AlDub Nation for its love and support, and then saying that "by the end of this letter, I am pretty sure that majority of you are going to turn your backs on me. Pero sabi nga nila, speak the truth even if your voice shakes...," adding, "...I was never into money or fame. All I want in this life is to be free and happy. And I am certain that no amount of fame and money can ever give me genuine happiness. All my life I have been seeking love from people around me. And that is all that matters to me at this moment."
Saying that she has made many people happy, it's high time she made herself happy, too, and not to be dictated upon how and what to do with her life, at the same time feeling sorry for people (she associates with) being bashed.
Asked in that Destined to Be Yours interview if she let fans dictate on what she (and Alden) should do, Maine was adamant, "No, we don't. We do only what management asks us to do."
In the wake of Maine's open letter, Alden was hospitalized not, contrary to initial report, for "shock" or "depression" but for food poisoning (or amoebiasis) but he was soon back on Eat, Bulaga! while Maine has gone "missing" up to presstime yesterday.
Questions: Has Maine gone abroad to "cool off?"...Was she advised by management to "disappear" for a while?...What would happen to more planned Alden-Maine projects?
Incidentally, Maine ended her open letter on a heart-breaking note:
"Again, thank you very much for the love and support you have given me. I will forever cherish the presence of the whole fandom in my life. I do hope I have also given you enough joy for you to give me the freedom I believe I deserve. Freedom to feel what I want to feel, be what I want to be, and do what I want to do. Alden deserves the same, too. With so much gratitude. That Girl." (Note: Funfare texted Alden for his reaction but he didn't reply. Is there an "order from above" for him or any of the Bulaga guys to keep mum?)
Kindness of Megan cannot be forgotten
2013 Miss World Megan Young with Dr. Lyndon Llamado and (right) with election lawyer Romy Macalintal

Election lawyer Romy Macalintal cannot resist the urge of relating the very inspiring personal encounter by his friend, Dr. Lyndon Llamado, with 2013 Miss World Megan Young who is now a highly celebrated movie actress and model.
Only recently, while Dr. Llamado was taking his snack at the lounge of Korean Airlines at the NAIA while waiting for his flight to the US for a medical conference, he noticed that beside him was Megan who was also picking some food items from the counter. Not allowing that once-in-a-lifetime opportunity of meeting a popular personality to vanish, Dr. Llamado introduced himself to Megan and asked if he could have a photo-op with her.
Dr. Llamado said, "Ms. Megan was so accommodating that she immediately said 'Yes' and promised that she would join me in my table after taking her snack."
And lo and behold. After only a few minutes, Megan approached Dr. Llamado's table and said, "Are you ready for the photo-op?"
And the rest was history. Dr. Llamado was all praises for the act of friendship so humbly demonstrated by Megan which, he said, "I cannot forget in my lifetime."
And when Dr. Llamado related his unforgettable one-on-one encounter with Megan to Romy, the latter immediately confirmed Megan's kindness.
Romy recalled that when Megan arrived in Manila after being crowned as Miss World 2013, "she also kindly obliged to a photo-op with me at a suite at Sofitel Hotel, Pasay City before she was interviewed by Jessica Soho of GMA 7."
It was this columnist who escorted Romy into the suite.
Oliver represents Philippines in Bangkok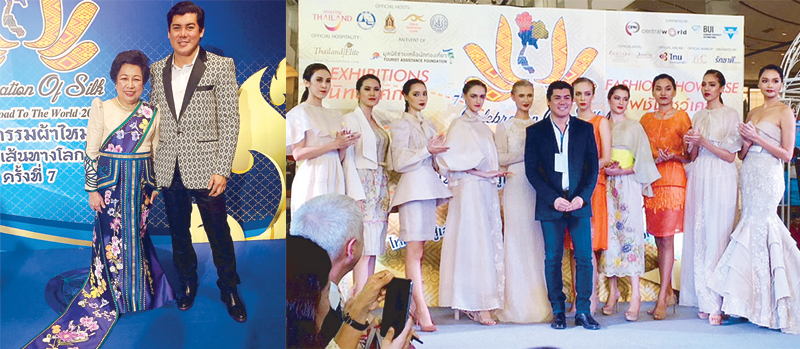 Oliver Tolentino with Phl Ambassador to Thailand Mary Jo Bernardo and (right) with models at Bangkok's Thai Celebration of Silk

US-based Filipino designer Oliver Tolentino officially represented the Philippines in Bangkok recently at Thailand's 7th Celebration of Silk event put up by its Ministry of Culture. This is the first year Thailand invited foreign designers to participate and only 25 were invited, together with those from France, Switzerland, Ireland, South Korea, China, etc.
Each designer was tasked with creating an outfit for its ambassador or spouse to honor the queen. Thailand's Deputy Prime Minister hosted the event before a capacity crowd of 1,000 in CentralWorld's Convention Center ballroom.
Philippine Ambassador to Thailand Mary Jo Bernardo-Aragon wore an outfit Oliver designed to merge the two countries' identities. With royal Thai silk, Oliver created a mermaid interpretation of the national Thai costume with purple skirt, peplum and sash. His couture touches were hand-painted Thai flowers all over the skirt and sash and a piña calado top with long sleeves accented with swirled green and purple silk strips symbolizing the roofs of the Thai temples. The outfit included a front column accent of silk strips edged with gold embroidery also shaped like Thai roofs. The gown will be on display in CentralWorld this week.
While a guest of Thailand, Oliver held a presentation and Q&A with top fashion students at Srinakharinwirot University. On another day, Oliver showed a capsule collection of 10 piña outfits in CentralWorld to promote our local fabrics to the Thai people.
It was a busy week for Oliver who flew to Bangkok from San Francisco immediately following a charity show. As previously reported here, Oliver held a gala last Nov. 19 for Lisa Yuchengco's Philippine International Aid charity event. Oliver showed a massive 88-piece collection before 700 people in the grand ballroom of the Hyatt Regency Embarcadero. Lisa told Oliver afterwards that it was the event's first standing ovation for a fashion show in its 31 years and the event raised a record amount for kids with special needs. Former "Best in Catwalk" winner at Model of the World, Tutay Maristela, opened and closed the show, and Filipinas Alaiza Malinao and Nancy Leonard also walked.
Oliver is currently working at his Makati boutique until Dec. 8 (tel. no. 856-7088).
(E-mail reactions at entphilstar@yahoo.com. For more updates, photos and videos, visit www.philstar.com/funfare or follow me on Instagram @therealrickylo.)