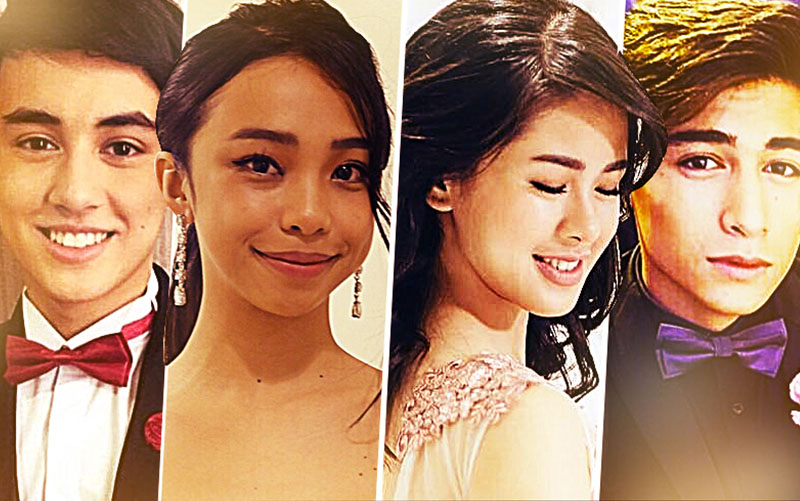 Pinoy Big Brother (PBB) Lucky Season 7 housemates Edward Barber, Maymay Entrata, Kisses Delavin and Marco Gallo. Star Cinema/Released
WATCH: KissMarc, MayWard release 'Loving in Tandem' official trailer
MANILA, Philippines — Pinoy Big Brother (PBB) Lucky Season 7 housemates Maymay Entrata, Edward Barber, Kisses Delavin and Marco Gallo have officially released the trailer of their first movie since pursuing showbiz after PBB.
The romance comedy, "Loving in Tandem," has garnered over 200,000 views in less than 24 hours, entering the top 20 of YouTube's most trending videos so far. The trailer also reportedly reached nearly two million views on Twitter in less than 24 hours, so it became the number one trending on the social networking site.
Helmed by Star Cinema, "Loving in Tandem" tells the story of the stoic half-American Luke (Edward Barber), who arrives in the Philippines to meet with his estranged family. During a chance encounter, he saves his new neighbor, Shine (Maymay Entrata), from a thief.
As Luke finds himself trapped in this unfamiliar world, he starts to build an unlikely bond with Shine, Shine's best friend Jayzel (Kisses Delavin) and Luke's half brother Tope (Marco Gallo).
But unknown to Luke, Shine hides something that makes or break their relationship. Is there a chance for this tandem to last when differences and secrets stand between them?
"Loving in Tandem" will be showing in theaters nationwide starting September 13.