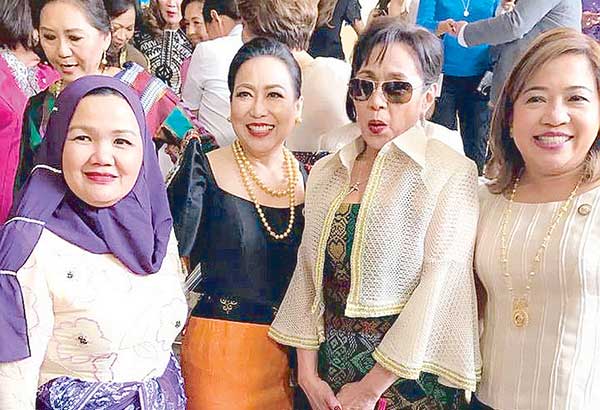 From left: Deputy Speaker Rep. Bai Sandra Sema, Rep. Anne Hofer in a Maranao Landap fabric, Rep. Vilma Santos and Maricar Zamora. Except for Rep. Hofer, the congresswomen are wearing Inaul, the intricately-woven textile from Maguindanao.
Maguindanao textile is a symbol of a proud race
(The Philippine Star) - August 9, 2017 - 4:00pm
MANILA, Philippines - Mindanao textile is having its moment in Philippine fashion, and it's not just worn to express sympathy for Marawi.
Filipinos are learning to appreciate the beauty of this age-old tradition of the Muslims. One of the most visible textiles at the recent SONA was the Inaul, the intricately-woven textile from Maguindanao. Batangas sixth district Rep. Vilma Santos-Recto came in a long, green, richly-patterned dress.
Leyte fourth district Rep. Lucy Gomez stunned the crowd with her dark blue, striped skirt while Tourism Sec. Wanda Teo bloomed in a fuchsia, diamond-patterned dress.
"It is said that Inaul may be a malong, but not all malongs are Inaul. Inaul is synonymous with Maguindanao (the old name of Mindanao). It is a fabric woven by a great race. It is a symbol of royalty of a great nation that once ruled Mindanao," says Deputy Speaker Bai Sandra Sinsuat Sema, representative of the first district of Maguindanao and Cotabato City.
Royalty wore the Inaul as a malong, a tubular fabric, or sablay, loose garment, as they traveled through the riverways that connected kingdoms.
"Today, Inaul does not only represent the rulers of the sultanate of this magnificent land, but it also amplifies the greatness of the people," declares Sema.
Valued for its historical significance, the Inaul is a product of the mixture of the lineage of Sheriff Muhammad Kabungsuan, the first Sultan of Mindanao, and the natives. Its luxurious texture is a blend of silk and gold threads infused into the pure cotton threads and woven in complicated techniques. The complicated weaving techniques produce one-of-a-kind designs such as rainbows, stripes and taro.
Sema points out that the Inaul reflects the character of her region. "A single thread of cotton or silk or even gold is weak when alone but strong when woven together. Like the threads, Maguindanaons seldom act individually. They believe that in unity there is strength. They work their land together. They catch fish together. They cook their food, build their house and pray together. They defend their territory — together," says Sema.
Its signature colors of yellow and orange represent royalty, while red stands for bravery. Green signifies peace. White, the color of purity, is also worn during mourning. Black means dignity.
"These colors portray the experiences that the Maguindanaons have gone through," says Sema.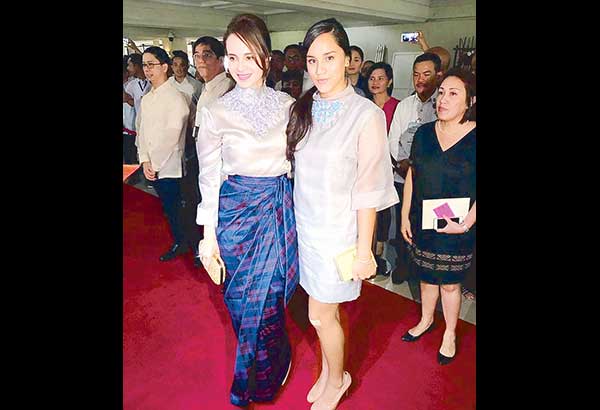 Rep. Lucy Torres (with daughter Juliana) also in Inaul
The lawmaker adds that the distinctive patterns are the result of careful planning and meticulous craftsmanship. This echoes the character of the Maguindanaons who are known for their precision.
The weaving is time-consuming, and work is never rushed. A tipas or slanting design can only be achieved by two or three weavers working together. A fabric is completed in five days.
"Maguindanaons value patience, for they know that in due time they will get what they desire. Determination is their key to success," says Sema.
"Inaul represents how Maguindanaons preserve their inheritance, strengthen their unity, nourish their culture, defend their land and share their bounty. It is the embodiment of the past of Maguindanaons, it is the joy of their present, and it is the hope of their future," says Sema.