Becoming Filipino according to Kulas
Jerry Donato
(The Philippine Star) - August 14, 2016 - 12:00am
MANILA, Philippines – Whether they visit for a short or long time, most foreigners get easily settled in the country. They attribute it to Filipinos' good command of English and their brand of hospitality and regard for others. That's why Kyle Jennermann, also known as Kulas, has decided to make the Philippines his home away from home, which is Canada. To borrow a line from the popular Manila Sound song, Kyle's "I-Keep-Coming-Back-To-Manila" journey, replete with local sights, sounds and flavors, is showcased in the show titled Becoming Filipino Your Travel Blog, premiering tonight at 7:30 on ANC with replays on Saturdays at 4:30 p.m. It will also air on TFC.
"What do you want? Mountains, beaches, culture, dance, food. It's like traveling in more than a hundred countries just being here," said Kyle on what Juan dela Cruz's archipelago can offer to travelers abroad. "I've had memorable places but you can never pick a favorite place because every place is so diverse, you know. Kinilaw (a dish of raw fish in citrus juices) in Siquijor is diffferent from kinilaw in Cagayan de Oro. The beaches in Antique are different from the beaches in (some place in) Mindanao. I love kinilaw and I can make my own kinilaw."
Such diversity is what enthralls Kyle — and also visitors who are in to discover something new even if they have been to that place more than once. Each trip is unique. Among off the beaten tracks that the 28-year-old has gone to is Balut Island in Sarangani, which is an eight-hour boat ride south of General Santos. On the island, Kyle has met members of B'laan and Manobo tribes as well as Visayans and Indonesians. "And everybody there lives in such harmony," Kyle remembered. "(And) the beach, you know, everything is pure. For me, it's an amazing experience to see diversity all in one place. How beautiful it can be!"
Like any person who is getting to know another culture for the first time, Kyle has had his own share of adjustments.
"I think the biggest thing right away was when I came first in the Philippines, is how outgoing people are here," he said. "(Like) in a traditional Filipino household, these people are coming and going — sometimes people you don't even know, they're just friends of friends... (also when you're a foreigner) in my opinion, people are very interested in you, except for the fact that they are a little bit afraid to get nose bleed. Generally, if you talk to them, you will learn more. The food as well (was another challenge). If you don't eat rice and you come to the Philippines, rice is life. Rice is good with everything. It's rice all-day with everything."
To make the story short, Kyle has adapted to these cultural differences which can cause anxiety to others, learned the Filipino way of life and fallen in love with it. He has given up his comfortable life in Hong Kong and quit a financially-rewarding career there.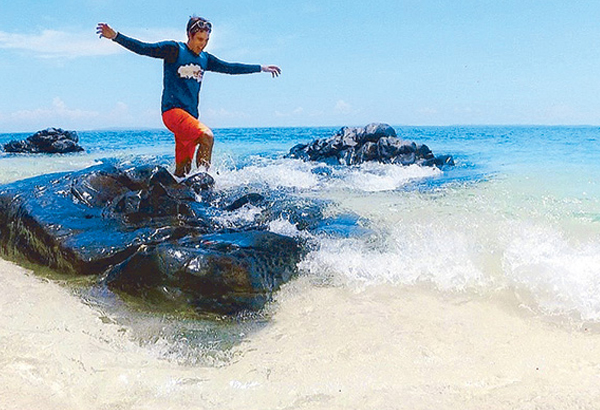 Kulas: Being here is like traveling in more than a hundred countries
"I studied health and recreation in Canada for four years," Kyle said on what kept him busy before Becoming Filipino beckoned to him. "It's a little bit of sports science, a little bit of nutrition, a little bit of wellness. I worked in Hong Kong for an outdoor adventure company. (I worked with) a group of eight year olds or 18 year olds. We take them into the outdoors and we do team-building programs, teach them a bit of life skills, we take them to rock climbing, sea kayaking, trekking. It's really outdoor-adventure based.
"My life in Hong Kong is basically outdoor education. I gave up my work in Hong Kong about a year and a half ago when I dedicated my life fully to this Becoming Filipino journey. That was probably the last time I worked there seasonally. I basically blew all my money on this journey over the course of two years. I just basically funded it out of the belief that this brings (not only positivity) in me but also in other people. I genuinely believe if you just find something in your life that makes you happy, but it's not selfish and that is something that makes other people happy (and gives) positive influence to others, you just pursue it and get into it. I'm very blessed now that I have a team, a group of people, that is supporting me."
The team Kyle is referring to helps him out on the show, which started on social media through #BecomingFilipino. According to the information provided by Kyle's team, the host will bring his contagiously happy, well-meaning and positive self to the new platform. He will present national treasures and tales of ordinary people, as well as their sentiments, aspirations, values and traditions.
"I was very nervous in going into creating TV," he said. "I've always been very reserved in trying maybe new stuff in the production world. The reason I say that because everything that happened in the past two and a half years has been very real… Becoming Filipino, it's my life. It really is. In the sense of content, I'm heavily involved. I have never worked so hard in my entire life."
Although he has traveled around the Philippines with Cagayan de Oro as the takeoff point, Kyle wishes to study the vernacular Tagalog so he can immerse fully in Philippine life.
"Gusto kong mag-salita ng Tagalog," he said with his thick foreign accent. "I really wanna speak fluent Tagalog and Bisaya. I will, I'm just right now overwhelmed with the things I'm experiencing, and I'm not giving time to (learn) the language. But I will. Give me time."
Having well-adjusted (acculturated) to his new culture and understood some nuances of Filipino culture, Kyle, who has traveled to 29 countries, said his "biggest fear is having to leave the Philippines." He added that he is still proud of being a Canadian but considers the Philippines his home.
"Happiness and being not afraid to share that in your life," said Kyle of what, to him, is being a Filipino. "And just be happy which is the ultimate take away as somebody from a foreign perspective. For somebody who is not Filipino, it is the No. 1 thing you can learn."