The talked-about teleserye teaser
The first teaser trailer of the upcoming ABS-CBN series The Greatest Love easily became one of the most talked-about not only on Twitter but also on Facebook and YouTube.
The two-minute video was first shown during the ABS-CBN trade event last June but was released online last week.
Several netizens couldn't help but rave about the teaser, with some of them sharing how they were moved by the story.
Neal Alarcon on Twitter: "Just watched The Greatest Love's trailer. Such a moving concept by ABS-CBN, all families will surely relate to it."
Marvie Lei Sey-Ang on Facebook: "Akala ko movie. Shocks! Teleserye pala. Sigurado akong meaningful at nakakaiyak ito. Trailer pa lang kinilabutan na ako."
Kheya Lee on YouTube: "Akala ko talaga nung una movie to pero nagulat ako hindi pala. Buti naman at iba naman ang kwento. Grabe ilang beses ko to inulit pero napaiyak pa rin ako. Grabe naiisip ko mommy ko, what if kung ganun kami pagdating ng araw. Sana bawasan na nila yung mga love stories kasi common na yun eh. Dapat yung iba naman katulad nyan, hahaha, teenager ako pero iba ang trip ko pagdating sa mga teleserye, hahaha, kasi naman mga kabataan ngayon nakakalimutan na nila na may pamilya pa rin sila."
The Greatest Love is a melodrama that will touch the hearts of every Filipino. It is directed by Dado Lumibao and Mervyn under GMO Production Unit. It is developed by Ginny Monteagudo-Ocampo and written by Ruby Leah Castro, topbilled Sylvia Sanchez, Andi Eigenmann, Dimples Romana, Arron Villaflor and Matt Evans. The series will premiere on ABS-CBN tomorrow.
Dominic's most memorable project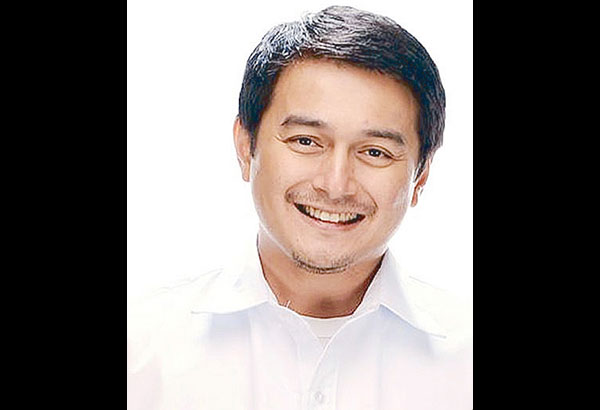 Dominic Ochoa considers My Super D one of his most memorable projects
Dominic Ochoa was emotional on the last taping day of My Super D that aired its final episode last July 15.
My Super D, which debuted last April 18, was Dominic's very first lead role after playing "supporting" in numerous teleseryes. The story is about an ordinary father who finds a blue diamond, which makes him turn into a superhero.
"It's been good five and half months of taping and working with good actors and I'm very, very thankful and so blessed to have been given this kind of a role," Dominic said. "Actually on the way here, I prayed. I told myself, 'This is our last taping day, it's a good experience given to us by Dreamscape.' I am happy that lately when I go out, it is no longer matrons who seek us out. It's a big factor for me as an actor. It's my responsibility as an actor for children to see me as a superhero."
For Dominic, My Super D ranked among his most memorable projects.
"Let's be realistic here. There are many roles that would be given us at 42 years old, but very rarely as superhero."
The series also starred Atoy Co, Ryan Rems, Myrtle Sarrosa, Jef Gaitan, Louie Domingo, Marina Benipayo, Bong Regala, Jason Francisco, Marvin Agustin, Noni Buencamino, Ronaldo Valdez, Bianca Manalo and Marco Masa, directed by Frasco Mortiz and Lino Cayetano.
(For comments, call 571-1569, e-mail at bibsyfotos@yahoo.com, or text 0917-8991835.)