Andre enjoys best of both worlds
FUNFARE
-
Ricky Lo
(The Philippine Star) - January 25, 2016 - 9:00am
Curtain-raisers:
• A pretty model/TV host (with showbiz connections) is getting hitched to her wealthy British boyfriend sometime in April. No, it's not false alarm, unlike the alleged wedding of one of her gangmates that went viral before 2015 ended.
•The girl's actress-cousin herself is reported to be engaged to her French boyfriend of six years. The Funfare informer didn't say if the cousins will continue their showbiz career or decide to live abroad. Anyway, they can easily bond together because London and France are near each other.
•The same Funfare informer (a showbiz insider) confirmed that the father of a young actress' love daughter is the son of a prominent man and not the young actor who was initially suspected to be the "culprit." Incidentally, added the informer, a talent-search finalist is into a relationship with the winner of a similar foreign-based search. "But the guy is suspected to be gay," said the informer, "so it's doubtful if the romance is for real."
* * *
Not many actors are as lucky as Andre Paras who has two screen partners: One for TV, Barbie Forteza in the new GMA afternoon show That's My Amboy (that premiered yesterday, closely following The Half Sisters, their first team-up) and the other for film, Yassi Pressman in Viva Films' Girlfriend For Hire, directed by Vanessa de Leon from a screenplay by Joey Reyes.
"Andre is enjoying the best of both worlds," said Yassi who has done two movies with Andre, Diary ng Panget and Wangfam, also both by Viva with which Yassi is under contract. "He's very lucky."
Half-British and half-Filipina, Yassi started doing commercials when she was six years old (for Colgate, followed by more than 20 for other products) at about the same time she competed in the Little Miss Universe contest on ABS-CBN (while her sister Luisa joined the Little Miss Philippines contest of Eat, Bulaga!). Yassi became a GMA talent before she signed up with Viva.
"It helps that Andre and I were friends before we became a love team," said Yassi who first met Andre's brother Kobe (now in the US pursuing a promising career in basketball) at GMA. "Kobe told me, 'My brother has a crush on you,' and I just smiled. Andre and I eventually became friends, just friends, no romantic ties at all."
Said Andre half-joking, "The crush is still there. Really now, being friends, Yassi and I feel comfortable working together. Same with Barbie and me."
Like his dad Benjie Paras, Andre is a natural comedian while Kobe is more serious.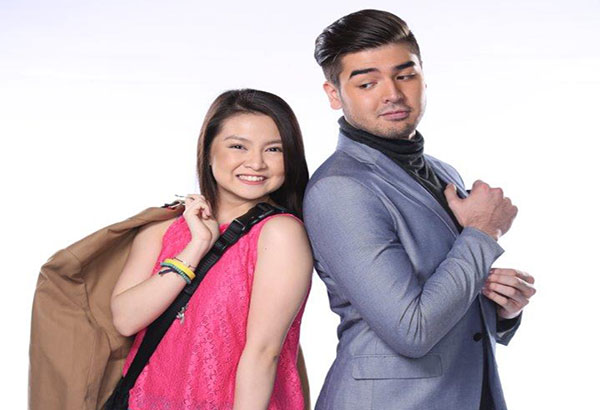 Andre Paras with Barbie Forteza in the new GMA show That's My Amboy.
His character in Girlfriend For Hire, Andre pretends to be running away from Yassi even if he likes her.
"I am the type who plays hard-to-get," Andre said, still joking, "even in real life."
Andre and Yassi's teamup is known as YanDre and that of Andre and Barbie, AnBie.
"It's not at all confusing," according to Andre who, at six-foot-plus, towers over his two leading ladies. "My character in That's My Amboy is different from my character in Girlfriend For Hire, so okey lang."
Good thing fans of both love teams don't get confused and don't get jealous of each other.
Live and let live, you know.
"The YanDre team is at peace with the AnBie team," assured Andre. "So no problem."
(E-mail reactions at entphilstar@yahoo.com. You may also send your questions to askrickylo@gmail.com. For more updates, photos and videos visit www.philstar.com/funfare or follow me on www.twitter/therealrickylo.)