Kristek out, Krisrek in!
September 17, 2015 | 10:00am
Curtain-raisers:
Could it be true that an award-winning senior actress has gone back to her old habit that derailed her career several years ago? Sad, you know, because she was able to bounce back. Is it why she is not seen on TV as often as before?
Could it be true that a currently very popular young actor, rather his manager, turned down an offer (to the tune of millions of pesos) to endorse a 2016 candidate? As a polite gesture, the manager named a price that was too prohibitive (presyong ayaw talaga) but the candidate bit it. Still, the answer was no. The actor is prevented by the network from venturing into the murky political waters.
Meet the newest Poster Boy for Misbehavior — yes, Paulo Avelino! A producer complained to Funfare Update that the actor is a big headache in the current production. "First time, I encounter an actor who disobeys even his manager," fumed the producer. Abroad, the actor tries to evade fans by wearing a hood. Was he also the one who gave liquor to another misbehaving actor and, recently, a misbehaving sexy starlet? Is he self-destructing? Has he become swell-headed? Remember, whom the gods wish to destroy they first make mad. Sayang siya if and when.
* * *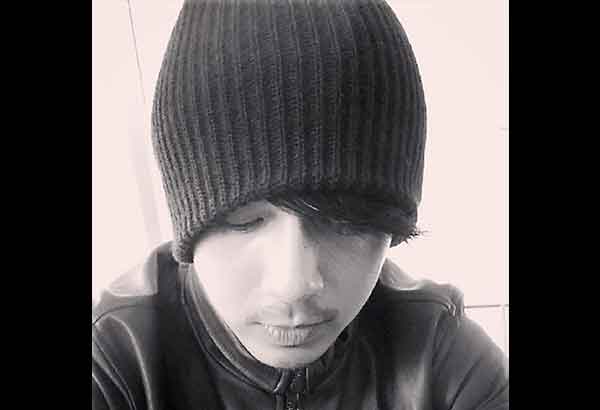 Paulo Avelino: Is he self-destructing? — PAULO AVELINO INSTAGRAM
BREAKING NEWS: A Funfare Update DPA reported that Quezon City Mayor Herbert "Bistek" Bautista is out of the long-delayed Mr. & Mrs. Split which is included in this December's Metro Filmfest. Shooting for the movie has been postponed several times because, according to the DPA, "of Kris and Bistek's off-and-on again relationship."
Star Cinema, which is producing the movie, has tapped Derek Ramsay as Bistek's replacement. Management saw the rushes of Etiquette for Mistresses and was impressed by the chemistry between Kris and Derek (who's appearing as a special guest). Eureka, Krisrek was born! So simple, 'no? The "t" in the uniname was just replaced by an "r." Easy does it.
Well and good because Kris has been looking forward to working with Derek. Dumating na ang tamang panahon.
The movie's title has been changed to Pamilya Lab, Lab, Lab.
Lea back on Broadway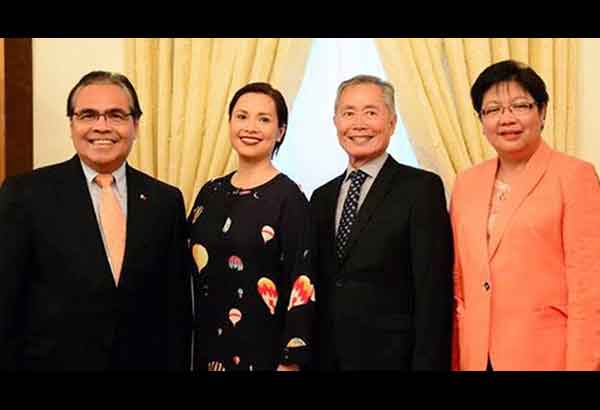 Consul General Mario de Leon (leftmost) with Lea Salonga and George Takei, and Madame Eleanor de Leon (rightmost) at the Sept. 15 event — Photo by Caloy Cruz
On Tuesday night, Sept. 15, at their Upper East Side Manhattan residence, Consul General and Mrs. Mario de Leon Jr. hosted a cocktail reception and press event for Lea Salonga in honor of her return to Broadway for the musical Allegiance.
Joining the group of 50 invited guests from the Filipino-American and mainstream press, and theater aficionados were Allegiance producers Lorenzo Thione and Andrew Treagus, and Jay Kuo who co-wrote the book and penned the lyrics and music for the musical, as well as Lea's co-star George Takei who is making his Broadway debut in the show inspired by his immigrant story.
Lea expressed her excitement over her Broadway comeback and thanked the community for the warm reception. She related the seven-year preparation and planning process that she, the creators, and producers underwent before finally putting up Allegiance on stage, set to open at the Longacre Theatre on Nov. 8 with previews starting on Oct. 6. —Reported by Felix Manuel
(E-mail reactions at [email protected].)