The ageless Gloria Romero
When we went to the Sampaguita Gardens last year to attend the Senior Prom there, one of the main attractions was the ageless Gloria Romero who never truly seems to lose her beauty and her good nature. Upon returning home, we lost no time in digging through our collection of magazines for the copy of what we had written about Gloria many years ago. Little has changed from what we wrote then and what she is today. We would like to share with the reader excerpts of what we had written then.
"It would seem that to her, age is simply a state of mind. She sleeps like a baby, often nine hours nightly. She stands straight and slim. Her work schedule includes taping for teleseryes, movies, not to mention memorizing kilometric dialogue, attending functions and joining her colleagues at regular Baliksamahan sorties.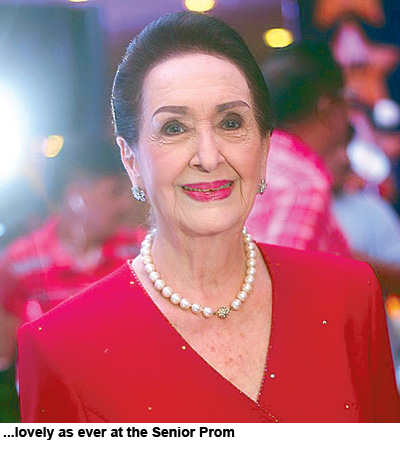 "Spending time with her is like taking in a breath of welcome fragrance back to the days when life was uncomplicated, when five hectares of the Sampaguita Gardens enveloped a thriving kingdom of moviemakers who made dreams come true for the rest of the populace… At Sampaguita, Gloria was cast in many comedies as the studio partnered her with Luis Gonzales as the answer to the Nida Blanca-Nestor de Villa tandem of the rival studio LVN Pictures although she claims she could never beat them in the dancing aspect. To date, Gloria holds the record for being the only actress to win a FAMAS Best Actress trophy in a comedy role in Dalagang Ilocana opposite Dolphy in 1954. This was also her first award that came just three years after she started as an extra at Sampaguita.
"Gloria admits she had always been star-struck. As a kid growing up in Pangasinan, she used to cut classes to watch Tagalog movies. Her ambition even as a little girl was to be an actress and she nagged her Papa about it. He brought her to Premiere Productions where she was given a line in an Anita Linda film. She was so nervous her voice didn't come out. But she didn't give up and asked her Papa she wanted to try again. He brought her to Sampaguita and here she was more successful.
"Even today, 59 years after, her passion for the craft remains and this is what has kept her going, has kept her mind and body healthy. Her only ailment is vertigo which she has had since 1992 but is kept in check through medication. More than these, we know that her good health comes from having a good heart… And the blessings have come and have been coming with such frequency in return…She has more than a hundred trophies and citations mostly now stored in boxes for lack of space in her home… She is also the only actress in her 70s who made such a brilliant splash in Ricky Reyes' Gandang Lola Ko billboard campaign… She has been with ABS-CBN for 22 years without a contract. 'I am quite loyal. If they are loyal to me, siguro mas pa ako,' she admits.
"And this, we feel, more than all the trophies, the box-office hits, the fame and fortune, is what being called a Movie Queen is all about."
(E-mail your comments to bibsyfotos@yahoo.com or text them to 0917-8991835.)