Tanya is happily living the movie in her mind
CONVERSATIONS
-
Ricky Lo
(The Philippine Star) - August 10, 2014 - 12:00am
On Aug. 29 (Friday) starting at 8 p.m., a grand musical gathering will take place at The Newport Performing Arts Theater of Resorts World Manila, with four of the Philippines' finest international stage performers coming together for a one-night performance of Broadway and West End's well-loved and time-honored songs.
The show, From East Coast to West End, features two former Kim from Miss Saigon, Monique Wilson and Ima Castro, and the present one, Tanya Manalang, plus Leo Valdez who was The Engineer (currently being played by kababayan Jonjon Briones) in the same megahit Cameron MacKintosh musical now playing at Prince Phillip Theater on London's West End. Completing the cast is the special participation of Primo Verra and Resorts World Manila's The Sound of Music and The King and I kids.
However, unlike other musical-themed performances which only showcase excerpts from several musicals, From East Coast to West End will feature a more thematic format whereby songs to be performed will be classified according to themes of Joy, Happiness, Sadness and Hope. This kind of format will showcase more songs chosen from a wider array of Broadway and West End musicals.
Concept and direction are by Freddie Santos, with music to be provided by the Manila Philharmonic Orchestra under the baton of Maestro Rodel Colmenar. (For tickets, call TicketWorld at 891-9999.)
Conversations was able to pin down Tanya for an exclusive e-mail interview.
As Kim alternate in Miss Saigon, how has the experience been so far?
"It has been the most thrilling experience so far. No doubt, my Miss Saigon journey counts as the biggest, most major ride of my entire career.
"And, just like everything else in life, it has its fair share of ups and downs, from the auditions, rehearsals, being away from home, the occasional homesickness, to freedom and independence. There's also meeting and working with the people whose names I've known since I was a young girl but have only read or seen them on album covers and souvenir brochures. And, of course, most importantly, there's being on that West End stage. Hanggang ngayon, hindi pa rin ako makapaniwala na nandito ako ngayon. Super thankful talaga ako. This is truly a blessing and a dream come true."
What have been your most memorable moments onstage?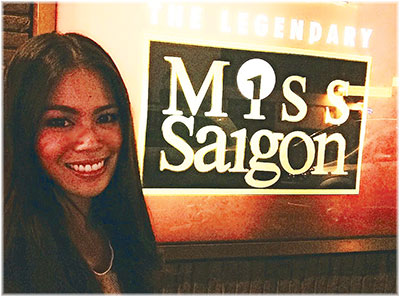 "Nothing will ever erase the memory and what I felt when I did my first run as Kim. Being the alternate, I only got to rehearse the full show on the day of my first preview. Yes, meaning first-ever rehearsal run in the afternoon, then show na kaagad on that same night!
"I thought I was going to faint during the five-minute call! But as soon as the curtains pulled up and I found myself alone in the middle of the stage, I had an intense realization that there was no place I would rather be, and there was nothing else on earth I would rather be doing at that moment. Parang movie, 'yung parang nasa gitna ka ng isang dark stage tapos may isang spotlight lang na nakatutok sa'yo.
"Doon ko na-realize na, 'My goodness, this was everything I was dreaming of since I was a kid, and now it's really happening!' I'm really lucky to be working with such supportive people. Right before the show, I remember the encouraging words I got from our choreographer Geoff, director Laurence, and assistant director JP. Para silang mga tatay sa akin kahit nung rehearsals pa.
"Then after the show, Sir Cameron went backstage to look for me, and, with his arm around my shoulders, led me out of stage door and out into a sea of people saying, 'Go, meet your fans!' and smiled. Super sarap talaga ng feeling and I will never ever forget that night."
How did you internalize the Kim character? What aspect of the character do you identify with?
"During the early stages of rehearsals, the creative team sat us down and made us watch a couple of documentaries about the Vietnam War. I got to see what happened during those times. Not only the war in action or the war per se, but also how the people involved coped with the situation -— the GI's, the Vietnamese working girls, the Viet-Congs, the innocent civilians. That gave me a clear picture of how life was during that time and that really helped me in getting into Kim's shoes. It gets depressing, knowing that these things really did happen.
"If there's one thing I like about and at the same time identify with Kim, it's that she is both a lover and a fighter. Kim has a lot of love to give and leads with her heart. But what sets her apart from a lot of female characters is that she is no damsel in distress, and I truly admire that about her. I can be a very emotional person and it's not unlikely for me to listen to what my heart says a lot of the time, but I refuse to be a victim in any situation and I guess Kim and I share that trait."
How's your relationship with the other Filipinos in the cast (among them Jonjon Briones as The Engineer and Rachelle Ann Go as Gigi)?
"Jonjon, our beloved Engineer, has always been so supportive since day one. Not a single performance with him has passed by that he didn't squeeze my arm before going into the 'Dreamland' scene. It's his way of saying, 'Let's do this.' And simple as it sounds, it really gives me the 'push' I need. I love working with him because, apart from being one of the most down-to-earth actors I know, he is also very, very generous. He gives me so much to work with on stage. He opens himself up out there, no holds barred. Bigay lang siya nang bigay, not only does he make it easier for me and for his other co-actors, but it makes everything so raw and organic and truthful. "Shin (Rachelle), just like Jonjon, has so much to offer. As Kim, I empathize with Shin's Gigi every single time because of her genuine, sublime portrayal of the character. 'Yung tipong kahit binu-bully ni Gigi si Kim, maawa ka din sa kanya because you see the desperation in her.
"I've formed strong bonds with the Filipinos in the cast. Chuck Marbella, who is one of my best mates here, played the role of Lun Tha when I did Tuptim in The King and I back in Manila. Now, apart from being in the ensemble, he's both cover Engineer and cover Thuy. I've already done a show with him as Thuy, now I can't wait to do one with him as The Engineer! Super exciting!"
Tell us more about yourself (theater background) before Miss Saigon.
"I started my training when I was six, then did my first professional play with Trumpets when I was eight years old. It was a musical adaptation of The Lion, The Witch and The Wardrobe. I wasn't really active in theater during my schooling years because my parents and I thought it best to just concentrate on finishing school first. In fact, I only really came back to theater when I was about to graduate from college.
"Funny thing was, it happened in the middle of the busiest time of my university years. I eased back into theater in the middle of doing my thesis and joined the cast of Resorts World Manila's original production of Kaos. Then after that, nag-tuluy-tuloy na. I wasn't on a roll like most local actors who would do one production after another. I played Liesl Von Trapp in The Sound of Music, Tuptim in The King and I, both for Resorts World Manila, and Carla in In The Heights for Atlantis.
"There's really not much to read or see on my CV (Curriculum Vitae). However, I was very blessed to be given the opportunity to do a bit of training here in London sponsored by the Cameron Mackintosh Ltd. Group. Prior to my final Saigon auditions in London, they gave me a scholarship for three months in Musical Theater at the Arts Educational Schools in Chiswick, London. I had classes in acting, voice, speech, jazz, ballet, tap, contemporary, and commercial dance, among others.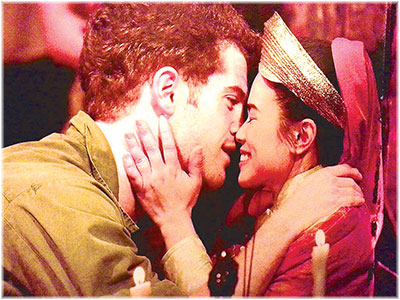 Tanya in a scene from Miss Saigon: 'I first saw Miss Saigon with Ms. Lea Salonga as Kim when it ran in Manila in the early 2000s. Front row, center. It was such an astonishing and overwhelming experience then for an 11-year-old Lea fan. Booty shaking, bikinis, intense kissing scenes...So if I remember correctly, I guess I didn't consider playing Kim when I was around that age... As I got older, it was then I realized that maybe I could perhaps take on a slightly more mature and daring role.'
"It was not easy, to be honest. I'm not really a dancer! Minsan talaga nakaka-stress kasi marami din sa mga classmates ko nag-train na sa dance ever since kids pa sila. Eh ako, never ako nagkaroon ng formal training in dance. But they were all very supportive and hindi ka nila papabayaan. Super bait nung mga teachers and napakagaling talaga magturo.
"ArtsEd is one of the best schools for musical theater in the UK and I'm extremely grateful that I was given the opportunity to train there even for just a short while. The schooling also provided me a chance to get used to the London way of life and by the time I went back for the rehearsals for Miss Saigon, I was already well accustomed to living independently."
When did you first see Miss Saigon and how did you feel then; did you imagine yourself being in it?
"I first saw Miss Saigon with Ms. Lea Salonga as Kim when it ran in Manila in the early 2000s. Front row, center. It was such an astonishing and overwhelming experience then for an 11-year-old Lea fan. Booty shaking, bikinis, intense kissing scenes — it was a lot to take in at that age, to be honest.
"So if I remember correctly, I guess I didn't consider playing Kim when I was around that age. Eponine (in Les Miserables), yes. But Kim? Not exactly. At least not at that time, although I did want to be part of a big international production like Saigon. As I got older, it was then I realized that maybe I could perhaps take on a slightly more mature and daring role."
How was your Miss Saigon audition in Manila? What was your audition song?
"I once said in an interview I'd done before that I wasn't really too set in auditioning for Miss Saigon, mainly because I was being a chicken. But friends from theater (who have done Saigon before) like Leo Valdez, Monique Wilson and Joanna Ampil really urged me to go for it. I thought it was just a shot in the dark and I had nothing to lose in auditioning, so I went for it. I sang Kim's bit in I Still Believe.
"I came out of the audition room sweaty and shaking, having spent less than five minutes in there. I wasn't really expecting to be handed that small slip of paper that signified they want you for a recall. I smiled nervously at Laurence Connor (who was in that room with me, as well as the pianist) and said my thank you's. As I found my way out, I felt someone tap my shoulder, handing me the 'ticket' to the next round. I could hardly hide my disbelief and stared at the piece of paper with my mouth wide open. That was the moment I knew I had to put my gameface on. I only had a few hours to learn I'd Give My Life For You, a song I've never sung or really listened intently to before. The recalls happened on the same day."
What have you learned in local theater that you are now applying in Miss Saigon (discipline, etc.)? And what new things have you learned in London?
"'Always be on time' is the most basic rule to follow. Kung sa mga Pinoy, merong tinatawag na 'Filipino time', bawal 'yan dito. One of the most memorable things I've learned from doing theater in the Philippines is always be a sponge. Absorb lang nang absorb, and keep learning. There will always be something new to discover and learn from every experience, from every performance. Be open, don't be afraid to make mistakes and just learn from them.
"There is no such thing as 'perfection.' Kasi kung perfect ang isang actor, saan na ang room to grow? Magiging stagnant at boring na lang. In this new, darker version of Miss Saigon, I learned the importance of being truthful and organic. Don't act, and just be. The libretto serves as your guide and you need to follow it, but you also have to remember that it has to come from your gut every single time. If you're singing a song, it's still a dialogue…with music and a tune.
"With a play like Miss Saigon, where 99 percent of the material is sung-through, you can't just stand there and sound pretty. It will get boring and the audience will never really appreciate it, let alone understand the true essence of the story. So sing what you mean, and mean what you sing."
How do you spend your time between performances? Do you get to see other plays on West End? Do you, like Rachelle, keep house yourself (cook meals, wash clothes, do grocery, etc.)?
"I have so much time in between performances since I only do two shows a week at the moment. I've seen a handful of other shows in the West End. I keep house regularly. Cooking has been one of my favorite hobbies even before I left the Philippines and I'm really lucky to have a lovely kitchen in my home here to do that in. I do miss cooking for my family though, because most of the time I only end up cooking for myself here.
"Not too long ago, I also got into making loom bands. It's hilarious! I spotted them in a toy store, and thought to myself, 'Akala ko sa Pilipinas lang uso 'to,' when there was a whole aisle in the shop just for loom bands. I've been making loom bands for my cast mates and for my girl Tams!
"Apart from that, I also enjoy shopping. My favorite places to go to are Oxford Street, Camden Market, New and Old Bond Streets (but mostly for browsing only, hahaha!), and this comic book store on Shaftesbury Avenue called Forbidden Planet (I can spend hours and hours in there). I keep myself busy by playing video games, reading graphic novels, and collecting action figures. I love Star Wars, DC and Marvel. But don't get me wrong, I'm still as girly-girl as the next person. I love make-up, fashion and nights-out as much as I love Wookies and Stormtroopers."
What do you miss most about home?
"A lot, actually!!! I miss my mom and dad, my family, my friends, my five Jack Russell Terriers, my yaya! The other night, I was watching this Filipino indie film with Chuck and there were shots of EDSA in the movie. I remember telling him, 'Wow, I miss home so much, I think I kind of even miss the Manila traffic.' Of course, I was only kidding. But then again, London and Manila are so different that I can't help but miss the things that make Manila, Manila.
"I'm going back home for my holiday in a few weeks time and I can hardly wait! It's also going to be the fifth anniversary of Resorts World Manila and I will be doing a concert there with Tito Leo, Tita Monique and Ate Ima Castro. Super excited talaga ako to celebrate this special event kasi family ko na din ang Resorts World. Doon ako nagbalik sa entablado starting with Kaos. Following that, I had Sound of Music and King and I with them as well. They really helped build my theater career in the Philippines, and I am looking forward to coming home to celebrate with my RWM family!"
After Miss Saigon, what?
"Only God knows what's in store for me. I still want to continue doing theater whether it be here or back home. Whatever God's plan is for me, I will be eternally grateful for where I am right now."
(E-mail reactions at entphilstar@yahoo.com. You may also send your questions to askrickylo@gmail.com.)