Dani Girl: Terminal laughter
MANILA, Philippines - Running at the RCBC Theater until July 27 is Sandbox Collective's production of Dani Girl, a musical comedy that takes on the plight of terminally-ill children in a manner that's insightful, deceptively provocative and ultimately rewarding. Directed by Toff de Venecia, the play uses laughter, comedy and irreverence to reveal the frustration, pain and anguish these children afflicted by cancer have to face on a daily basis.
Dani (Rebecca Coates) is a nine-year-old girl suffering from advanced leukemia, and the opening scene has her staging a funeral for her stuffed rabbit, a device of escapism that highlights how she brings Death into her "reality" and how she's created a fantasy world inhabited by a guardian angel (Lorenz Martinez). Her mother is her sole companion at the hospital, as we learn that the father has deserted them. When Marty (Reb Atadero), another cancer-stricken child, joins her in the hospital room, we're given a dose of unflinching reality — how similarly afflicted children interact, how they're still normal kids and yet aren't, and how an oftentimes cruel and insensitive world treats them. In order to "get her hair back" after her chemo treatments, Dani enlists Marty to take an imaginary quest and find the answer to "Why is Cancer?"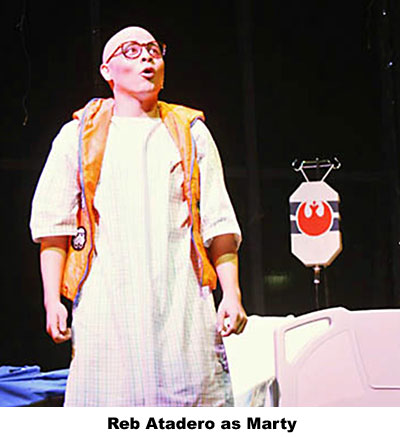 It's a serviceable plot, as what truly brings this play to life is the book and lyrics of Christopher Dimond, with music by Michael Kooman. I loved Marty's intro song and how he references Star Wars, Star Trek, Superman, the Indiana Jones films and Back to the Future as his means of escaping his grim reality. Yes, there may be some who may get offended, feeling the play trivializes cancer, or mines humor out of a dire set of circumstances. Some may even be offended by the irreverence and the casting of doubt that God (or even a god) exists. But as anyone who's had a loved one afflicted by cancer will attest, it is very human to have such doubts creep in, to feel alone, desperate and angry at the world. Imagine then the plight of children, and how much more difficult it is for them to cope with what is happening in their lives. It is this child's perspective that the play explores in a manner that allows us to share, and hopefully, understand better.
As I mentioned, this is deceptively incendiary material, and I laud Sandbox and Toff for taking this head on, and making theater an avenue for helping institutions such as Childhaus do their work here in the Philippines with similarly afflicted underprivileged children. Theater as "agent provocateur" finds an issue with Dani Girl, and I loved how it comes at us in such an unsuspecting manner.
(For details, text or call 0917-8908633, 0917-8996680 or visit www.thesandboxcollective.com.)