Body Talk with Isabelle Daza
FUNFARE
-
Ricky Lo
(The Philippine Star) - May 13, 2014 - 12:00am
We see her Monday through Saturday on Eat, Bulaga! looking so fresh and refreshing, and we wonder, how does Isabelle Daza do it? Doesn't she ever sleep?
So for this Body Talk, my first question to Isabelle (Belle for short) is: How do you keep up with your daily schedule?
"Time management," smiles Belle, 25 (Aries, March 6, 1988). "I make sure I have enough time to work out early in the morning before I go to work every day, then I schedule my shoots after Eat, Bulaga!"
One of those many shoots is for Avon which has just tapped Belle as its "Intimate Apparel Ambassador," chosen because, according to Avon Philippines president and general manager Julie Tatarczuk, "she's confident and comfortable in her own skin and she exudes elegance."
Very Gloria Diaz, the country's first Miss Universe (1969) from whom Belle inherited that "elegance" and grace under pressure. Very much like mother, like daughter. She could have equaled her mom's record in the beauty department, but one Miss Universe in the family is enough, isn't it?
But in the acting department, Belle might surpass her mom's record (which is not to say that Gloria is not a good actress because she definitely is, with several awards to show for it). What I mean is that, Belle has been proving her acting prowess early, having won (2013) New Movie Actress of the Year (given by the Philippine Movie Press Club's Star Awards) for It Takes a Man and a Woman, only her first movie (aside from the indie Lihis where she impressed critics with her natural acting style and this year's Basement).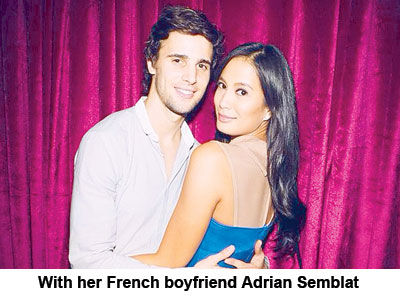 A typical day in Belle's life starts at 6 a.m. when she wakes up; starts working out at 7 either by biking, swimming, running or exercising at the gym; breakfast at 10 before she puts on make-up; and at 11 off she goes to GMA for Bulaga. Meetings or errands are from 4 to 6 p.m. (if there's no shooting or taping) and by 7, she's cooking dinner at home. At 9, she's in bed watching TV and at 10, she drifts into slumberland.
After winning two acting awards (the latest from Eat, Bulaga! for a Lenten drama), what role do you want to play, something more challenging?
"Hahahaha!!! Ya, why not? I'm up for the challenge."
As an actress, how daring can you be, can you go? Would you like to star in a remake of your mom's landmark first starrer Pinakamagandang Hayop sa Balat ng Lupa and re-launch a new version of the "wet look?"
"Maybe not, hahahahaha! She set the bar too high!"
Any pointers (pieces of advice) from your mom where your career and love life are concerned?
"My mom always reminds me, 'Do your best because you're only as good as your last take.' I've been keeping that in mind. One time, I was joking and I told my mom that I would just marry rich. And she said, 'The money goes, the monkey stays.' I thought that was funny."
How are you and your mom alike or not alike?
"We're both very frank and we don't seem friendly at first. We both wake up early for sports! But she's much more practical than I am."
Any beauty regimen of your own?
"Belo Face Sunblock every day! La Mer moisturizing soft gel at night."
What kind of diet do you have?
"I try to eat quinoa or brown rice instead of white rice; I eat a lot of fruits! Lean proteins, vegetables and a bit of chocolate. But sometimes I do have the cravings for junk food."
What's usually for breakfast, for lunch and for dinner?
"Breakfast: I can never decide what to have because it's my favorite meal of the day, and right after I work out, I have a huge appetite. But I must always have a bowl of grains, cereal or muesli or oatmeal. Then, I have peanut butter and banana sandwich and eggs! Lunch: I eat (my Bulaga co-host) Ryan Agoncillo's baon. Hahahaha! He always has yummy quinoa and ulam. Dinner: salad and pasta!"
What food do you crave for and what do you avoid?
"Anything with cheese on it I'll eat. I avoid deep-fried stuff because I really don't love it."
Any snacks between meals?
"An apple or taho!"
How much water do you take per day?
"Five to seven glasses at least. One as soon as I wake up to give me energy and one before I go to bed. Sometimes, we think we're tired but it's really just because we are dehydrated."
What vitamins do you take?
"Vitamin C, iron, magnesium and multi-vitamins."
What workout do you do?
"Cardio."
What part of your body needs improvement?
"OMG, so many! I want to tone my arms. And have abs!"
What part of a man's body do you notice first?
"His face!?! Hahahaha!"
What else in a man turns you on?
"I notice a man when he dresses well and smells good."
And what's in a man that turns you off?
"Bad breath!"
Night life?
"Dinners at new restaurants with friends. Or movies in the cinema."
How much sleep do you get per night?
"Seven hours."
Favorite sleepwear?
"Anything silk."
Do you snore?
"Never!"
Do you talk in your sleep?
"Nope."
Do you sleepwalk?
"Not at all."
How many pillows do you sleep with?
"Just one."
Last thing that you do before you go to sleep?
"Check my Instagram."
First thing that you do as soon as you wake up?
"Drink water."
How do you unwind, cope with stress?
"Home service deep-tissue massage."
How long does it take you to fix yourself?
"Thirty minutes if my friend(s), mainly Solenn (Heussaff), is/are rushing me."
Three men that you think have nice bodies.
"Derek Ramsay, JC Tiuseco and Sam Milby."
And three women that you think have nice bodies?
"Pia Guanio, Aubrey Miles and Feli Atienza (wife of Kuya Kim)."
Using body language, how would you make a guy know that you admire him?
"Smile at him?"
(E-mail reactions at entphilstar@yahoo.com. You may also send your questions to askrickylo@gmail.com.)