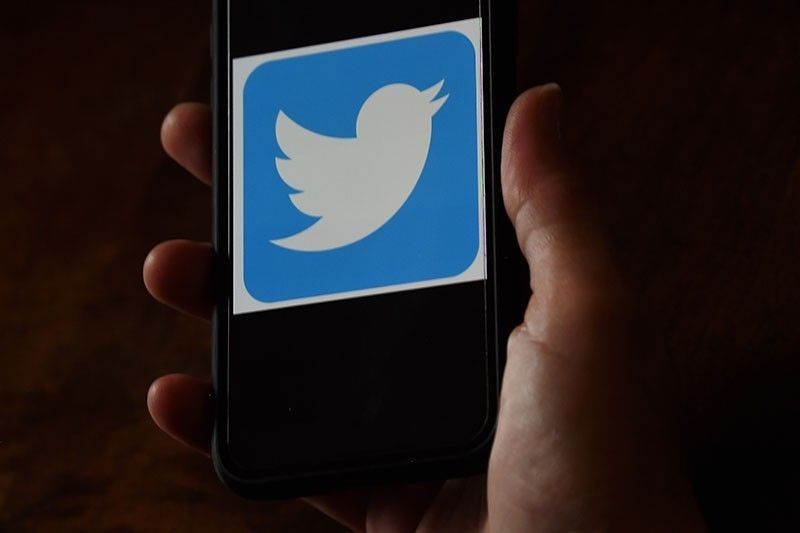 In this file photo illustration, a Twitter logo is displayed on a mobile phone on May 27, 2020, in Arlington, Virginia. Twitter said on July 23, 2020, user growth soared in the past quarter even as ad revenues took a hit amid civil unrest in the US. The short-messaging service reported a net loss of $1.2 billion in the quarter, most of that coming from setting aside funds for income taxes.
AFP/Olivier DOULIERY
Twitter accelerates user growth amid pandemic, unrest
Rob Lever
(Agence France-Presse) - July 24, 2020 - 7:46am
WASHINGTON, United States — Twitter showed strong gains in its user base with more people turning to the short-message social network during the pandemic and civil unrest, according to a quarterly update Thursday that offered positive signs despite a big drop in ad revenues.
The short-message social network reported a net loss of $1.2 billion in the quarter, most of that coming from setting aside funds for income taxes.
Revenue slumped 19 percent from a year ago to $683 million. Despite some modest rebound from the pandemic-induced economic slump, Twitter said that "many brands slowed or paused spend in reaction to US civil unrest" in May and June.
Twitter said ad revenue declined 15 percent over the last three weeks of June, but appeared to have rebounded since then.
A key metric for Twitter, the number of "monetizable" daily active users, hit 186 million in the second quarter for a jump of 34 percent from last year.
Chief executive Jack Dorsey said the user gains showed "the highest quarterly year-over-year growth rate we've delivered" using this measure.
"People continue to come to Twitter to learn about and participate in conversations focused on systemic racism, Black Lives Matters, COVID-19 and the reopening and reclosing of economies all around the world," Dorsey told analysts on a conference call.
Twitter shares rallied to gain four percent on Wall Street following the results.
Recovering from hack
The earnings report comes a week after Twitter suffered a hack that affected high-profile accounts and raised fears about security of the service which has become a key element of political conversation.
Dorsey apologized for the incident and added that Twitter "moved quickly to address what happened," and had taken additional steps "to improve resiliency."
Twitter acknowledged late Wednesday that in 36 of the 130 accounts that were compromised, hackers were able to access direct messages intended to be private, adding to the severity of the incident.
Those affected included one unidentified elected official in the Netherlands.
"We are actively working on communicating directly with the account-holders that were impacted," Twitter said on its security blog.
The bitcoin-scam hack affected high-profile users including Joe Biden, Elon Musk, Bill Gates, Barack Obama and others.
Dorsey said of the incident: "We understand our responsibilities and are committed to earning the trust of all of our stakeholders with our every action, including how we address this security issue."
Twitter, an important tool used by President Donald Trump, is seen by some analysts as an important element in news and political discussion, a key to its growth.
Helped by Facebook boycott?
Dorsey said the boycott of Facebook by brands concerned about "hateful" content could end up benefitting Twitter, which has long focused on what he calls the "health" of the platform, including efforts to curb misinformation and incendiary content.
"We are showing our commitment of service to the public conversation by our actions, and advertisers are definitely taking note," Dorsey told analysts.
"We are hearing this resonate and people are taking note of our difference ... We are going to continue to focus on taking the actions that we believe is important to maintain health, and we hope that others follow as well."
The research firm eMarketer said its estimate of Twitter's user base, using a different method than the company, shows the number of users will grow to some 305 million this year.
In the past quarter, "Twitter's user growth accelerated in Q2 as housebound consumers continued to use the platform to follow news about the coronavirus and other current events," said eMarketer analyst Jasmine Enberg.
Dorsey meanwhile confirmed reports that Twitter is looking at a subscription option but said that this would likely be "complementary" to the existing service.
He said Twitter was "in the very early phases of exploring" a new offering and that some tests are likely this year, while adding that "we have a really high bar for when we would ask consumers to pay for aspects of Twitter."
As It Happens
LATEST UPDATE: October 20, 2020 - 9:45am
The latest news about Facebook, Twitter, Instagram and other social media platforms.
October 20, 2020 - 9:45am
Facebook unveils software based on machine learning which the company said was the first to be able to translate from any of 100 languages without relying on English.
The open-source artificial intelligence software was created to help the massive social network deliver content better in 160 languages to its more than two billion users around the world.
"This milestone is a culmination of years of Facebook AI's foundational work in machine translation," research assistant Angela Fan says in a blog post. — AFP
October 16, 2020 - 5:14pm
Twitter has altered its policy on hacked content after its decision to block a news report critical of Democratic presidential candidate Joe Biden provoked Republican fury.
The social media behemoth -- used by hundreds of millions worldwide -- says it would in future only block stolen information which was posted directly by hackers, and label any other information of questionable provenance. — AFP
October 16, 2020 - 7:31am
Twitter was working Thursday evening to resolve a global outage of the social media platform used by hundreds of millions worldwide.
The outage marked a new setback for the network, which is fending off accusations of bias over the decision to block a news report critical of Democratic White House candidate Joe Biden.
"We know people are having trouble tweeting and using Twitter. We're working to fix this issue as quickly as possible," a company spokesperson told AFP at 2225 GMT.
Repeated attempts to post a tweet were greeted with the message: "Something went wrong, but don't fret — let's give it another shot."
According to downdetector.com, users on every continent had reported being unable to use the platform, but the outages were concentrated on the east and west coasts of the United States, as well as Japan. — AFP
October 10, 2020 - 10:31am
Twitter says it will take down calls for violence starting after polls close on US election day and slap warnings on premature victory claims to fight efforts to undermine the election.
When it comes to a winner in any race, Twitter will require an announcement by an election official or a public projection from at least two authoritative, national news outlets making independent election calls.
The California tech giant will also invite people to add their thoughts to retweets instead of just mindlessly sharing, according to legal lead Vijaya Gadde and product lead Kayvon Beykpour. — AFP
October 7, 2020 - 1:31pm
A US House of Representatives panel in a report Tuesday accuses four Big Tech firms of acting as "monopolies," calling for sweeping changes to antitrust laws and enforcement that could potentially lead to breakups of the giant firms.
But the report by the House Judiciary Committee failed to win the endorsement of Republican members, highlighting a partisan divide despite widespread criticism of the tech giants.
The 449-page document concludes that Amazon, Apple, Facebook and Google "engage in a form of their own private quasi regulation that is unaccountable to anyone but themselves."
"Companies that once were scrappy, underdog startups that challenged the status quo have become the kinds of monopolies we last saw in the era of oil barons and railroad tycoons," the report says. —AFP