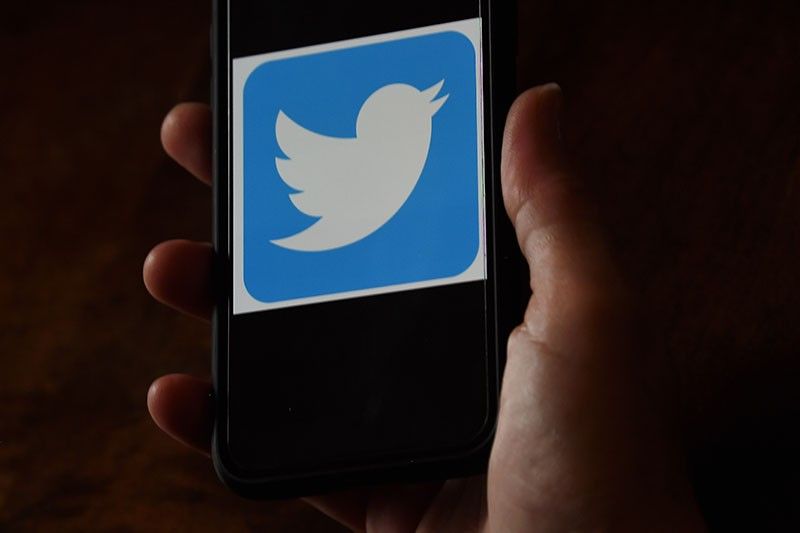 In this file illustration photo taken on May 27, 2020 a Twitter logo is displayed on a mobile phone in Arlington, Virginia. Jack Dorsey on June 9, 2020 said that both companies he heads -- Twitter and Square -- are making "Juneteenth" a holiday for employees in commemoration of the end of slavery in the US. The holiday set for each June 19 marks the day in 1865 when Union soldiers landed in Texas with the message that the Civil War was over and slavery ended, according to a Juneteenth.com website linked to by Dorsey.
AFP/Olivier DOULIERY
Twitter moves to limit sharing on unread articles
(Agence France-Presse) - June 11, 2020 - 7:39am
WASHINGTON, United States — Twitter said Wednesday it was testing a new feature that seeks to limit the sharing of articles by users who haven't read them.
The feature — which asks users whether they have read an article before they retweet it -—appears to be aimed at slowing the spread of unverified information.
"Sharing an article can spark conversation, so you may want to read it before you tweet it," Twitter's support team said.
Sharing an article can spark conversation, so you may want to read it before you Tweet it.

To help promote informed discussion, we're testing a new prompt on Android –– when you Retweet an article that you haven't opened on Twitter, we may ask if you'd like to open it first.

— Twitter Support (@TwitterSupport) June 10, 2020
Twitter said it would be testing the feature on its Android application "to help promote informed discussion."
"When you retweet an article that you haven't opened on Twitter, we may ask if you'd like to open it first," the company said.
In a reply to one user, Twitter noted, "We wanted to test a way to improve the health of a conversation as it gets started."
But it said users will "always have the option" to go ahead with the retweet.
Twitter and other platforms are struggling to contain misinformation, which often is passed along by users who fail to review details of the comments they are sharing.
Last month, Twitter decided to limit the reach of some comments by President Donald Trump, in one case because they were misleading and in another case because of a violation of platform rules promoting violence.
The president responded angrily and signed an executive order which could strip away some legal liability protections of social media firms, although it was unclear if the measure can be enforced.
As It Happens
LATEST UPDATE: October 20, 2020 - 9:45am
The latest news about Facebook, Twitter, Instagram and other social media platforms.
October 20, 2020 - 9:45am
Facebook unveils software based on machine learning which the company said was the first to be able to translate from any of 100 languages without relying on English.
The open-source artificial intelligence software was created to help the massive social network deliver content better in 160 languages to its more than two billion users around the world.
"This milestone is a culmination of years of Facebook AI's foundational work in machine translation," research assistant Angela Fan says in a blog post. — AFP
October 16, 2020 - 5:14pm
Twitter has altered its policy on hacked content after its decision to block a news report critical of Democratic presidential candidate Joe Biden provoked Republican fury.
The social media behemoth -- used by hundreds of millions worldwide -- says it would in future only block stolen information which was posted directly by hackers, and label any other information of questionable provenance. — AFP
October 16, 2020 - 7:31am
Twitter was working Thursday evening to resolve a global outage of the social media platform used by hundreds of millions worldwide.
The outage marked a new setback for the network, which is fending off accusations of bias over the decision to block a news report critical of Democratic White House candidate Joe Biden.
"We know people are having trouble tweeting and using Twitter. We're working to fix this issue as quickly as possible," a company spokesperson told AFP at 2225 GMT.
Repeated attempts to post a tweet were greeted with the message: "Something went wrong, but don't fret — let's give it another shot."
According to downdetector.com, users on every continent had reported being unable to use the platform, but the outages were concentrated on the east and west coasts of the United States, as well as Japan. — AFP
October 10, 2020 - 10:31am
Twitter says it will take down calls for violence starting after polls close on US election day and slap warnings on premature victory claims to fight efforts to undermine the election.
When it comes to a winner in any race, Twitter will require an announcement by an election official or a public projection from at least two authoritative, national news outlets making independent election calls.
The California tech giant will also invite people to add their thoughts to retweets instead of just mindlessly sharing, according to legal lead Vijaya Gadde and product lead Kayvon Beykpour. — AFP
October 7, 2020 - 1:31pm
A US House of Representatives panel in a report Tuesday accuses four Big Tech firms of acting as "monopolies," calling for sweeping changes to antitrust laws and enforcement that could potentially lead to breakups of the giant firms.
But the report by the House Judiciary Committee failed to win the endorsement of Republican members, highlighting a partisan divide despite widespread criticism of the tech giants.
The 449-page document concludes that Amazon, Apple, Facebook and Google "engage in a form of their own private quasi regulation that is unaccountable to anyone but themselves."
"Companies that once were scrappy, underdog startups that challenged the status quo have become the kinds of monopolies we last saw in the era of oil barons and railroad tycoons," the report says. —AFP