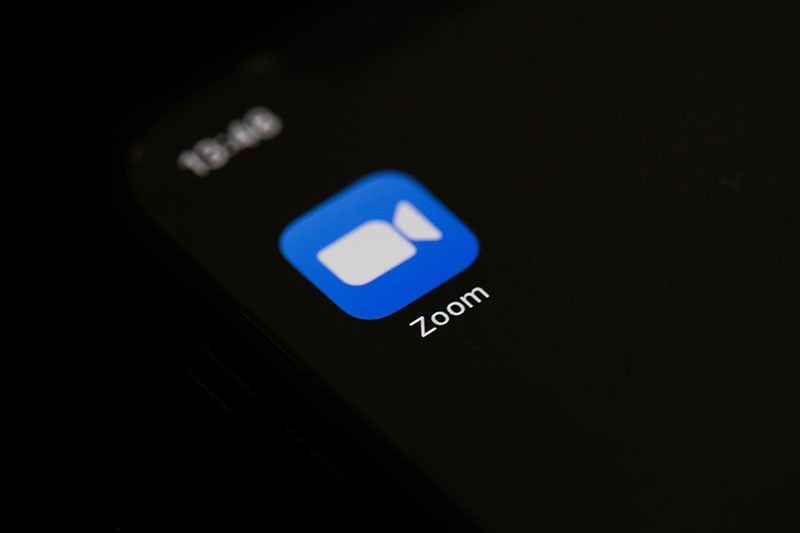 This illustration picture taken on May 27, 2020 in Paris shows the logo of the social network application Zoom on the screen of a phone.
AFP/Martin Bureau
Zoom earnings soar as video meets become pandemic norm
(Agence France-Presse) - June 3, 2020 - 8:21am
SAN FRANCISCO, United States — Zoom on Tuesday reported that its earnings soared as its video-meeting service became a popular way to work or socialize while hunkered down due to the pandemic.
Zoom said it made a profit of $27 million on revenue that leapt 169 percent to slightly more than $328 million in the first three months of this year.
In the first quarter last year, Zoom reported zero dollars per share in net income for stockholders.
"The COVID-19 crisis has driven higher demand for distributed, face-to-face interactions and collaboration using Zoom," founder and chief executive Eric Yuan said in a release.
"Use cases have grown rapidly as people integrated Zoom into their work, learning, and personal lives."
Zoom shares that ended the formal trading day up nearly two percent, topping $200, climbed another three percent in after-market trades.
The quarter ended with Zoom having approximately 265,400 paying customers with at least 10 employees each in an increase of 354 percent from the first quarter in 2019, according to the company based in the Silicon Valley city of San Jose.
The earnings come with Zoom under pressure to deal with security and privacy as the platform faces scrutiny from rising usage.
New York state's top prosecutor last month announced that Zoom would improve security measures, after flaws were detected as the video conferencing platform soared in popularity amid the coronavirus pandemic.
The agreement ended an investigation launched in March by New York Attorney General Letitia James into vulnerabilities in the company's software.
Zoom recently launched a philanthropic foundation with initial grants to San Jose Digital Inclusion Fund , Destination Home, the CDC Foundation , the World Health Organization and the CDE Foundation.
As It Happens
LATEST UPDATE: July 9, 2020 - 3:50pm
The latest news about Facebook, Twitter, Instagram and other social media platforms.
July 9, 2020 - 3:50pm
Viral video platform TikTok's withdrawal from Hong Kong is a savvy commercial move that sidesteps thorny privacy issues but it will not shield the app completely from accusations of collusion with China, experts say.
As Facebook, Twitter and other US tech giants risk angering China by refusing to share Hong Kong user data, Chinese-owned TikTok has also portrayed an image of principle by pulling out of the territory.
The moves were triggered by China's imposition of a security law on Hong Kong last week aimed at quashing a democracy movement, and gives police new powers to censor the internet. — AFP
July 8, 2020 - 7:00pm
US President Donald Trump says he is considering banning the wildly popular video-sharing app TikTok as a way to punish China over the coronavirus pandemic, remarks China described Wednesday as "a malicious smear".
TikTok has been caught up in the escalating disputes between the United States and China, with the Chinese-owned firm accused of acting as a spying tool for Beijing -- an allegation it denies.
"It's something we're looking at," Trump says during a TV interview when asked about a possible ban, according to Bloomberg News. — AFP
July 8, 2020 - 7:50am
Organizers of a Facebook ad boycott on Tuesday vow to continue their campaign, saying the social network's top executives have failed to offer meaningful action on curbing hateful content.
At a virtual meeting that included Facebook chief executive Mark Zuckerberg, the #StopHateForProfit coalition "didn't hear anything today to convince us that Zuckerberg and his colleagues are taking action," says Jessica Gonzalez of the activist group Free Press, one of the coalition members.
"Instead of committing to a timeline to root out hate and disinformation on Facebook, the company's leaders delivered the same old talking points to try to placate us without meeting our demands." — AFP
July 7, 2020 - 12:22pm
TikTok says it is stopping its popular video snippet-sharing app from working in Hong Kong due to "recent events."
The move by TikTok, owned by China-based ByteDance, comes as Facebook, Google and Twitter put a hold on requests by Hong Kong's government or police force for information on users, following China's imposition of a sweeping new security law. — AFP
June 30, 2020 - 2:00pm
TikTok denies Tuesday sharing Indian users' data with the Chinese government, after New Delhi banned the wildly popular app in a sharp deterioration of relations with Beijing two weeks after a deadly border clash.
"TikTok continues to comply with all data privacy and security requirements under Indian law and have not shared any information of our users in India with any foreign government, including the Chinese government," TikTok India chief Nikhil Gandhi say in a statement.
"Further if we are requested to in the future we would not do so. We place the highest importance on user privacy and integrity," he said, adding that it had been invited to a meeting with the Indian government "for an opportunity to respond and submit clarifications".
TikTok is owned by China's ByteDance and was one of 59 Chinese mobile apps banned late Monday by Prime Minister Narendra Modi's government. — AFP