Filipino start-ups shine at COMPUTEX 2018 in Taiwan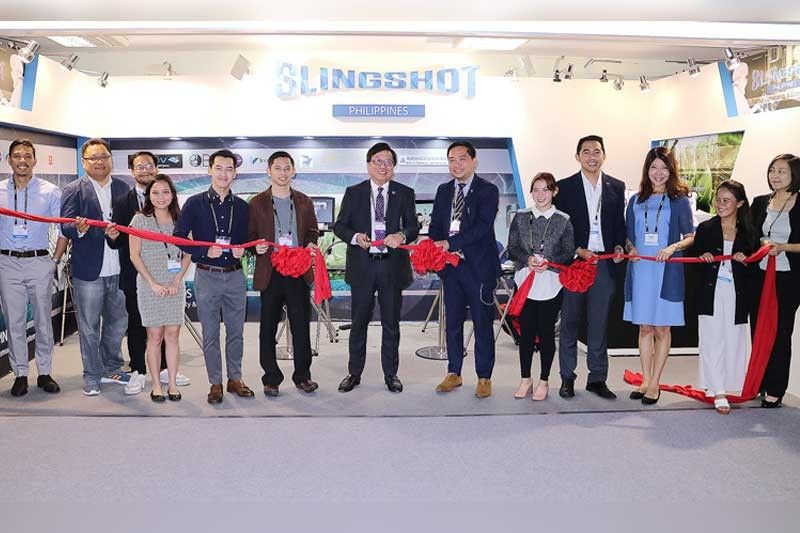 MANILA, Philippines — A group of Filipino start-up companies excelled this year at Asia's largest and longest-running tech trade show, COMPUTEX 2018, held from June 5 to 9 in Taipei, Taiwan, showing off their tech innovations to potential investors, suppliers, and consumers from around the world.
The Philippine contingent was the first-ever organized by the Manila Economic and Cultural Office (MECO), through the effort of its commercial affairs section, the Philippine Trade and Investment Center Taipei (PTIC), under the banner of Slingshot Philippines, the Department of Trade and Industry's (DTI) flagship annual national start-up event initiative aimed at fast-tracking the development of Filipino start-up companies.
The Slingshot Philippines Pavilion opened at the InnoVEX event at COMPUTEX 2018, where start-up companies from all over the world were gathered to showcase their products and innovations to around 40,000 visitors from the global market. MECO Chairman and Resident Representative Angelito Banayo opened the booth to the public during a ribbon-cutting ceremony on June 6.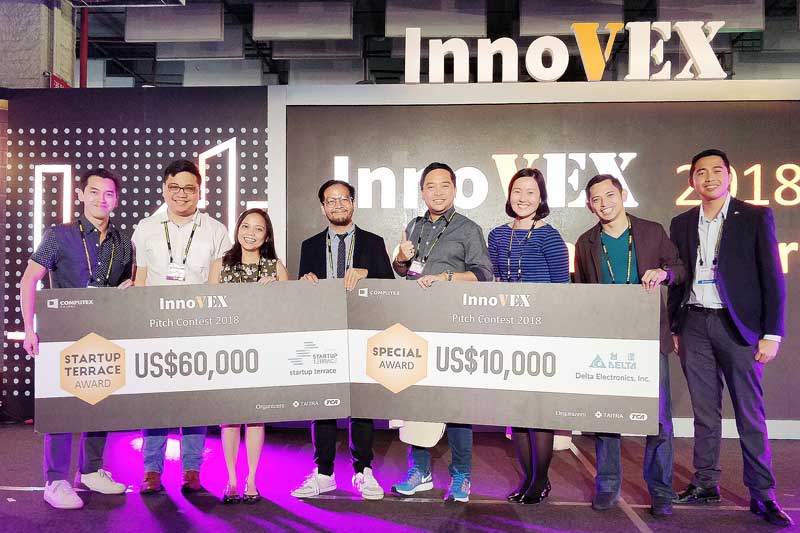 OneWatt co-founder and CEO Emmanuel Beata (fourth from left) presents the two special awards he received from Delta Electronics and Taiwanese start-up incubator Start-up Terrace as one of the eight finalists in the InnoVEX Pitching Competition. Ross Fallorina/QBo
"Taiwan is a global hotbed of high tech, leading-edge innovation and a global production hub for
ICT and we deem it very important for the Philippine startup community to be well-represented at InnoVEX and COMPUTEX in Taiwan this year. MECO fully supports our tech entrepreneurs and our startup community and will continue to organize a series of sustainable events that will be valuable for development and market success," said Banayo.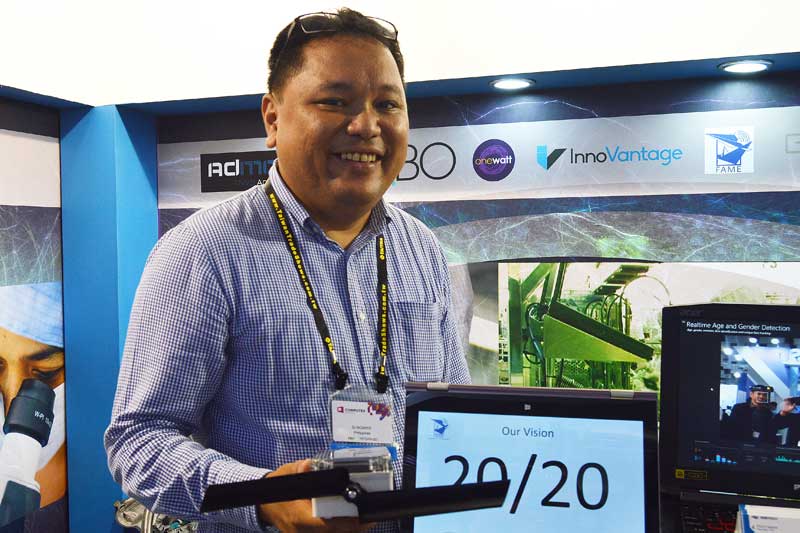 Futuristic Aviation and Maritime Enterprise Systems (FAME) CEO Arcelio "Junjun" Fetizanan Jr. presents his affordable transponder device for use in general aviation and maritime industries.
PTIC Trade Representative and MECO Director for Commercial Affairs Michael Alfred Ignacio first proposed the idea of sending a Filipino start-up delegation to COMPUTEX in October 2017, with the aim of inspiring the Filipino start-up community to expand overseas, encourage greater investment in the Philippines from Taiwan and other countries, promote closer cooperation in technology and enterprise between the Philippines and Taiwan, and enable Filipino start-ups to meet with venture capitalists and angel investors at COMPUTEX.
"Start-ups are in themselves, MSMEs, albeit characterized by their high levels of innovation, technology advantages and potential to commercialize. In addition, startups have a role to play in supporting traditional MSMEs in reaching their markets faster and leading the way for an innovation-led business mindset," said Ignacio.
In organizing the delegation and selecting its participants, the two government agencies collaborated with a public-private partnership incubator called QBo, which a partnership between DTI and Ideaspace Foundation. It aims to establish a globally competitive start-up community in the Philippines by providing several support services to start-up companies such as co-working spaces and consultation services and organizes introductory classes, workshops and networking events to link them to potential investors.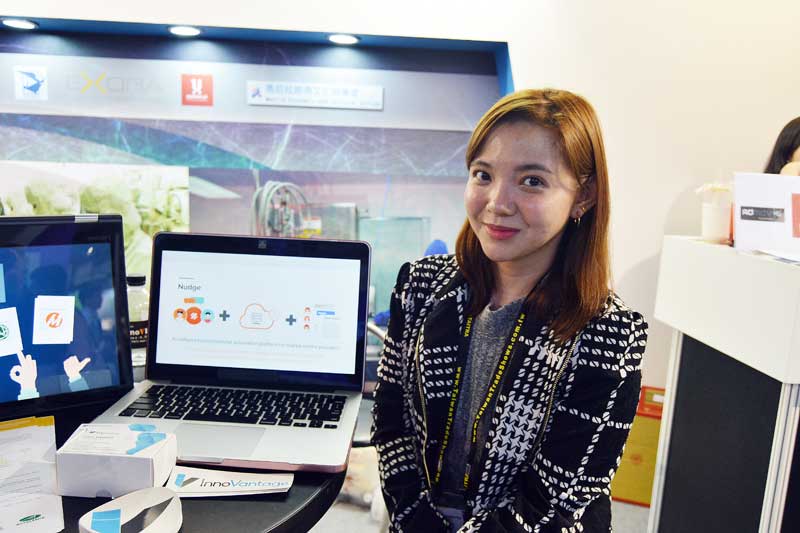 InnoVantage COO Joyce Villadolid with her company's AI chatbot service that aims to assist the shared services industry by using machine learning to respond to complex customer queries or requests.
One of the start-ups that particularly excelled this year is One Watt, a company that develops handy acoustic sensors that can be easily installed in a factory to listen for signs of machine defect or damage. Data collected from these sensors is fed to an artificial intelligence software that determines the kind of damage, thereby helping manufacturing companies schedule and conduct maintenance work on their machine. The company joined InnoVEX's pitching competition and is the only Filipino company out of eight companies from the US, China and Taiwan to make it to the finals, where it won a Special Prize worth $10,000 from Delta Electronics Inc. and another $60,000 Special Prize and one-year incubation stay in Taiwan from Start-up Terrace, a Taiwanese start-up incubator.
"I'm just surprised that the company won two special awards given that our competitors are highly experience and well-funded start-ups. It only means that there is really a need for our product and that people see its importance," said OneWatt co-founder and CEO Emmanuel Bueta, who added that the company has already partnered with three companies in The Netherlands and one in the Philippines for the use of the device.
Another potentially groundbreaking innovation comes from Futuristic Aviation and Maritime Enterprise Systems (FAME), which develops affordable transponders for use in general aviation and maritime industries. The battery-power transponder, which can be charged through solar or wind energy, has found vast commercial applications in the fishing industry.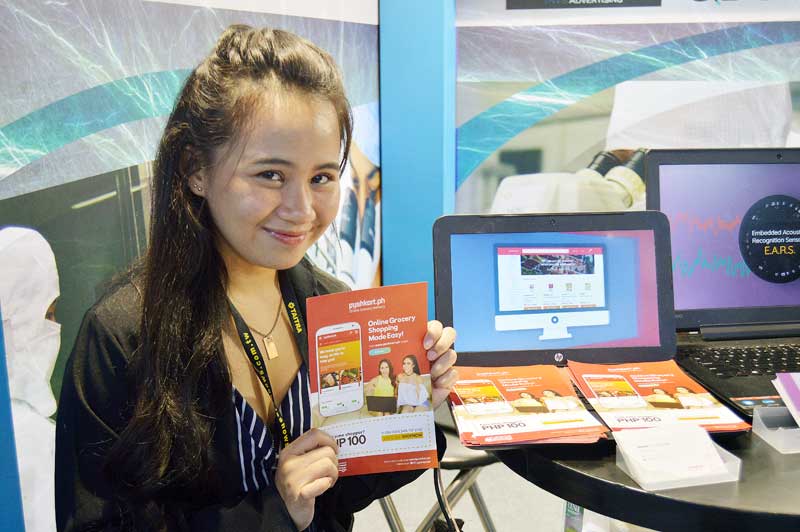 Pushkart.ph visual designer Nicole Castañeda showcases her company's online door-to-door grocery delivery service which has already attracted hundreds of clients in Metro Manila and is looking for potential investors for expansion.
"Tracking fishing vessels especially during inclement weather has been a perennial problem in the Philippines. But most of our fisherfolk can't afford expensive transponders to comply with Philippine regulations. With this inexpensive device, the vessel can already send its position using a radio frequency, and using a gateway, monitors can already track the vessel via the LoRa wireless communication technology," said Arcelio "Junjun" Fetizanan Jr., CEO of FAME. At InnoVEX, Fetizanan has already found a partner in Taiwan to manufacture plastic casings for his transponders cheaper than what it presently costs.
Also attracting significant attention from the InnoVEX crowd is AdMov, which uses facial recognition and artificial intelligence to personalize advertising inside Transportation Network Vehicular Service (TNVS) providers like Uber and Grab. The software, installed in tablets mounted inside TNVS vehicles, is used to determine the age, gender, and mood of the passenger. This data is then used to personalize advertising content presented in the tablet to match the passenger's preference, helping advertisers save costs through efficient ad targeting.
The Slingshot Philippines booth also featured other groundbreaking innovations to thousands of visitors at InnoVEX. Pushkart.ph, an ecommerce company that specializes in online door-to-door grocery deliveries, is looking for investors to help it expand in the Philippine market. The company already delivers groceries to hundreds of clients in Metro Manila, Cavite and Rizal and hopes to widen its distribution area.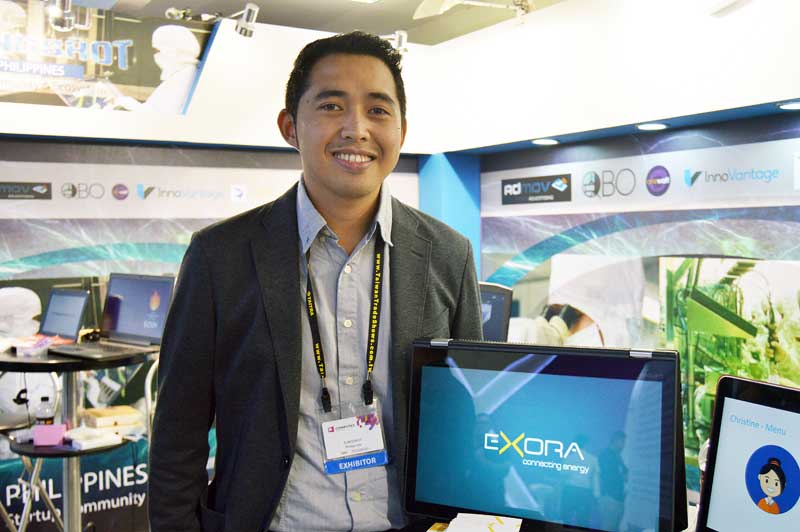 Exora R&D head for energy services Lorenz Payonga with his company's online platform that enables power suppliers to bid on energy contracts for industrial and enterprise energy consumers.
Meanwhile, online energy platform Exora is shaping the way electricity is sold in the country. Its online platform bridges large and small electricity suppliers to hundreds of industrial and enterprise consumers nationwide and enables them to bid on power supply contracts. It aims to encourage more competition in the power supply sector, enable independent power producers to reach more markets, and allows consumers to have more options in choosing their electricity provider.
For the shared services industry, tech start-up InnoVantage has developed an enterprise-grade assistive intelligent chatbot available in both private and public cloud which enterprises can use along with other messaging applications. The chatbot can analyze data gathered from customer queries in Facebook and other platforms and use it to respond to customer queries in times when service agents cannot respond with a more client-specific answer, enabling companies to readily respond to client needs round the clock, thereby increasing their productivity and enabling faster business processes.
With the success of the Slingshot Philippines delegation at this year's COMPUTEX, the MECO and the PTIC plans organize an even larger delegation next year and attract more Filipino start-ups to join and take advantage of opportunities at Asia's largest tech trade show. COMPUTEX is organized yearly by the Taiwan External Trade Development Council (TAITRA) and the Taiwan Computer Association (TCA).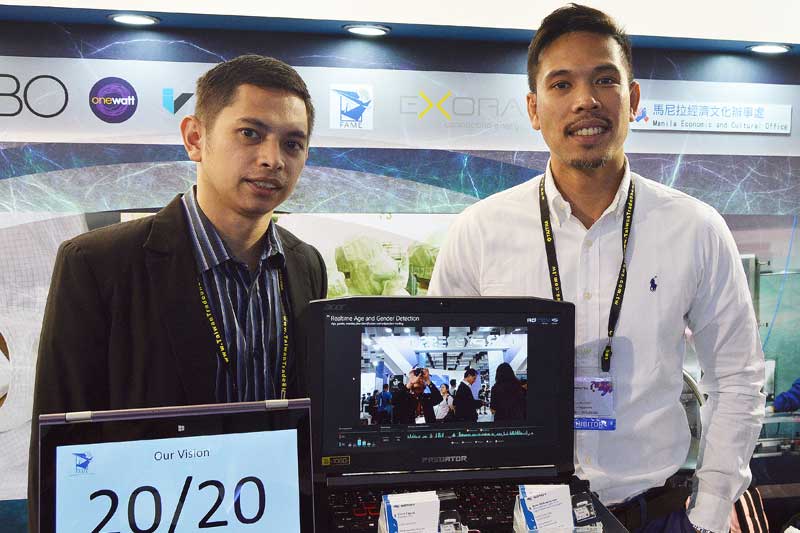 AdMov founder and CEO Ellard Capiral and sales VP for digital marketing technologies Victor Michael Lucena presents their company's facial recognition technology used in personalizing advertising content inside TNVS providers like Uber and Grab.