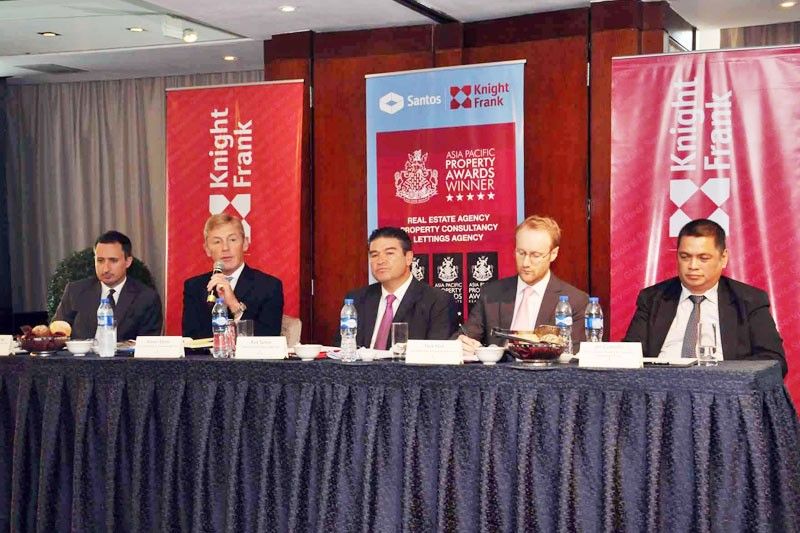 Photo shows top executives of Santos Knight Frank while answering questions from the media during a press conference held at the Shangri-La Hotel in Makati recently. They are (from left): Morgan Mcgilvray, senior director, occupier services and commercial agency at SKF; Alistair Elliott, senior partner and group chairman at Knight Frank; Rick Santos, chairman and CEO of SKF; Nick Holt, Asia-Pacific head of research at Knight Frank; and Jan Custodio, senior director, research and consultancy at SKF.
Joey Mendoza
BPO sector remains bullish on Phl — SKF
MANILA, Philippines — Real estate service provider Santos Knight Frank Inc. expects the country's business process outsourcing (BPO) industry to continue to grow in the next three to five years even with the use of artificial intelligence (AI), but notes the proposed second package of the government's tax reform program which seeks to rationalize incentives given to investors may affect decision of firms to operate here.
"The country remains as the most attractive inbound investment destination in the region for IT (information technology) - BPO companies which are eager to capitalize on the country's sound macroeconomic fundamentals, excellent pool of low cost-skilled labor, outstanding customer service, continuous infrastructure development and one of the cheapest rental rates in Asia," Santos Knight Frank chairman and chief executive officer Rick Santos said in a recent briefing.
While the BPO sector is expected to sustain its growth due to the country's advantages, he said the government's proposed tax reform may affect operations of some BPO firms.
"All things being equal, we are looking for growth. However, if you are in a situation where the taxation is prohibitive to companies or it is prohibitive to industries or employees, it makes it a deterrent," Santos said.
Earlier this month, the House of Representatives approved on third and final reading House Bill 8083, which aims to reduce the corporate income tax rate to 20 percent from 30 percent over a period of 10 years, and to rationalize fiscal incentives being given to investors.
Santos said while some BPO companies are on a wait-and-see on the outcome of the government's move to push for the second package of the tax reform program, some are less concerned.
Apart from incentives, he said BPO companies have other considerations in setting up operations in the Philippines such as the availability of the labor force and costs.
"The average cost per BPO employee in alternative destinations such as China and Mexico is twice as expensive as the Philippines," he said.
Morgan McGilvray, senior director for occupier services and commercial agency at Santos Knight Frank said in the same event, BPO companies are seen to grow within and outside of Metro Manila.
While popular hubs such as Metro Manila, Cebu, Clark, Davao, Bacolod and Iloilo are seen to continue to enjoy BPO expansions, he said there are other new areas of growth in the country.
Among the new areas of growth for BPO operations are the so-called next wave cities such as Baguio, Cagayan de Oro, Dagupan, Dasmariñas in Cavite, Dumaguete, Lipa in Batangas, Naga, Sta. Rosa in Laguna, Tagaytay and Malolos in Bulacan.
Beyond the next wave cities, McGilvray said there are emerging cities being considered by BPO firms for expansion such as Balanga in Bataan, Batangas, Iriga in Camarines Sur, Laoag in Locos Norte, Legaspi in Albay, Puerto Princesa in Palawan, Roxas in Capiz, Tarlac, Tuguegarao in Cagayan and Zamboanga.
"Why are companies looking there? It's about cost and increasing infrastructure which made those places inaccessible in the past," he said.
Even with the onset of artificial intelligence (AI) or the simulation of human tasks by machines, Santos Knight Frank sees continued growth for the BPO industry.
"AI presents a unique opportunity for the sector in the Philippines. Not only will automation help make processes more efficient, but we also believe that through the upskilling efforts of the industry, the Filipino workforce will soon be at the best position to take on new roles and jobs generated as a result of AI," Santos said.