Driving the 2016 Subaru XV
Bangkok, Thailand – Motor Image, the exclusive distributor of Subaru vehicles in Southeast Asia, unveiled last week at the Bangkok Motor Expo the new 2016 Subaru XV. With the goal of enhancing the previous-generation Subaru XV, the 2016 iteration offers customers improved aesthetics, new features and an even more enjoyable driving experience. The new Subaru XV will come in two variants: 2.0i and 2.0i-Premium.
"The Subaru XV is a bold car meant to handle any journey, and ride along in a fun way – putting life in motion and connecting with one's passion. There is true joy when you get the freedom to do that, and the Subaru XV is the perfect car that allows you to Unpark Your Life, getting you to your destination, anywhere," said Glenn Tan, Executive Director of Tan Chong International Ltd. "We're excited to launch the new Subaru XV, with enhanced features that refresh the exterior as well as refined upgraded interior features, combining space, comfort and versatility with an improved stylish design."
The new XV features Subaru's smooth 2.0-liter horizontally opposed "Boxer" engine, enhanced exterior features (sleek front bumper, headlights, enhanced front grille, 17-inch sport rims and new rear combination lamp), refined interior features (stylish premium cluster display, smart entry and engine push-start button, leather shift boot, aluminum pedals, premium multi-function display and redesigned steering wheel), as well as award-winning safety systems (Euro NCAP 5 Stars, IIHS Top Safety Pick+, JNCAP 5 Stars, ANCAP 5 Stars).
Since its debut in 2011, the Subaru XV has built confidence in drivers all around the world with its stylish aesthetics, performance and safety. The new XV aims to build on the previous generation's core values and further enhance the overall driving experience. This results in an energetic crossover vehicle that blends urban living with an active lifestyle, offering consumers with a stylish, practical vehicle.
Subaru's renowned 2.0-liter Boxer engine in the new XV produces 150ps and 196Nm of torque, offering an enjoyable, responsive drive coupled with excellent fuel economy. The combination of Subaru's All-Wheel-Drive system and the lower center of gravity achieved from Subaru's boxer engine allows the vehicle to safely maneuver across any terrain.
The 2016 XV features Subaru's unique hexagon grille and C-shaped headlights that have been incorporated into the design of the vehicle and coupled with sharper contour lines running along the front bumper, headlights, foglights and taillights.
Interior aesthetics have also been enhanced with a premium cluster display to greet the driver upon entering the car, alongside quality leather wrapping around the seats and shift boot. The interior accentuates finesse in the smallest parts such as the orange stitching finish and a redesigned steering wheel for a comfortable grip.
Additionally, technologies such as premium multi-function display, engine push-start button, and smart entry, and power driver seat have been included for maximized comfort, utility, and an exhilarating overall driving experience.
Safety is the core of every Subaru vehicle. With Symmetrical AWD, combined with Vehicle Dynamics Control (VDC) system, the Subaru XV's handling remains nimble and smooth, regardless of road conditions.
Since its debut, the Subaru XV has also won "Five Stars" in the various global automotive safety tests such as Japan New Car Assessment Program (JNCAP), Euro NCAP, ANCAP Safety and Top Safety Pick for Insurance Institute For Highway Safety (IIHS).
The new Subaru XV is now available for reservations at the following Subaru showrooms across the Philippines: EDSA Greenhills, Global City, Manila Bay, Alabang, Sta. Rosa, Batangas, Cebu, Cagayan De Oro, and Davao. Pricing and delivery schedules will be announced soon.
Have you ever had a college crush and saw them years after? That moment usually results in two possibilities—either you discover that the person is no longer as hot as before (at which point you say to yourself, "what was I thinking?"), or you find that the person got better and hotter (at which point you wish he or she wasn't taken).
I still remember the first time I set my eyes on a Toyota RAV 4. I was in college and it was crush at first sight.
Perhaps it was not surprising that a college student would fall for a RAV 4.
First introduced in the Philippines in 1997, the RAV 4 was designed to mirror an active, sporty, youthful and stylish lifestyle. Its iconic name was derived from the first letters of the words: Recreational, Active, Vehicle, combined with the number 4 (standing for 4x4).
Last December 7, Toyota unveiled the 2016 RAV 4. After more than a decade since our first meet, I was yet again captivated by the RAV 4.
The new 2016 RAV 4 has a refreshed, sleek and sexy look, plus enhanced features to make it the best RAV 4 version to date. Its stylish 17-inch aluminum wheels, Daytime Running-Lights, LED headlamps, and headlamp-leveling give the RAV 4 a more sophisticated and sportier look.
The new RAV 4 is designed to be more fuel-efficient, thanks to its engine and augmented by its tires' low rolling resistance. Some of the RAV4's new safety features include knee airbags (aside from its standard front, side and curtain airbags), vehicle stability control, Hill-Climb Assist Control, and Downhill Assist Control.
But like an old crush who retained some of the same endearing qualities underneath, the new RAV 4 is powered by the same reliable engine: a 2.5-liter, Dual VVT-i (Dual Variable Valve Timing-intelligent engine).
The 2016 RAV 4 now comes in different grades (4x2 Active, 4x2 Active+, 4x2 Premium and 4x4 Premium), and in more colors (Blue Metallic, Orange Metallic, Dark Red Mica Metallic, Bronze Metallic, Silver Metallic, Gray Metallic, Black Mica and White Pearl).
Years after I first laid eyes on the RAV 4, I am reintroduced to its better, hotter, sexier version. But the best part about it is, I don't have to worry that it's already "taken" exclusively by someone else.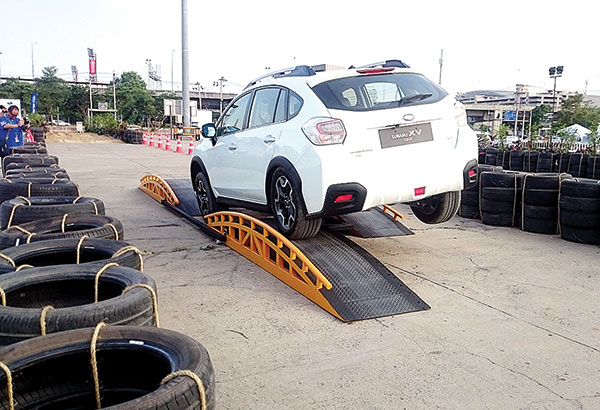 The new 2016 Subaru XV shows off its Sequential All-Wheel Drive traction—and it's impressively stiff body—even with one wheel off the ground.