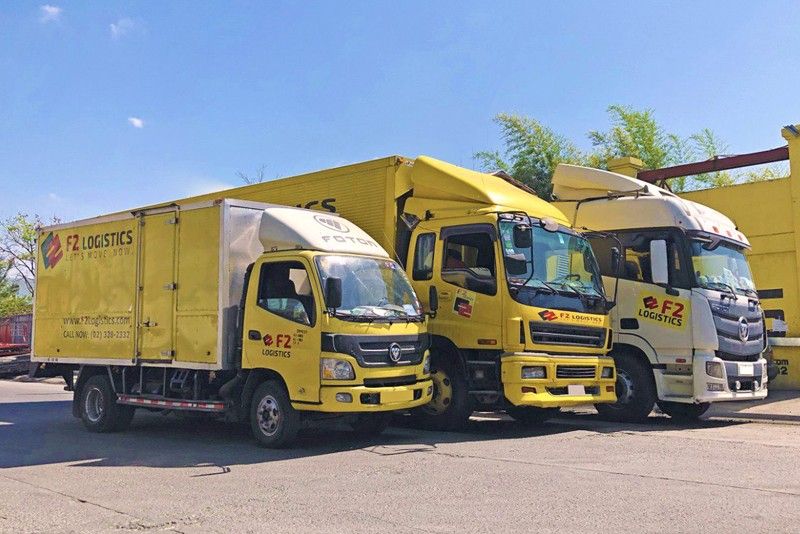 F2 Logistics has a fleet of different types of trucks to provide businesses with end-to-end solutions to their logistical requirements.
F2 Logistics: A reliable partner in growing your business
MANILA, Philippines — Everything we need in our daily lives passes through a supply chain system – from the clothes we wear and the food we eat to the very homes we live in and the products we use daily.
If something goes wrong even with just a link in the chain, it could trigger off delays and cause problems that could negatively impact on customer satisfaction, brand image and bottom lines.
So that supply chain can operate smoothly and efficiently, it needs the help of logistics providers to move, coordinate and transport goods from the point of origin to various destinations.
The mere mention of the term invokes the thought of delivering products to various destinations, but logistics isn't limited to that. Nowadays, with the changing demands on supply chain management and operations, logistics also involves other needs such as warehousing, cold storage, bulk storage, tracking and inventory.
End-to-end solutions provider
One company whose expertise lies in providing various end-to-end supply chain solutions is cargo and logistics giant, F2 Logistics, a Manila-based company that has been in the industry for more than a decade now.
With more than 30 years of experience in the industry, businessman and industry veteran Efren Uy founded F2 Logistics in 2006. Using his knowledge and networks within the industry, Uy grew the business to offer not just domestic and international freight forwarding but also other services, making F2 Logistics an end-to-end supply chain solutions provider.
"I wanted to explore more ways of transporting goods faster and more efficient, be able to provide more solutions to people's logistical needs, and improve the logistics industry even more," Uy said.
Today, F2 Logistics also offers warehousing, cold chain distribution, ISO tank solutions, customs brokerage, and oversized cargo movement. The company currently offers freight forwarding in all continents through a network of partner sea and airfreight companies.
It is the biggest buyer of domestic cargo by volume, has fully functioning branches and reliable agents in over 20 major ports and cities, and has a fleet of over 1,000 trucks, both owned and through partner companies.
As such, F2 Logistics is trusted by hundreds of local and multinational companies that outsource their logistical requirements to the company – from retail and e-commerce companies to pharmaceutical and fast food corporations.
Trusted by clients
One of the clients that have recently relied on F2 Logistics' mettle in delivering freight is the Commission on Elections (Comelec). The government agency recently named the company as its accredited logistics partner in delivering all election paraphernalia used in the 2019 midterm elections after it won the bidding.
Leveraging on its own resources and working with its partners in sea and airfreight, F2 Logistics delivered everything – from vote counting machines and voter registration verification machines to the ballot secrecy folders and ballot markers to every barangay, town, city, and province in the country in time for May 13.
The task also involves delivering replacement paraphernalia to areas where there have been cases of equipment malfunction or tampering. Through efficient provisioning of its branches, the company was able to deliver the needed paraphernalia before the polling centers closed that day, thus ensuring that voters can exercise their right to vote.
Moreover, after the elections, the company has also been tasked to retrieve and return to Comelec warehouse in Santa Rosa, Laguna all the election paraphernalia delivered to all voting precincts.
"The toughest place we had to deliver was for BaSulTa (Basilan, Sulu and Tawi-Tawi) because it's the farthest and the municipalities are spread out. For example, to deliver the election paraphernalia to the Turtle Islands, we had to travel first to Tawi-Tawi by ferry, and then hire a barge to transport the paraphernalia to the island municipality. It took days to reach the island municipality but we got there on time," Uy said.
Aside from elections, F2 Logistics' ability to provide end-to-end supply chains solutions is also seen in partnership with many prestigious multinational corporations.
''The moment you wake up, take your medicine, drive-through to your favorite restaurants, to all kinds of products from supermarkets to retails stores, F2 plays a part in. These businesses rely on the company's warehousing and cold chain distribution to supply their branches with needed products and materials that enable them to achieve business continuity and growth," Uy said.
Maintaining the trust and patronage of these companies isn't easy, according to Uy. It involves carefully studying clients' needs, accountability, giving the extra mile, and having several alternatives, especially in tough situations.
"In logistics, you always need to have an alternative. If we cannot fly because of bad weather or airport congestion, we go by land or sea. That's why we do roll-on, roll-off vessel operations for those kinds of scenarios. That's why we have a wide network of partners. You really have to go through all the possible ways just to deliver cargo on time and impress clients," Uy said.