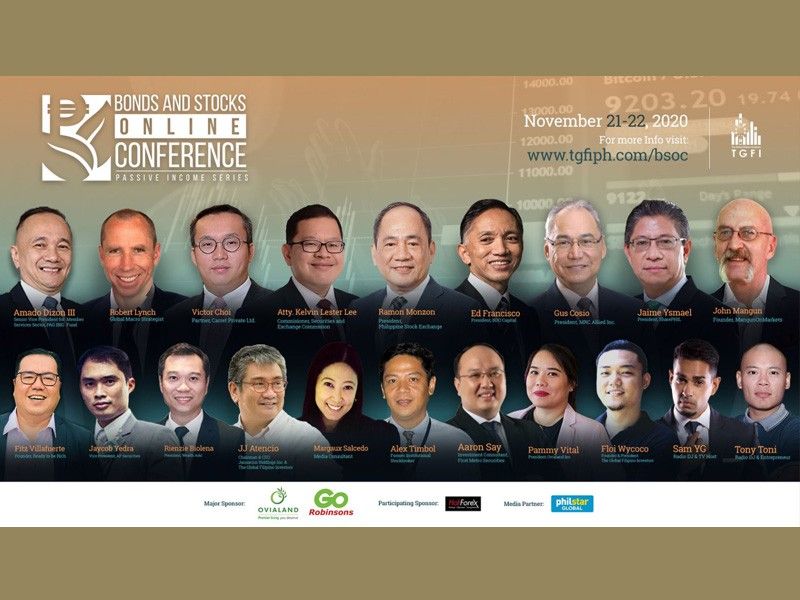 Powerhouse economists, stock market gurus to lead free online conference
(Agence France-Presse) - October 21, 2020 - 3:00pm
MANILA, Philippines — The Global Filipino Investors Inc. (TGFI) is bringing together powerhouse economists and stock market gurus in one virtual conference to teach Filipinos how to invest as the country charts its path to be one of the leading emerging markets in the post-COVID-19 era.
TGFI Chairman and CEO of Januarius Holdings Inc., JJ Atencio said that the two-day conference scheduled next month will tackle the relevance of investing in bonds and stocks to the Philippine economy recovering from the impact of the COVID-19 pandemic.
He also said that Filipinos should look beyond the challenges of the present situation and let the national leaders and health authorities worry about the global crisis.
"We cannot be fixated with the here and now of the current crisis," Atencio stressed.
For his part, TGFI President, Floi Wycoco said that the free TGFI Bonds and Stocks Online Conference 2020 will serve as a reminder that there are still people out there who are generous enough to help others.
The Philippine Stock Exchange index (PSEi) has partially recovered after crashing of the economy. It stalled as the entire Luzon was placed under Enhanced Community Quarantine (ECQ) during March 2020.
"It also makes sense to conduct this event now while the PSEI is still in its correction phase, bonds can work as a way to protect the unrealized loss encountered during this phase so our goal is to let our attendees understand the purpose of being diversified especially in times such as the world is in today," Wycoco said.
Wycoco added Filipinos need to rise stronger and smarter as a nation when it comes to finance.
"Months have passed since the lockdown, live events have left the stage, and businesses had to pivot. This is where the TGFI Bonds and Stocks Online Conference (BSOC) comes in. We believe that Filipinos from different classes can learn more about these two investment vehicles and more so, give our audience the confidence to invest both in bonds and the stock market," Wycoco said.
In promotion of financial literacy in support of the efforts of Bangko Sentral ng Pilipinas (BSP) and to improve the well-being of every Filipino, the Group organized TGFI Bonds and Stocks Online Conference 2020 happening on November 21 and 22, 2020 to bring light to the opportunities in-store for every Filipino.
"This is the new normal. And we're ready to get geared up for a more financially literate Philippines. And many Filipinos have gotten into their own businesses recently. It's so exciting where we're all heading. This leap done by most of our countrymen is very special to me, as a former OFW, Filipinos are truly resilient," Wycoco said.
Wycoco is set to deliver the welcoming remarks on the first day of the online conference wherein investment leaders like BDO Capital President Ed Francisco, global markets expert Robert Lynch, Victor Choi of Carret Private Ltd. (HK) partner, former institutional broker Alex Timbol, and Aaron Say of First Metro Securities consultant, will also be talking about the opportunities in the stocks and bond markets.
Other familiar names in the stock market industry participating are Philippine Stocks Exchange President Ramon Monzon; SharePHIL President, Jaime Ysmael; AP Securities Vice President Jaycob Yedra as well as the Ready to be Rich Founder Fitz Villafuerte and Wealth Arki's Rienzie Biolena. The Bonds and Stocks Online Conference 2020 also includes Commissioner Kelvin Lester Lee of the Securities and Exchange Commission to talk more about insights on securities and investor protection.
Atencio will be leading the Panel Discussion along with stock market gurus such as John Mangun of ManguOnMarkets and Kevin Khoe of Traders Apprentice Pilipinas to make the online conference more exciting and insightful for all. For details of the program, speakers, and to register for free just go to www.tgfiph.com/bsoc.