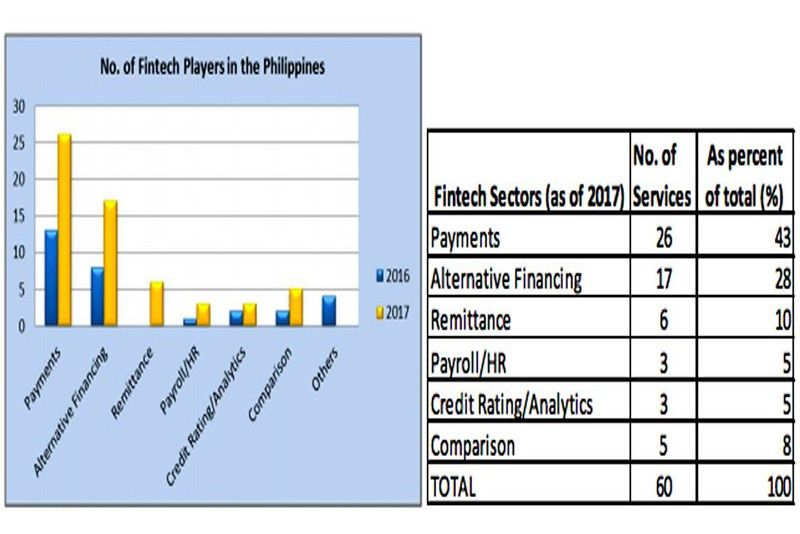 Financial technology transactions in Philippines to double to $11 million in 2021
MANILA, Philippines — Transactions in the country's financial technology (fintech) market is set to double to $11 million in 2021 from last year's $5.5 million amid the continued transformation or disruption of the financial service landscape.
The Bangko Sentral ng Pilipinas (BSP) said a fintech startup report showed the value of fintech transactions in the country is expected to grow annually at a rate of 19 percent over a four-year period.
There are currently 60 fintech startups in the Philippines comprised mainly of mobile payments and alternative finance, with 26 and 17 players, respectively.
"There is much potential for further growth of the fintech industry in the Philippines," the BSP stated in its annual report.
The regulator is closely monitoring developments in fintech to develop a balanced regulatory approach that includes risk-based and proportionate regulation, active multi-stakeholder collaboration, and consumer protection.
These principles, the BSP said, are pragmatically implemented through the central bank's flexible "test and learn" approach to financial innovations, also referred to as "regulatory sandbox" which provides an opportunity for innovators to connect to banks and other financial system players with clear authority from the regulators.
"The ultimate objective is to be aware of the risks, employ mitigating actions as needed, but in a manner that also allows benefits, leveraging on these new technologies," the BSP stated in its annual report.
Likewise, the BSP is on constant surveillance mode for other fintech activities by emerging market players, including crowd-funding and peer-to-peer lending that has potential to expand financial access for new businesses and micro, small and medium enterprises.
"Rapid technological innovations have allowed for lower costs of transactions, greater accessibility to funds and increased speed, efficiency, and convenience in value transfers and payments," the BSP said.
With the elimination of the middle-men, the central bank added lenders and borrowers have more direct and immediate access to one another.
However, these same platforms that simplify and facilitate transactions also present risks, the more immediate of which are the risks to consumers, and most of these fintech startups are outside the regulatory reach of monetary and financial authorities.
Aside from the possibility of fraud and possibly loss of funds with the lack of transparency, the BSP warned the ease of use of the fintech platforms together with their opacity may allow for the use for money laundering and terrorism financing.
This prompted the BSP to take a balanced approach to risks and growth by keeping pace with the latest developments in the financial markets while addressing consumer protection issues.