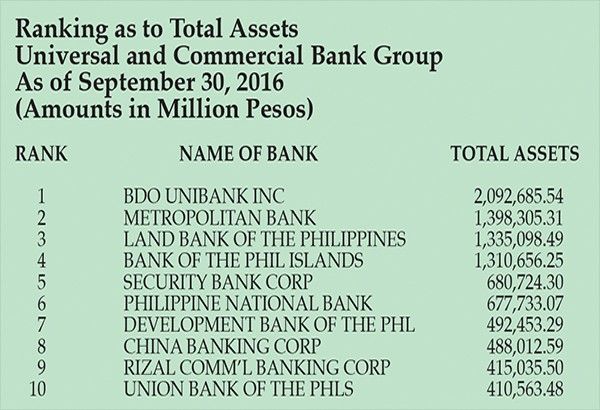 First 9 months of 2016: BDO still Phl's biggest bank
MANILA, Philippines – BDO Unibank Inc. maintained its dominance in the banking industry in terms of total assets, capital, deposits and loans in the first nine months of last year, data from the Bangko Sentral ng Pilipinas showed.
The country's largest bank owned by retail and banking magnate Henry Sy topped the list in terms of total assets with P2.09 trillion at end-September last year followed by Metropolitan Bank & Trust Co. of taipan George Ty with P1.4 trillion.
Government-run Land Bank of the Philippines climbed to third place with P1.33 trillion. The Duterte administration has abandoned plans to merge Landbank and Development Bank of the Philippines.
Ayala-led Bank of the Philippine Islands slipped to fourth place with total assets of P1.31 trillion followed by Security Bank Corp. which inched up to fifth place with P680.72 billion.
Security Bank received P37 billion in fresh equity from the Bank of Tokyo – Mitsubishi UFJ Ltd in April last year in exchange for a 20 percent stake.
Philippine National Bank of tobacco and airline magnate Lucio Tan slipped to sixth place with assets reaching P677.73 billion, followed by DBP with P492.45 billion, and China Banking Corp. with P488.01 billion.
Completing the top 10 were Rizal Commercial Banking Corp. of taipan Alfonso Yuchengco and Aboitiz-led Union Bank of the Philippines.
In terms of capital, BDO also dominated the industry with P214.67 billion followed by Metrobank with P192.44 billion, BPI with P160.25 billion, PNB with P101.89 billion, Security Bank with P95.44 billion, and Landbank with P89.51 billion.
BDO also topped the list in terms of deposits with P1.71 trillion followed by Landbank's P1.13 trillion, Metrobank's P1.1 trillion, BPI's P1.07 trillion, and PNB's P512.74 billion.
The Sy-owned bank also led the list in terms of total loans and receivables with P1.75 trillion while Landbank jumped to second place from fourth place with P1.17 trillion.
Metrobank slipped to third place with P1.08 trillion as well as BPI at fourth place with P1.07 trillion, and PNB with P510.81 billion.
The total resources of big banks or universal and commercial banks went up 10.6 percent to P11.81 trillion in end-September last year from a year-ago level of P10.67 trillion while that of mid-sized banks or thrift banks increased by 10.3 percent to P1.08 trillion from P979.6 billion.
The continued rise in resources including deposits, profits, and retained earnings indicate that banks have the ability to service funding needs of corporate and household clients. This also shows banks have enough to act as a buffer against any external shocks.