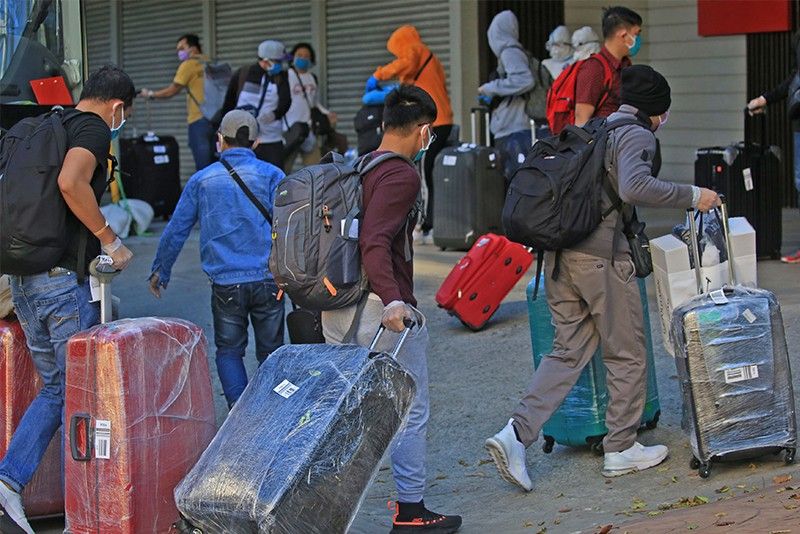 This April 2, 2020, photo shows overseas Filipino workers who were repatriated amid the global coronavirus pandemic.
The STAR/Edd Gumban
Remittances buck pessimistic expectations to peak in July
MANILA, Philippines — Money sent home by Filipinos overseas hit their highest monthly level this year in July, bolstering optimism the crucial inflows are more resilient to the pandemic than thought.
Cash remittances coursed through banks jumped 7.8% year-on-year to $2.78 billion in July, faster than the 7.7% clip posted a month before, the Bangko Sentral ng Pilipinas (BSP) reported on Tuesday.
The back-to-back increase was enough to trim the year-to-date drop in remittances below the central bank's forecast. Cash inflows amounted to $16.8 billion, down 2.4% year-on-year and running below the 5% contraction seen for the entire 2020.
"The lower actual decline is a huge departure from many pessimistic forecasts that OF (overseas Filipinos) remittances will plunge by not less than 20% this year as a result of the pandemic," BSP Governor Benjamin Diokno told reporters in a Viber message.
Indeed, analysts who expected remittances will take a hit from the health crisis were surprised by the latest data. Alvin Ang and Jeremaiah Opiniano, researchers who have studied migrant workers extensively and expect a 20% drop this year, said displaced overseas Filipino workers appeared to be dipping into their savings to support their families back home.
Labor department data showed around 500,000 OFWs were thrown out of their jobs by the pandemic and lockdowns that restricted economic activity. "But the need to send more money persisted even if Filipinos abroad…sent more last June and July," Ang and Opiniano said in a joint statement.
"Then again, we keep a tab of how long overseas Pinoys' savings can hold up as the pandemic drags on prior to the rollout of vaccines," they said. Ang is from Ateneo de Manila University, while Opiniano teaches at University of Santo Tomas.
The strong peso, which has gained 4.6% against the greenback as of Tuesday, also partly explains the "resiliency" of remittances. With the local unit appreciating, Filipinos abroad are forced to send in more dollars to sustain the value of their families' allowances.
Cid Terosa, senior economist at University of Asia and the Pacific, meanwhile said the reopening of most economies from stringent movement restrictions also meant a return to work for people still employed. In one instance, the labor agency said Tuesday Bahrain has lifted a temporary ban on hiring OFWs imposed last March due to the pandemic.
US, Asian countries up; Middle East down
Breaking down the remittance data, land-based workers increased cash remittances by 12.6% year-on-year in July, offsetting a 9.2% annual drop from seafarers. For the last 7 months, inflows from these two segments remained down 1.5% and 5.8%, respectively.
"Remittances may have gone up in anticipation of greater spending needs as the domestic economy opens up further," Terosa said in a text message.
"The opening of classes in private education institutions and the corresponding increase in education-related spending could be another source of stimulus for remittances," he explained.
By location, 40.1% of 7-month remittances or $6.73 billion came from the US, up 6.2% on-year. Cash coming in from the Middle East, meanwhile, amounted to $3.05 billion, down 14.2% as inflows from Saudi Arabia and United Arab Emirates, the largest contributors, dropped 19.9% and 25.7%, respectively.
In Asia, remittances from Hong Kong inched up 0.4% annually from January to July, Japan's rose a faster 6.9%, as well as Singapore (7.8%), Taiwan (16.7%) and Thailand (33.8%). Remittances from South Korea went up 1.4%.
While remittances went back on growth path in June and July, Rajiv Biswas, Asia Pacific economist at IHS Markit, said this may prove to be temporary.
"The strong growth in July remittances reflects the rebound in the world economy...However, as these temporary factors fade, remittance flows are likely to return to more normal levels during the remainder of 2020," he said in an e-mail.