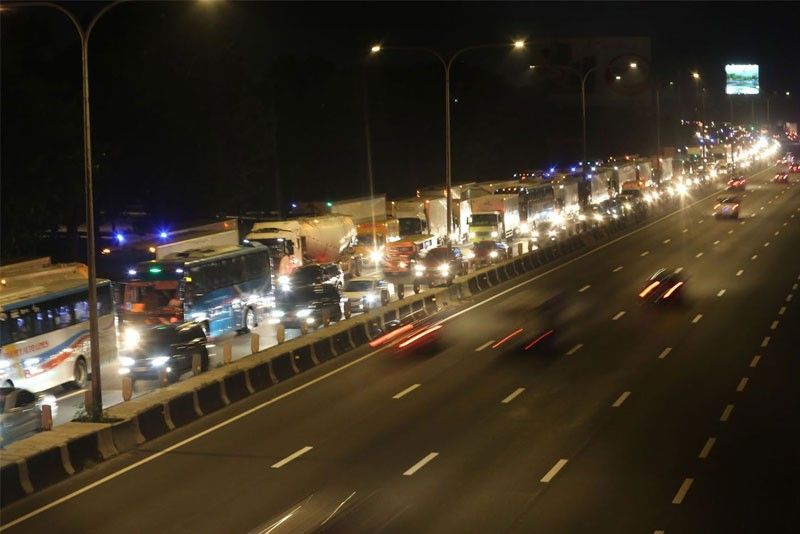 According to the Asian Development Bank's (ADB) latest September outlook, the Philippines registered a relative congestion rate of 1.5.
Russell Palma/File
Metro Manila most congested in developing Asia – ADB
MANILA, Philippines — Metro Manila is the most congested city in developing Asia, surpassing its closest neighbors in Malaysia, Myanmar and Bangladesh in terms of commute time during peak hours.
According to the Asian Development Bank's (ADB) latest September outlook, the Philippines registered a relative congestion rate of 1.5.
The relative congestion is calculated by dividing the citywide congestion level with the sample average of 1.24, the average citywide congestion across 278 cities studied.
The 1.24 figure basically means that an "average 24 percent more time is needed to travel in peak hours than in off-peak hours," the report said.
Citywide congestion level, meanwhile, is "measured as the average of congestion indices across all location pairs in the city," the report said.
"We calculated the ratio of driving duration during a peak hour to the off-peak hour between two locations in each direction and averaged across two opposite directions to obtain a congestion index for each location pair, which basically indicated the time needed to travel in peak-hour traffic relative to free-flowing traffic," the report said.
The ADB report listed Metro Manila as the most congested with a 1.5 relative congestion among 24 cities with a population of over five million, followed closely by Kuala Lumpur, Malaysia with a 1.4 index.
Cities with an index between 1.2 and 1.4 are Yangon, Myanmar; Dhaka, Bangladesh; Bengaluru, Kolkata, Delhi, Pune, and Jaipur, India; Hanoi and Ho Chi Minh, Vietnam; and Bangkok, Thailand.
The indices were estimated by ADB using nighttime lights images from the National Oceanic and Atmospheric Administration, grid population data from LandScan Datasets of the Oak Ridge National Laboratory, and trip routes from Google Maps.
Toix Cerna of commuters' group Komyut yesterday told The STAR the study basically confirmed every Filipino commuter's daily travel experience as the city becomes more congested.
"It is not surprising that Metro Manila is the most congested. The traffic situation is very indicative of that kind of situation. When somebody spends four hours on the road, that's a strong signal of congestion," Cerna said.
Cerna said she endures three hours travel to Manila from her place in Los Baños, Laguna, where she relocated this year to escape Manila's unlivable state.
"I'm on the road for six hours. Half of my day is spent just on the road… This is not living anymore when you spend more time on the road and you're so tired," Cerna said.
The American Chamber of Commerce of the Philippines had predicted in 2016 that Metro Manila will be uninhabitable due to traffic by 2020, or next year, when car sales reach 500,000.
Already, over 400,000 vehicles ply Edsa daily, the main artery across Metro Manila, contributing mainly to the traffic situation, according to the Metro Manila Development Authority (MMDA).
MMDA spokesperson Celine Pialago said "so much more needs to be done" in addressing traffic worsened by city congestion, brought about in turn by internal migration due to job opportunities in the metropolis.
Pialago cited dismal figures on the Metro Manila traffic situation, with 410,000 vehicles plying Edsa daily, while there are 17 malls, 47 bus terminals, and 150 perpendicular roads that become traffic chokepoints.
"We are not denying the findings of the ADB, considering Metro Manila as the most congested country in Asia… The MMDA attempts to control street traffic, but it is all a result of the overcrowding of the metro, so much more needs to be done," Pialago said.
ADB recommended governments to invest on public transport and urban expansion to improve mobility within the city.
"A lack of efficient and affordable public transportation is often considered a cause of urban congestion. Public transport becomes more attractive if it offers a cheap and speedy way for people to travel within cities, thus reducing urban congestion. Enhancing public transport is therefore considered necessary to tackle congestion and thus improve mobility within a city" the study read.